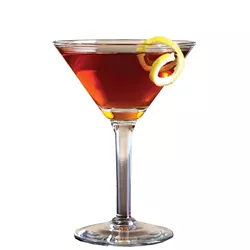 Valentine's Day is about nothing if not excess and indulgence. On that day each year, we splurge on chocolates, Champagne, gifts and special drinks and dinners to enjoy with our lovers. And so, it's the perfect excuse to go all-out with sexy and sensuous cocktails—ones that might not improve your aim, but will help Cupid's. Here are a few good ones, using locally produced booze and bitters when possible.
We don't normally think of James Bond as a sadsack. But the Vesper cocktail he invents in Casino Royale is actually named for a long-lost love. Kina Lillet isn't available anymore, but you can substitute Lillet Blanc, along with your favorite gin and vodka. In an ice-filled cocktail shaker, pour 3 ounces of Beehive Distilling Jack Rabbit Gin, 1 ounce of Rocky Mountain Distilling Kid Curry Vodka or Five Wives Vodka and 1/2 ounce of Lillet Blanc. Shake until ice cold, strain into a Champagne coupe or martini glass and garnish with a lemon slice.
The Hanky Panky is a classic cocktail dating back to 1925, usually credited to Ada "Coley" Coleman, who headed up the American Bar in London's Savoy Hotel. The original recipe calls for Fernet Branca, but you could substitute a splash of Utah bitters. Here's the recipe: In a mixing glass with ice, stir together 1 ½ ounces of gin, 1 ½ ounces of sweet vermouth and two dashes of Fernet Branca or Beehive Bitters Spiced Orange Cocktail Bitters. Strain into a chilled cocktail glass and garnish with an orange twist.
For a drink that flies in the face of pink- and rose-colored libations, try the neon Sex in the Driveway made with Blue Curaçao. It couldn't be simpler to concoct. In a highball glass filled with crushed ice, pour 1 ounce of peach schnapps, 1 ounce of Blue Curaçao, 2 ounces of Sugar House Distillery Vodka or Silver Rum (your choice) and top it off with Sprite or lemon-lime sparkling water. Stir and garnish with a lemon wheel.
The Moradita—a beet-infused margarita—is most closely associated with New York City's Gotham Bar & Grill, one of my old haunts. Here's how it's made: In a cocktail shaker filled with ice, pour 1 ½ ounces of either jalapeño-infused Dulce Vida tequila or Utah-made Vida Tequila Blanco, and a couple dashes of Bitter Lab Habanero-Lime Bitters, along with 3/4 ounce of lime juice, 3/4 ounce of triple sec and 2 teaspoons of beet purée. Shake well and strain into a Nick & Nora martini glass.
Jeff Faile of Casa Luca in Washington, D.C., created the Il Palio cocktail—an innovative drink that makes use of blood red Campari ice cubes which slowly melt and turn the cocktail from a Manhattan into a Boulevardier. Here's how to do it: Begin ahead of time by making ice cubes—combine 3/4 ounce of Campari with 2 ounces of water and freeze in a square ice mold. Once frozen, place two Campari ice cubes into a rocks glass and pour 2 ounces of High West Distillery American Prairie Bourbon, 1 ounce of sweet vermouth and a dash of Beehive Bitters Spiced Orange Cocktail Bitters. Garnish with an orange twist and watch the cocktail slowly morph as the Campari ice melts.
From Joe Reiser—formerly of Los Angeles' now-defunct Woo Lae Oak restaurant—comes the luscious French Cosmo. It's as easy to make as it is gorgeous. In an ice-filled shaker or mixing glass, combine 3 ounces of pineapple juice, 1 ½ ounces of your favorite vodka (such as Kid Curry, Five Wives or Sugar House Distillery) and 1/2 ounce of crème de cassis. Strain into a chilled, stemmed glass and garnish with a pineapple slice. Enjoy!