In his first weeks as principal at West Lake Junior High, Ike Spencer learned that student gang members controlled a certain hallway, preventing other kids from using it. So, as the school's doors opened at 7:20 each morning, Spencer would sit on a ledge in that hallway.
Students had done their research on the school's first black principal, who began his tenure in 2010. "Mr. Spencer, aren't you from Compton?" they would ask. Whether it was his years growing up in gang-plagued South Los Angeles or his daily presence on the ledge, gang dominion over the hallway melted away. "Kids weren't afraid to walk there anymore," Spencer says.
Now, on a cold February morning almost three years later, Spencer, in shirt, tie and trousers, strides through the hallways of the school, a walkie-talkie in one hand. A two-minute burst of an ABBA song plays over the school's public-address system, counting down the seconds to when the school's 1,200 students have to be in class. Spencer's gravelly voice calls out the names of children dawdling to class.
"Once they walk through that door, they're mine," he says. "For the next six hours, I've got to show them a caring environment, with the understanding I expect something back in return."
West Lake Junior High, which opened in 1964, is located at 3450 W. 3400 South in West Valley City. A Title 1 school, the majority of families whose children attend the school are considered low-income, based on the number of students who qualify for free school lunch. This triggers close to a million dollars in annual federal and state grants to help balance out some of the negative educational impact of poverty.
It's also considered the toughest school in the Granite School District, if not in Utah, Spencer says. Statistics tell some of the story. Eighty percent of the students come from low-income families. The student body is 60 percent Latino, 31 different languages are spoken by students and 60 percent have achieved proficiency in English as a second language. The school's 59-member faculty—of whom only two are minorities, neither Latino—face daunting challenges, as do the students themselves.
"I've definitely got the kids that come to school hungry," Spencer says. Teachers talk of students who are homeless, who've witnessed their undocumented parents being arrested by immigration officials, or who live in a small apartment with four families.
West Lake's challenges, Spencer discovered shortly after taking over, extended beyond the personal hardships students themselves face. The results from the 2009-10 academic year's Criterion-Referenced Tests (CRTs)—the annual grading of the school in the core subjects of language arts, math and science—revealed the school's year-to-year performance had declined. If the school's performance dipped for one more year, it would make it a "failing" school under the federal No Child Left Behind (NCLB) act.
Twenty years ago, "you could teach like you're a college professor," Spencer says. "The teacher lectured, and if you can repeat it, you get an A." But the demographics of West Lake have changed so dramatically, from a majority white student population to Latino, that "we definitely needed help to get to so many different kids with so many different needs."
Spencer illustrates the need to address student engagement through a tale of two classrooms. In one, Gurpreet Tambhar teaches math, moving from one student's desk to another, looking them in the eye, checking on their comprehension, keeping every student engaged. In the second classroom, another math teacher remains at the smart board—the electronic equivalent of the chalkboard—while the same few students answer his questions. Others sit silently at their desks, bored or lost.
"They're responding and copying versus using energy to try to figure out things," Spencer says, standing at the back of the latter class. "She should be giving the lesson," he continues, pointing at a female student who is answering the questions correctly, and the teacher "should be back here," moving around, checking for understanding.
The United States is going through an educational revolution, says Mike Fraser, Granite School District assistant superintendent. "We are expecting our teachers to do more and more." With the mix of technology and cultural shifts reshaping classrooms, "administrators are the messengers" of such changes, and what they have to say isn't always popular. When Spencer implemented changes to how teachers are supposed to work in their classrooms to better reflect the diversity of needs in the student body, many in the faculty fought what they saw as a dictatorial approach.
Several teachers recall Spencer telling the faculty at his first meeting as principal that West Lake was a failing school and he was there to turn it around. Spencer denies that. "People got this mixed up with Lean on Me," the Morgan Freeman movie where he played a hard-nosed principal trying to save an inner-city school. "First of all, I didn't know if I could fix it," he says. "I knew if they stuck to the same strategies, they weren't going to turn it around, but I also knew if we used the right strategies, we could be successful."
NOT ONE LEFT BEHIND
Spencer grew up in Compton, a city in California's southern Los Angeles County that is home to a heavy concentration of gangs, such as the Crips, the Bloods, MS-13 and Surenos.
While his father laughed at his claims as a boy that one day he would be president of the United States, Spencer's mother, Anna, always championed his educational ambitions. Spencer's sports prowess helped him avoid the life of gangs and drugs his friends pursued, and he eventually secured a football scholarship to the University of Utah.
The first of his family to go to college, he recalls a celebration akin to a wedding. More than 200 relatives saw him off, the back seat of his Volkswagen full of fried chicken for the drive.
Spencer credits his passion for teaching in part to his mother's selfless dedication to his education. Not only did she help him escape the cycle of poverty that consumed many of his friends in Compton, "My mom always made sure I understood I was blessed and had something to give back," he says.
But his dream of getting a degree and returning to Compton to teach was soured after his high-school-age stepbrother was shot and killed during Spencer's sophomore year of college. Spencer, newly married with a son, realized that "as much as I thought I could handle Compton, I had a family to care for."
Spencer played football for the U for 33 games, and every one—except for a game he played in Hawaii—his mother drove from Compton to see him play. "There she was, always in the stands cheering me on," he says.
In 1975, Spencer got a master's in education, and was drafted by the Minnesota Vikings. After a short time, he decided football wasn't for him and came back to Utah with his family, then worked as a regional manager for Xerox for 11 years.
In 1991, Spencer returned to education, first working for a year as a substitute teacher at West Lake Junior High, teaching health. All the teachers were white, he recalls, as were 90 percent of the students. That same year, his mother moved to Utah to be near him.
After securing his administrative endorsement, Spencer was assigned as vice principal at a junior high, then held the same position at Skyline High School and Hunter High School.
In 2001, his mother, diagnosed with Alzheimer's, moved into a nursing home in Sandy. Every Saturday, Spencer, who's divorced with grown children, would pick her up and take her to a movie. On Sunday morning, he'd take her to their Baptist church. After service, they would have brunch at Market Street Grill.
In November 2008, Spencer, then vice principal at Hunter High, unsuccessfully applied to be principal of any available Granite District high school. The following year, he again threw his hat into the ring. A district official had told him, he recalls, "when we place principals, it's got to be the right fit."
In April 2010, Spencer was named West Lake Junior High's principal. He resolved to "make West Lake the best it's ever been." Being a principal of color, he says, there was so much that was personally at stake for him—not only providing a role model for children at the school, but also for minorities in education. "I just hope to be successful so other minorities would also venture to be administrators."
Spencer wants "every kid at West Lake to have the same opportunities my kids have had," he says. His two daughters are senior doctors at major California medical establishments, while his son has his own insurance agency.
Clyde Walker, the father of West Lake eighth-grader Andre, says that Spencer's upbringing in the infamously gang- dominated Compton means "he knows what he's dealing with. If you've never been there, then nothing can tell you about these kids."
Spencer, Walker adds, is determined more than anything, "that not one of these kids be left behind."
The FIRST TEST
Barbie Morton was teaching at an east-side school in 2004 when she was declared as "surplus" for that school and reassigned to West Lake. "You're kidding," she says colleagues said sympathetically when they found out about her destination.
But, she says, the school's demographic diversity made her come alive. Now West Lake's Title 1 specialist, Morton says when Spencer took over West Lake, he faced the educational equivalent of a "9/11."
Under No Child Left Behind's Adequate Yearly Progress (AYP) accountability system set up in 2002, West Lake had demonstrated a mixed, "but declining" academic performance, according to a February 2012 Utah Education Policy Center report. From 2002 until 2011, it had passed AYP five times out of nine, failing in 2003, 2006 and again in 2009. The 2009 results were announced in 2010, the summer Spencer started. If the school failed two years in a row, it would trigger a "school improvement plan," which meant an injection of $200,000, but also a multitude of plans, appraisals and oversight at the district and state level.
"I kind of panicked, in a way," Spencer says. "It was my first year, the only person like me [African-American] in a principal position at Granite, at a school that had clearly failed. How do I turn it around?"
One teacher told him that West Lake's principals typically sat back for five years, then moved on. "All you do is ride it out and get to go someplace else," Spencer says he was told, "as if they saw this school as a punishment."
Issues quickly emerged that surprised Spencer, particularly the low level of students' reading ability. "Testing people's reading abilities, we found they were pronouncing well, but they couldn't comprehend," he says. "I pulled everybody out of their classes to test reading levels." Teachers were frustrated at the disruption to their lesson plans, but for Spencer, reading was far more important. "That really was a setback," he says. "How come we didn't know these kids couldn't read?"
"It's Not A Plague"
Spencer says some teachers blamed the students or their home life for poor academic results. "Many times, they were putting it on the kid, his family, the societal makeup, that kids move in and out of the neighborhood, that parents don't make them do homework," he says. Such perspectives are apparent in the University of Utah Education Policy Center report, in which one teacher noted, "I think the culture overall of our school is apathetic students."
Veteran Spanish teacher Scott Slade offers a different perspective, arguing that under NCLB, teachers are accountable "for students who come in the last week of school, who are just going to be on your paper. You're accountable for a kid that's had a rough life. Whether he works or not ... he's on your test schedule. Eighty percent of the kids are awesome, but there's a population that we have here that refuse to work."
Children of poverty, Spencer says, "learn different, but it's not a plague. They bring more baggage to school with them than kids that are carefree."
Andre Walker moved to Utah three years ago from St. Louis to live with his father, Clyde. An Iraq war veteran, Clyde is 80 percent disabled, works part time as a produce clerk at Smith's and is a member of West Lake's community council.
"It's better here, you don't hear gunshots, there's not garbage in the street," 13-year-old Andre says. In St. Louis, his mother had him pumping gas to help the family out, but in West Valley City, his father works hard to ensure his son had only his education to focus on. "I thought if I be part of Andre's life, the least I can make sure is that when he turns 18, he's somewhat prepared for this world," Clyde says.
When Clyde saw Spencer, he watched how attentive he was to the children, the way he carried himself. Clyde points his index fingers in the air and says, "He knows that school, he knows those kids. He's got this picture in his head, how to improve things, how to make smarter kids come out of his school."
Children being raised by single parents or grandparents is the norm at West Lake, Spencer says. "I think it's so key to what we're dealing with. Everybody's being raised by somebody else. This school is the classic example of it takes a village to raise a child."
One example is 13-year-old "Salim," not his real name. Spencer often catches Salim in the hallway, a listless straggler doing his best to avoid class. His mother left him with his paternal grandmother when he was two weeks old. His father lives in Tennessee.
"Raising grandchildren really slows you down," Salim's grandmother says, but Spencer's "daddy-like way" and his strictness helps lighten her load. "They call me when he's acting up," she says. While she wishes she could sometimes bestow a "good ol' country whupping," Salim works on his anger toward his mother and father through a therapist the school has arranged.
After school, Salim hangs out with children who have parents. "He feels like I'm too old, I'm quiet, do nothing," the grandmother says. He doesn't tell her where he goes after school. "Utah can be very big when you're looking for a child," she says.
Spencer cites Salim as one of many West Lake students crying out for love. "When you're talking to them and looking in their eyes, you can see they're going a thousand miles an hour trying to find themselves."
Katie Humphreys teaches AVID, a course that helps students set their sights on college. Spencer "wants kids to have someone like his mother in their lives," she says. "He really wants it to be a teacher. His whole mission is that they feel safe with somebody, that they are cared for by somebody."
A WILD YEAR
Spencer sought to change the learning environment at West Lake by initially providing extensive professional development for the teachers. "We had to get out of our comfort zone and understand the mission was to go from teachers teaching to teachers learning," he says.
He brought in Edwin Javius of San Jose, Calif.-based EDEquity. Javius was critical, Spencer says, in introducing teachers, through workshops, to "culturally responsive teaching."
Spencer also wanted teachers to move around the classroom and engage their students and post language and content objectives for every class on the board, so students knew what they were expected to learn in each lesson. "It not only helped the teacher stay on track, but helped the students help the teacher stay on track," he says.
That first year, "Ike hit the ground pretty hard," says Rachel Bartholomew, who teaches reading. "He had a lot of things he had to fix."
According to Title 1 specialist Morton, Spencer was akin to a force of nature rushing through the school.
"Ike made everybody pull out all the stops, throw it all out the window," she says. "Teachers were calling the unions, people were in tears. It was a wild year."
Assistant superintendent Fraser declined to discuss specifics relating to Spencer or the faculty, but says, "It's not uncommon at all, particularly with provisional administrators, to have some struggles."
One bone of contention was Spencer's communication style, a contrast to the more supportive approach offered by past principals, according to several teachers. Teachers "didn't have the luxury of letting our emotions develop to the change," Bartholomew says. "We had to change whether we liked it or not."
Some teachers found Spencer's tone harsh. He says, "I probably should have worked to get more buy-in from the faculty."
History teacher Todd Scott expresses deep frustration. "After the first year with Ike, I was so overwhelmed with what was on my plate, I felt my teaching ability was down to 65 percent, I felt I was robbing the kids." The lessons were the same, but his focus "half the time ... was on the district, on administration."
Teachers complained to one another of losing class-preparation time, having to grade papers at home instead of in class, attend meetings and generally work longer hours to accommodate Spencer's dictates.
Spencer argues he was trying to get teachers to work in a different way, but teachers perceived it as more work being added to their schedule.
He also had parents, faculty, kitchen and custodial staff vote on whether or not to replace their current daily seven classes of 45 minutes each with a schedule of four 75-minutes classes on alternating days, a change that had been recommended by a committee of teachers whom he had visit other schools.
That change fit with Spencer's desire to get teachers to "teach, assess [if students understood], re-teach," something that a 40-minute class did not allow. A block schedule would also help tackle a chronic truancy problem—"Fewer intermissions, fewer opportunities to sluff," Spencer says. He says 94 percent of the school voted in favor of the change in spring 2011. That same spring, his students took the all-important CRT tests that would determine whether the school was to be put under tighter district and federal control.
In the run up to Cinco de Mayo, Spencer heard rumors that students were planning a walkout to protest immigration raids. The school needed a new digital marquee—the one it had was missing its Ls and Es. So he hijacked the walkout, turning it into a walk-a-thon in which teachers and others sponsored students to raise money for the school. He organized a surprise in the form of bouncy castles and a mariachi band. Wearing a sombrero, Spencer joined the kids as they walked around the school. The students dissolved into joyful chaos when they caught sight of the games.
But come summer, the results of the CRTs were as Spencer had feared. The school had failed to advance in key core subjects, triggering state and district oversight. "I looked at it that I would have loved to have won, but at least it was done now." The School Improvement Grant, he says, "is a two-year program." He decided, "I'm getting out of it in one."
"I CAN'T DO IT ALL"
In the second year, when Spencer introduced the block schedule, it did not go smoothly. "There were tons of changes that would about break anybody," Bartholomew says.
Communication issues with administration and lack of trust led to low morale and what a University of Utah Educational Policy Center report termed "a strained school climate." According to the report, teachers witnessed colleagues in the halls "crying and saying, 'I can't do it all. You know, I don't have enough time in a day.' "
Spencer's lowest point, he says, came in November 2011, when some staff members wrote to the district complaining about him. The Granite School District denied a records request by City Weekly for the letter, a spokesman stating, "we have been unable to locate the specified record."
The thrust of the letter, Spencer recalls, was that "the faculty viewed me as being negative, dogmatic." What wasn't mentioned, he says, "was how I was trying for those kids."
Teachers acknowledge there was a group within the faculty who wanted Spencer gone. "I think you'd be surprised that some of those same folk have been very anxious to get rid of every principal who's been at that school," Fraser says dryly.
One month later, another letter, dated Dec. 2, 2011, was sent to the district by Leticia Medina, a former state Hispanic Affairs director. Medina had faculty, rather than administration, in her sights.
She noted in the letter, accessed via a records request, that at parent-teacher conference nights, some teachers made comments "that Latino parents don't care about education, so why waste resources on them." Such comments make Medina bristle. "Very few parents I've met don't want their kids to get an education."
Until Spencer was brought in as principal, Medina wrote, the school's administration did not reflect the community it serves. Latino parents told Medina, she wrote, that under Spencer's leadership, "they have felt and seen changes." No longer, for example, were they ignored in the front office if they spoke Spanish. In his second year, he re-opened the school's family center, hiring a University of Utah doctoral student to spearhead outreach to Latino parents. Parents, their children and teachers collaborated on a community garden.
Spencer also introduced 20 Title 1 grant-funded para-professionals or classroom aides, many of them Latino, to provide both help to teachers and role models for the students. While the district's list of approved teachers he could hire rarely offered professionals of color, through the aides, which also included former students, Spencer was finally able to reflect the diversity in his student body.
GAME'S NOT OVER
In January 2012, Fraser had an independent consultancy survey the faculty.
Spencer felt that Fraser's decision gave credence to the complaints in the letter his staff had written. "I couldn't see how there would be any difference [between the letter the staff wrote and the survey's results], since the people who wrote the letter were also being surveyed."
Instructed by the district to improve his relationship with the faculty, Spencer had the teachers come to his office individually and discuss his performance. "My idea was, 'Tell me whatever you feel about me,' " he says. " 'I'm a big boy, say what you feel. I just want to get better.' "
By the end of March 2012, teachers who had been ready to quit just four months before were excited by the changes. One wrote on an evaluation of Spencer's communication abilities, "Is this the same person that was principal a year ago? Glad I've stuck w/it here—huge strides are being made. J "
In April 2012, it was time for the school's CRTs. Spencer told the students at an assembly, "The most important thing to me is you know how to read, write and be able to count your money. Once you got those capabilities, you are able to do everything else."
That summer, Spencer began receiving calls from the district telling him how well West Lake had done. The district told him West Lake had gone from one of the worst schools "to the most proficient school in the whole district."
Spencer had cake and ice cream brought to the library when he unveiled the results to the faculty. The teachers gave each other high fives, as one category after another— language arts, science, math—showed increases year over year.
West Lake CRT Scores by rpiper2114
West Lake CRT Score History by rpiper2114
Spencer took the results in stride. "I've been an athlete so long, I know the game's not over, there's another getting ready to happen." He told the faculty, "We need to continue our focus, we need people to understand it's not a fluke."
A HOME AWAY FROM HOME
Spencer's mission will not be complete, he says, until he's no longer asking the children at his school if they have considered going to college, but rather asks, "What do you want to do when you go to college?"
Part of that drive included taking students to the U on an icy day in January 2013 to walk the campus and see the Rev. Jesse Jackson's keynote speech during Martin Luther King Jr. Week.
The day before the field trip, Spencer's beloved 79-year-old mother died. He attended Jackson's presentation, but it was as if the energetic 61-year-old had aged decades over night.
Despite such a devastating loss, Spencer says, the children's passion uplifted him. "The thing I remember most," he says, is his students standing up as Jackson urged all of them to their feet and told them to repeat what he said. "I am somebody," Jackson cried out. "I am somebody," the students roared back. "I will achieve, I am somebody." Again the students echoed his call.
Two months after Anna Spencer's death, her son struggles with his loss. "It's hard, so hard," he whispers, wiping tears from his eyes. "Me and her was always together. I never thought I'd be without her." His daughters organized the funeral and asked that mourners donate money to the school in lieu of flowers.
Spencer's mother visited West Lake once. "These kids need you," he recalls her telling him. "Of all my kids you've done the most. You need to make sure they know your story. If they do, they'll do better."
Front-office staff say that when Spencer has to leave the school for meetings at the district or elsewhere, students know he's not around. When he returns, "there's a calmness," several report.
Whether he's behind his desk listening to both sides of a student fight, in the hallway swapping jokes or cajoling students who are late, in the cafeteria letting out a piercing whistle at someone to get off a table, or admiring the homework of a boy who comes up to tell him how well he's doing, Spencer seems like the anchor around which the school's pulsing life flows. He seems to know every back story, recognize every face. Indeed, sometimes it seems that when he exhales, so does the school. It's his home, and these beaming faces, bright voices and extraordinary lives that flood by him between classes are all his children.
In Spencer, Andre Walker finds a powerful example. "We're not different from anybody else," he says. "He shows if he can do it, why can't I?"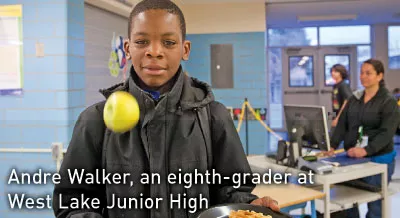 Seemingly, the only cloud on the horizon is that next year, because the district is moving West Lake's ninth grade to nearby Granger High School, Andre won't have another year at West Lake.
"I wish he didn't have to leave," Clyde says. "He has got the best grades since he's been in West Lake." Andre agrees. "I'm two grades away from being straight A's," he says proudly.
One teacher told the U's Education Policy Center appraisers that despite his or her "personal beefs," the school's performance under the most trying of circumstances had amazed him. He concluded, "I think we're going there, it's just not easy."
While some of the naysayers in West Lake's faculty are expected to move to Granger to teach ninth grade there, a few of the teachers who think Spencer's changes in communication style are, as one teacher put it, "too little, too late," will remain. But most teachers City Weekly talked to hoped for a more cohesive faculty and administration in the next academic year.
At a recent faculty meeting, Bartholomew had teachers write down on a Post-it note one thing that frustrated them, then had them throw it away. "We need to move forward for the kids," she told them. What she sees now, she says, "is a desire to be the best, to have kids be proud they go to West Lake."
Title 1 specialist Morton agrees. Teachers have worked hard, she says, "they are turning it around, they are getting it."
Spencer never doubted the school could be turned around. "I knew when we started teaching the way kids learn, they would pick it up," he says. He knows he has many teachers who truly care for their students. "One thing I know about kids," he says. "They'll do anything you want them to do if they know you care about them."