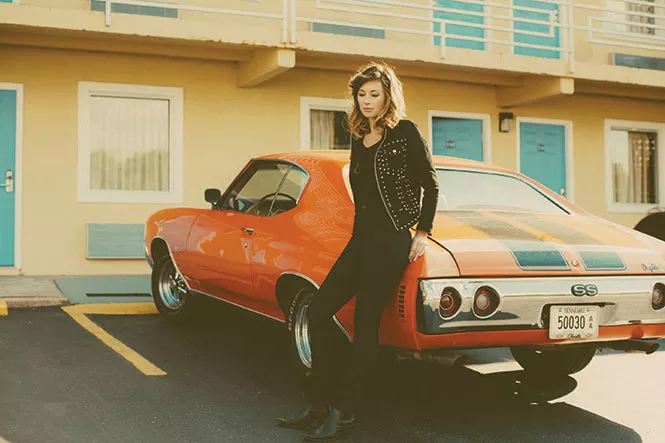 Lera Lynn makes no secret of her darker designs. Then again, given the unsettling and somewhat melancholy music she contributed to HBO's hit series True Detective, it would probably be futile to deny it, anyway. Speaking by phone during a tour stop in New Orleans, the 31-year-old Nashville resident is so amiable and self-effacing, it's difficult to mistake her for the sleazy, strung-out barfly songbird she portrayed on the show's second season.
Lynn insists she's nothing like that sordid character. Listening to her music, however, makes one think that the chanteuse is a construct based on, and perhaps a personification of, Lynn's own noir-ish, introspective songs. It was these tunes, after all, that producer T Bone Burnett, the show's composer and music supervisor, found an ideal fit for the show's unsettling style. Burnett invited Lynn to fly to Los Angeles and try her hand at collaborating on the True Detective score and, when series writer/producer Nic Pizzolatto heard Lynn sing, he decided to cast her in the recurring role, performing her own music.
Before True Detective, Lynn had never set foot on a film or television set. "They dressed me up like a junkie," she says. "Half the people on the set that first day were probably asking, 'Who the hell is she?'" But she found a quick chemistry with Burnett, saying he "was good at making me feel comfortable."
That didn't immediately curtail Lynn's fish-out-of-water anxieties, or ease the pressure of collaborating with someone of Burnett's stature. He's a singer-songwriter himself, and a critical darling. He's produced albums by Elvis Costello and Willie Nelson, and is highly regarded in film and television, working as a music supervisor, producer, composer and archivist for series like Nashville and films like Walk the Line. He's also a frequent Coen Brothers collaborator, working on four of their films—including The Big Lebowski and O Brother, Where Art Thou? So it's understandable that Lynn was a bit anxious about her new writing/acting/singing gig.
On the plane to L.A., Lynn gave herself a pep talk. "It was like, 'All right, Lera, you better get your shit together,'" she says. "It was very intimidating." Inspiration, she says, can be elusive. Sometimes she'll wake up with a "whole song in my head that's come to me from a dream," and other times she'll labor for months on a single tune, or write a lyric that goes unused for years. Writing for television, adhering to an often crazy production schedule, can be hectic. "I don't have enough discipline to sit down and write every day, but I do try to keep my mind and heart open in case something comes along."
Lynn is drawn to a moody muse. Her songs have roots in Americana, but her somber sentiments make comparisons to Leonard Cohen and Joni Mitchell almost inevitable. "I find there's a greater depth of beauty in sadness," she says. "I'm not a sad person, but I think the point of music is to move and inspire people so they feel something. I have access to that emotion." She nonetheless wishes she could write a happy pop song: "It certainly would help me pay some bills."
That said, she's impressively prolific, racking up three albums and an EP since 2011—including her latest long player, the aptly titled Resistor (Resistor Music). Yet it was The Avenues, her 2014 sophomore set, that brought an acceleration of interest, winning her rave reviews and placement on several year-end lists—not to mention the True Detective thing. When City Weekly mentions that she's been exceptionally productive in a relatively short span of time, Lynn demurs. To her, it's a matter of perspective.
"I guess that depends who you're asking," she says. "Some days I would agree, but most of the time I don't." She likes working, and has a good work ethic; success hasn't gone to her head. "There's a long way to go still. I think it's a mistake to linger on that too much, because then you don't keep moving forward."
Lynn says her life can be "exhausting," citing the shock of going from periods of "nonstop motion" to idle time at home "where nothing is happening at all," but "I'm always looking forward to the next thing." As to what that might be, she's happy to leave that to her muse. "I think it's a mistake to make art with the intention of keeping up with perception," she says, "or whatever your idea of success is. You have to follow inspiration. The greatest challenge is not to listen to outside noise. An artist needs to ignore that and just make their art."