A New Brain
If a musical is going to go the "throughsung" route, it's usually because something about the subject matter feels particularly operatic. William Finn's musical aims for that level of emotional grandeur, and instead it swings between pleasantly quirky and merely overwrought.
There's a certain appropriateness to telling the story of Gordon Schwinn (Jon McBride) in this fashion: He's a composer who dreams of producing great work.
Unfortunately, his current job finds him penning silly ditties for a children's television program—and his chance for ever creating something more profound is in doubt when he's diagnosed with a rare brain disease.
Not surprisingly, the diagnosis puts Gordon in a contemplative frame of mind— and from there, Finn's score spins in multiple directions. We get a glimpse of his childhood with a horse-betting father; a male nurse gets a solo describing himself as "Poor, Unsuccessful and Fat"; a wandering homeless woman (Julie Carrillo) offers odd insights. And it's hard to get a handle on what a lot of this has to do with a man facing his mortality and turning it into a dark fantasia.
Dark Horse Company Theatre does put together a solid cast of performers to provide an evening's entertainment. Carrillo is a vocal standout, as is Rhett Richins as Gordon's lover Roger, who gets a gorgeous solo moment with "Sailing." And there's an effectively emotional scene of Gordon's mother (Karin Gittins) letting loose her parental anguish in "The Music Still Plays On." You'll just need to make it through the parts of the story that didn't quite require a whole song and dance.

—Scott Renshaw

Dark Horse Company Theatre
University of Utah Post Theatre
245 S. Fort Douglas Blvd.
801-581-7100
Through Nov. 15
DarkHorseCompanyTheatre.com
Eleemosynary
The 1980s were a good decade for thinky, conceptual plays that don't really go anywhere but instead analyze things like "the relationships among three generations of women." Lee Blessing's Eleemosynary is one of those. As such, it's a humdinger; it's the kind of script that people describe as "delicate." This is because it's all about those relationships, which are tricky.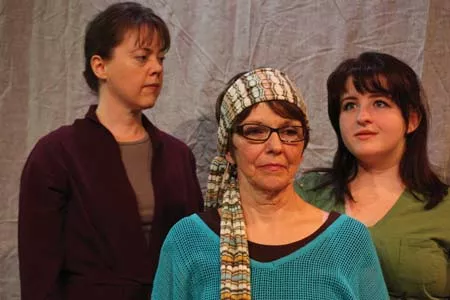 These plays are really psychological whodunits: After the characters are introduced in all their inscrutable quirkiness, the main point is to drill down through layers of their past traumas until a common root to all their conflicting neuroses and motivations is miraculously revealed. In this case, the three generations of women are represented by metaphysical adventurer Dorothea (Jan Frederickson), her daughter Artemis who had eidetic memory of past events (Holly Fowers), and monomaniacal granddaughter Echo (Aly Dowe).

This particular psychological drill-down centers around the issue of intellectual development: Dorothea's desire for an education was thwarted during an era when women were discouraged from such pursuits, so she made damned sure Artemis went to college; later, their mother/daughter conflict was played out in Echo, making her a shockingly fierce spelling-bee champion. The sins of the mothers are visited upon the daughter.

As Echo, Dowe is the standout in this production with her budding emotional range. Fowers' Artemis remains stiff and reticent, and I was wishing for a broader performance from Frederickson as the wacky, free-spirited Dorothea.

Still, despite a few technical glitches, the show's pacing is remarkably snappy. It's a modest production, and an ambitious one. And, if Blessing's play was an odd choice for Pinnacle, the challenge was well met. Nothing ventured, nothing gained.

—Brandon Burt


Pinnacle Acting Company
Midvale Performing Arts Center
695 W. Center Street
Through Nov. 14
PinnacleActingCompany.org

Roundup
In Kurt Proctor's world-premiere play Roundup, the romanticizing of the Old West is explored through family stories and a pile of old cowboy poems. We're left wondering if that West ever really existed—or if that's even a question worth asking.
Carl (Joe Welsch) feels he's missed out on something. His dad was a real cowboy, keeping herds on the land before freerange was a catch phrase. His brother, Randy (Greg Peters), followed in those near-mythical bootprints but doesn't see what all the fuss is about.

It's a promising premise, and Peters in particular offers a strong performance. However, the show doesn't quite hold together. Rather than build and develop its themes and characters, Roundup pummels the audience with history, relationships and prejudices in the opening scene.

Characters talk over each other in a manner that is supposed to come off as naturalistic, but instead feels like an improvised rehearsal exercise.

Similarly jumbled is the depiction of the drinking problem of one of the characters. His alcoholism, its causes and the related concern of his family are unevenly portrayed, giving the development a disingenuous air.

However, the play does give insight to the core question of what it means to live in the West in the shadow of rugged individuals, be they real, imagined or somewhere in-between. The show is at its best when this territory is covered by two characters onstage, talking around a fire, under the stars—like we do in these parts.

— Rob Tennant


Utah Contemporary Theatre
Rose Wagner Performing Arts Center
138 W. 300 South
801-355-ARTS
Through Nov. 21
UtahContemporaryTheatre.org