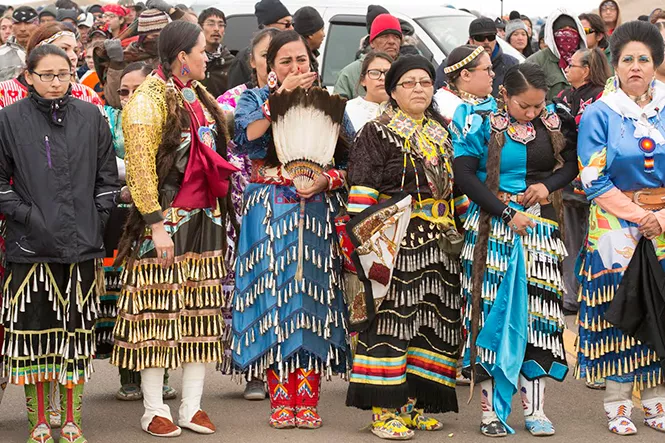 Weston Bury
A group of women align to do a traditional dance the day after authorities cleared the front line camp.
Before the U.S. Army Corps of Engineers rejected an easement that would allow the proposed Dakota Access Pipeline (DAPL) to cross under Lake Oahe, I was at Standing Rock alongside the water protectors.
Standing Rock defies classification. There were, as far as I can estimate, 10,000 people from 70 tribal nations in the largest native gathering in history, all with a common goal of peacefully, soberly and prayerfully, protecting the Earth and, especially, the first medicine—water.
At sunrise on Thanksgiving Day, I woke in a freezing tent to a message over bullhorn in the Lakota language, urging people to get up and greet the day in the east with song and prayer. I am camped on the reservation side of the river, in a smaller camp called Rosebud. Across the Cannonball River is the large Oceti Sakowin camp on the so-called Army Corps of Engineers land, which I learn was land the United States refused to cede to the Sioux nation after the Treaty of Fort Laramie. On the hills across the Cannonball is a Sioux burial ground, with warning signs urging newcomers not to tread on precious ground. Just to the north of the cemetery is a heavy militarized police presence. The skyline of the hill prickles with cops or "mercenaries," as water protectors call those who are suspected to be employed by Dakota Access—the company aiming to pipe crude oil under the Missouri River to refineries in the Midwest.
I visit the port-a-potty line, then make hot tea and oatmeal, not waiting for the camp breakfast that can feed the mass. I join the pre-breakfast prayer circle and announcements, and spend most of the first day unloading donations collected from friends in Salt Lake City. The camp seems to be overloaded with coat donations, although food and firewood, I hear, are greatly appreciated. Women ask for skirts, as some elders have asked women to wear them as a gesture of respect. I have a few to donate. Many of the non-native women look like a cross between frontier women and hippies from the Rainbow Gathering, while fur hats and wood chopping are in style for the rugged men. Natives ride bareback on beautiful spotted or brown horses with feathers in their headdresses and adorning their steeds as well. I watch one man set off at a gallop, towing his laughing kids behind the steed in a plastic sled over the dirt road. Others stick to four-wheelers and pickup trucks. At 8 a.m., a group of people wanting to do "direct action"—meaning confronting the barricade and the police—line up to attend meetings where they'll get assignments from leadership. The role of the visitors is to support the natives, not to take over with their own agenda.
I'm amazed at the number of cozy wood-heated white teepees dotting the vast camp, thin curls of smoke coming from their roofs. A friend, however, tells me that tarpees are much cheaper and easier to build. They're made out of long two-by-fours and tarps instead of skinned logs like teepees. They aren't as beautiful, but require much less work and money. In contrast, the yurts are even more expensive to build. Many people stay in cars, campers and tents.
I meet a couple of Sicangu brothers from Rapid City. They are in their 60s, and one uses a wheelchair when his leg seizes up from an old injury. They are camped in a small tent by the river and mix Lakota and English freely. They tell me they have quit alcohol to come protect the water. Later, I find out that huge numbers of people have been able to quit alcohol and methamphetamine—which is rampant in North Dakota—as they unite for prayer and water protection. The elderly brothers—even the one in the wheelchair—have engaged in direct action against the police, but haven't been tear-gassed yet. They feel their mother's spirit wanted them to do this. I say my mother's spirit talks to me often, too. They explain that Sicangu means Burnt Thigh People. They point to the DAPL plane circling constantly overhead. It always goes in the same direction, they say—counterclockwise. Everything is backward for those DAPL people, like the heyoka, a sort of mythical clown figure in Lakota culture that acts in contrary behavior to those around it. Why does the plane always fly counterclockwise? To the Sioux, the sacred way to approach the fire is clockwise. They laugh a lot about this. I ask if they plan on staying all winter. "Why not?" one replies. "Our ancestors did, with less than we have." They think this is funny. One brother mentions he still needs to pay rent in Rapid City to help his sister out. The brothers tell me to go see Sacred Stone camp, a sustainable encampment—"white hippie village" as they call it—where a private landowner has allowed people to camp. They laugh about this, too.
At Sacred Stone, chickens peck outside the yurts, a strawbale house is almost done and the building of a school is underway. One woman stops to explain what a women's circle is, and says it happens every day, give or take. I return to try and find some friends and eat Thanksgiving dinner. I help a young activist friend from Salt Lake City open a lot of cans and take them to A recycling bin. She has quit her job to come to support the cause. She says she has found a man and a puppy at the camp and doesn't need anything else. We form a circle and a Salish man from Washington delivers a poignant prayer in the Salish language—perhaps the most beautiful language I've ever heard, or maybe it's the calm presence of the man speaking it. It reminds me of Irish, my ancestor's language. "Thanks to the Great Spirit," he says repeatedly. He explains to us in English that everything is people—the rocks are people, the trees are people, the vegetables we eat are people, animals are people and the water is a person, too. Everything is sacred, he says. Every day should be greeted with a prayer. After the prayer, we shake hands with everyone in the circle and thank them for being there. Then we eat.
After nearly freezing Thanksgiving night, I am thankful that Friday is relatively sunny and warmer. I head across the bridge to Oceti Sakowin camp—the big camp—to check it out. I pass by some old-fashioned monkey bars made of bent saplings, with kids of all colors playing on them, and there's not a video game in sight. Media hill swarms with reporters requesting press badges. Phones are being charged by an exercise bike powered by volunteers. I charge mine up to take photos, which I later find out is not allowed. They are worried about people being identified by authorities from social media posts. Also, pictures of sacred fire and sacred items or ceremonies are definitely not allowed. A big Sioux guy offers me some venison jerky that he made himself.
I go to the main road, which is lined with flags from all native nations. The Iroquois Wampum is there. The U.S. flag is upside down with a native in the middle, meaning distress. A group of colorfully dressed Mexicans carrying fruit baskets head toward the sacred fire. I learn that these people are Michoacanos, a native group that is marginalized, often violently, in their homeland. They do a beautiful dance around the flames and present gifts to elders and onlookers. I get a banana. The Sioux hostess eloquently acknowledges their struggles. I get the impression that this moment is the first time these Michoacán people have had a person who truly understands their oppression acknowledge it, in the formal, honoring way that these Sioux people have. Further down the road, the Salish have brought salmon and boughs of cedar to gift to the Sioux. The Salish present me with a cedar bough and a sachet of ceremonial tobacco. The Sioux are so honored that the other tribes have come to support them, and the other tribes are honored as well.
I stay around the main sacred fire for a long time. One elder says he had a vision that the Black Snake from Sioux prophecy, which is believed to be the pipeline, can only be defeated by prayer. He states that all people are one. We love each other. We must pray and be peaceful. Tears are running down the face of many, even mine; not just this time but many times around the fire as message after message of love and support are delivered. Further down the road, people ask me to sign a banner to present to Sophia Wilansky, the woman who nearly lost an arm after being hit by a police concussion grenade.
Friday night is a different scene. I have met up with my friends Keith McHenry, founder of Food Not Bombs based in Santa Cruz, Calif., and his partner, Abbi Samuels. We go down to Red Warrior Camp where the native youth hang out. Aided by battery power, a full-blown hip-hop concert is in progress. L.A.'s Aztlan Underground is rapping, and shouts of "Black Snake Killaz" ring out over and over again. Fists are raised. "We didn't cross the borders," lead singer Rene Orozco, who changed his name to Yaotl Mazahua in recognition of his native heritage, shouts. And the crowd roars back, "The borders crossed us!" I'm blown away by the next political rap artist, Che Christ. No Kanye West resemblance here. The young man seamlessly talks about the oppression of native and brown people, and the problems with the "pipeline pigs." Next, a singer from the Shiprock Reservation in New Mexico talks about the high suicide rate his people are experiencing. A Mowhawk female poet who spits that you "don't need a cock to be a warrior" follows. At the end of the concert, Aztlan Underground's Mazahua says they have 27 nations from eight countries in the Red Warrior camp, and that they don't agree with the elders and their sacred fire and ceremonies. He then adds, "but we still respect them," and "we will end this concert in prayer." This is the first time I've seen a hip-hop concert end with a native prayer song. All heads are bowed; all hats are off.
I walk back toward camp, stopping to hear a talk at the White Dome by environmental whistleblower John Bolenbaugh, who was a former oil spill clean-up worker. He said 70 percent of oil pipeline leaks are reported as maintenance. Then he showed a video of the direct action that took place the previous Sunday, where the protesters were relentlessly sprayed with fire hoses, rubber bullets and maced by police. Tonight, I sleep warm with a second sleeping bag, provided by the donation tent.
The following morning is sunny, but news of a Dec. 5 eviction by the Army Corps of Engineers looms and helicopters circle, unrelenting overhead. My friend and I talk seriously about clean energy and native spirituality the whole long drive home. The situation at Standing Rock is not just about a pipeline; it's about regaining our lost connections with community and nature, and forging an honest, modern society.

Lori A. Wagner is a former biology professor from the University of Utah who has moved on to a life of traveling and activism.