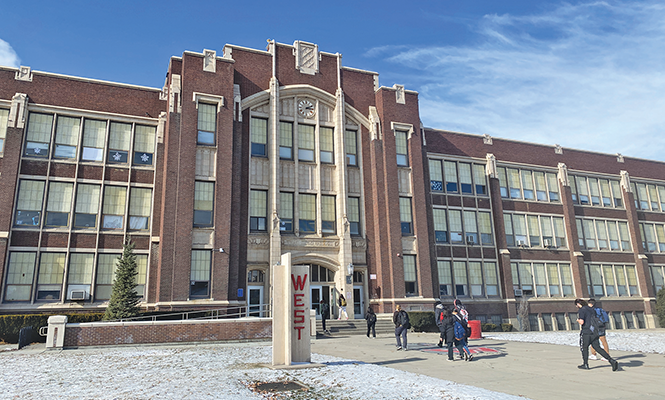 Benjamin Wood
Students arrive at West High School on Monday, Jan. 30. Salt Lake City School District is considering a rebuild of the century-old school.
With four superintendents in three years, school board infighting that spilled into public view, accusations of racial discrimination and a blistering state audit alleging waste and mismanagement, finding a word to sum up the current state of the Salt Lake City School District is quite the endeavor.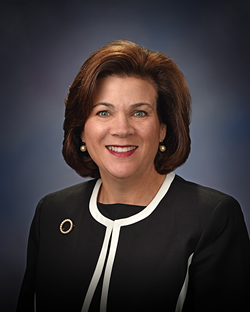 Courtesy Photo
Lexi Cunningham, SLC School District superintendent 2016-2020
"Tumultuous" comes close, while still barely doing justice to the string of new headaches for administrators, educators, parents and students that have seemed to crop up each day like dandelions in an abandoned field.
Hiccups outside of anyone's control—including a global pandemic that halted in-person instruction and the stark, political dividing lines the district's response drew—compounded the stress of internal personnel issues until they all boiled over into a ruthless review of the district's shortcomings released by the Legislature in December.
Here's some of what the district has waded through, publicly, since 2020. It can be a lot to take in:
—Superintendent Lexi Cunningham resigned in January 2020. The district formally says that Cunningham left of her own accord, but one former board member claimed in fairly uncertain terms that Cunningham was likely to be forced out anyway. Larry Madden was named interim superintendent in Cunningham's absence.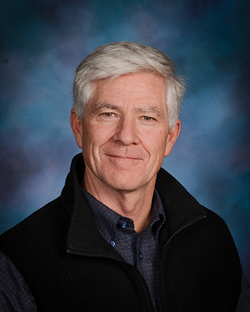 Courtesy Photo
Larry Madden, SLCSD interim superintendent 2020-2021
—A parent in the district filed a records request for electronic messages between members of the district school board, revealing a trove of unprofessional conversations. In one instance, a board member grew so frustrated by a meeting running long that she texted, "F--K YOU" and "I F--KING HATE YOU" to the board president. Another board member was caught playing solitaire on his computer during a virtual meeting.
—Joel-Lehi Organista stepped down from his board seat in January 2021 after he was arrested on suspicion of possessing and producing child pornography, in addition to other, troubling crimes. Organista was later sentenced to 15-years-to-life in prison.
—Timothy Gadson III was named district superintendent in July 2021, becoming the state's first Black school district leader. But one year later, he was placed on administrative leave under a cloud of suspicions, accusations and finger-pointing. After months of deliberation, the district agreed to pay the remainder of Gadson's contract—about $200,000 in all—in exchange for his resignation in October of 2022.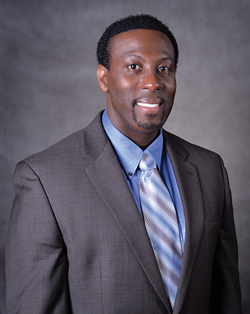 Courtesy Photo
Timothy Gadson, SLCSD superintendent 2021-2022
—And this past December, the Utah Legislature published a lengthy audit of the school district, accusing administrators of neglecting to close schools in the face of shrinking enrollment, leaving taxpayers to cover the costs of unnecessary campuses. The audit also claims that student achievement has fallen.
Despite these speed bumps, district officials say they've turned a corner and are ready to leave the last 36 months behind.
"Our district has been through a lot in the last couple of years," spokesperson Yándary Chatwin said. "It's been nice to have a period of steadiness with [interim superintendent] Dr. Martin Bates."
The Salt Lake City School District (SLCSD) has some big plans for how they'll move forward, starting with finding a permanent replacement for Gadson once Bates' time as interim superintendent ends in June. But a lot went into Gadson's ouster, and most of it was hidden from the public's view.
The Hot Seat
Gadson's tenure seemed to get off to a solid start, with him promising to visit every school in the district and hear feedback from teachers, students and staff.
But the board's confidence in Gadson quickly began to wane in the months after he took over in July 2021. A pair of anonymous employees wrote emails to the board in October and November of that year, claiming that morale was at an all-time low and airing out concerns over Gadson's perceived intimidating nature.
The employees bristled at Gadson for, in their view, shifting responsibility toward a handful of Black administrators who he'd hired instead of relying on the allegedly more qualified employees who had already paid their dues in the district. The letters insinuated that the Black administrators had been given their job interview questions ahead of time to land the positions.
The frustrated employees also claimed they'd overheard Gadson tell another employee that he "would only hire Black administrators because that is equity," according to emails obtained through a public records request.
"Dr. Gadson will never see a white or Hispanic administrator as working hard enough," one of the anonymous emails states, "and he will continue to berate and tear down white and Hispanic administrators until they leave and can be replaced with applicants of his choosing."
They pleaded with the school board to not renew the contracts of Gadson and his associate superintendent, Gwendolyn Johnson-White, who eventually resigned in August.
In response to those complaints, Gadson expressed his own concerns of experiencing racial discrimination to the board's lawyer, Joan Andrews, on April 2, according to an email obtained through a public records request. Then-board President Melissa Ford responded, saying the board was "distressed" to hear of Gadson's concerns and inviting him to discuss them further during closed-door meetings in an email on April 28.
Gadson replied, "Thank you," less than a half hour later, but it's unclear if that meeting ever took place
In May of 2022 then-executive director of school leadership and performance Leeson Taylor—who was hired under Gadson's watch—emailed Rebecca Pittam, the district's network director. Taylor told Pittam that he had heard Gadson and himself were under investigation by the board. Taylor was told that board member Kristi Swett had authorized the investigation, the email states.
Then in June, Jeanetta Williams, president of the Utah chapter of the NAACP, asked the U.S. Department of Justice to investigate the district for racially motivated mistreatment of Gadson and other Black school district employees. The next day, a number of district officials sent an anonymous letter to the school board, saying Gadson had lost the confidence of those who worked under him.
"The past year has seen talented, innovative, highly skilled and successful leaders ignored and often stifled," the letter reads. "Institutional knowledge has been completely devalued or ignored. Disorganization and lack of communication have become the norm."
Several other employees sent emails imploring the district to investigate whether Gadson and his hires—including Taylor and former executive director of organizational and strategic leadership Kimberly Mackey—had accepted an expenses-paid trip to Grand Canyon University in Phoenix, Arizona.
Get Outta Town
Much was made out of Gadson's visit to Grand Canyon University (GCU), where he had taught from 2010 to 2015. To catch readers up while staying out of the weeds, and according to emails obtained through a public records request:
—Gadson traveled to Grand Canyon University in January 2022 to meet with administrators about educator training courses and concurrent enrollment offerings that GCU was developing.
—The Salt Lake City Board of Education claimed that Gadson had violated its ethics policy by allowing GCU to pay for the trip, but Gadson claimed—and provided a credit card statement to the board supporting—that he paid for the trip himself.
—GCU invited Gadson to return in March for a conference they were holding on the university's offerings. Gadson couldn't make it, but sent Taylor and Mackey to attend.
—SLCSD hired the prestigious local law firm Kirton & McConkie to investigate Gadson and the trips to GCU, but the findings were never made publicly available. Still, the board pushed for Gadson's resignation in closed-door meetings, though the district denies that any vote to oust Gadson took place behind closed doors, which would violate state transparency laws.
—Board member Mohamed Baayd wrote an email to his board colleagues on May 25, stating that he was "perplexed" with how the majority of the board rushed to ask Gadson to resign. In short order, Mackey was dismissed for embellishing her resume, having falsely claimed to hold a Ph.D. Taylor was demoted from his administrative position on July 26.
—For months, Gadson remained on leave without any sign of mediation. After the school year began in August, the two sides came to an agreement; Gadson would serve as a consultant to the school board until the end of his contract in July 2023 and the district would pay the rest of his owed salary and vacation time in exchange for his resignation.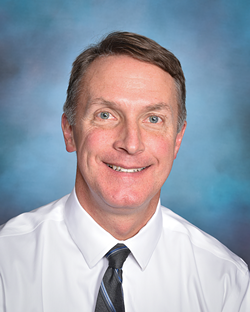 Courtesy Photo
Martin W. Bates, SLCSD interim superintendent since October 2022
—Note: The emails from the anonymous employees complaining about Gadson before he visited GCU haven't been made public before this story. While much remains unknown, the timeline of events and publicly available information raise many questions about the true intention of the complaints against Gadson and the subsequent vitriol he experienced from board members over what would be, at most, a questionably financed golfing trip.
After all of the above, Salt Lake City School District hired Martin Bates—an 11-year superintendent of the Granite School District—as its interim choice to replace Gadson on Oct. 4, 2022. Bates is expected to serve in the position until the end of the current academic year, with a bevy of important district decisions to oversee until then.
Spring Breaking
There's three major priorities the district is juggling right now, spokesperson Chatwin said: first, finding a new, permanent superintendent; second, deciding whether and how to rebuild West High and Highland High; and third, considering a school-boundary study, which could inform future closures, mergers and reorganization.
First, the superintendent search. Through an online survey set to close on Feb. 7, the district is amassing resident and parent feedback on what they want in the next leader. From those responses, the district will work with the Utah School Superintendents Association and Utah School Boards Association to hire a local candidate, rather than conducting a nationwide search as it did with Cunningham and Gadson.
"The feedback from the survey will be used to create the application for the position," Chatwin said. "For example, if stakeholders tell us they want someone with a doctorate, we'll prioritize that. If they tell us they don't care about [an administrator having] classroom experience, the board will take that into account."
Chatwin indicated the board could begin considering candidates before the end of the spring, with the possibility of a new hire starting on July 1—though no set timeline is in place as of yet. Even sooner, the board will discuss the high school rebuilds and potential for a boundary study at meetings on Feb. 7 and 21, Chatwin said.
The architects responsible for conducting high school feasibility studies (VCBO Architecture for West, and Naylor Wentworth Lund Architects for Highland) have held several meetings and listening sessions with community stakeholders and will present options to the board next month.
West High is the oldest high school in the state, having been rebuilt in 1918 and crossing its century mark five years ago. Many West alumni have expressed concern about maintaining the school's look and historic atmosphere.
Four construction options were presented at the most recent meeting at West High, Chatwin said. Each plan approaches the project with a different degree of preservation: first, fully tearing down and rebuilding an entirely new West High facility; second, maintaining the school's iconic facade but tearing down the interior and auxiliary structures; third, rehabilitating the original building to continue accommodating students with the addition of a new classroom space behind it; and fourth, keeping the original entryway and its iconic Panther statue, while rebuilding the rest of the school.
The district hasn't officially committed to rebuilding West or Highland yet, and the district would need the community to approve a bond to pay for the construction before it could start. Chatwin said the board can commit to one of the options at any point, and it could be on the city ballot as early as this November.
"The different [rebuild] scenarios walk through construction timelines—how long students will be displaced and might be in portables," Chatwin said. "And [the architects] gave us cost estimates."
The findings of the legislative audit appear to have given board members a push to begin weighing the possibility of closing some elementary schools. Gadson elected to forgo a boundary study in February 2022 and the board kept Bennion Elementary open in 2019 despite its shrinking student population.
The audit claims that by closing schools, SLCSD could have saved itself—and by extension, taxpayers—$3.6 million annually in administrative, utility and food services costs.
"Two increases in property taxes possibly would have been unnecessary had the district adjusted its number of elementary schools in a timely manner," the report states.
District enrollment has fallen by nearly 4,000 students since 2013. Despite that trend, the board has opted to keep each of its elementaries open, with proponents of that decision often citing the impact to neighborhood community identity when schools are shuttered.
If you're wondering why the district would seek bond funding to rebuild its high schools while the Legislature asks them to trim costs and operate more efficiently, here's why: Enrollment modeling predicts that while the city's elementaries will continue to shrink, all four of its public high schools will maintain their populations.
The reasons behind this enrollment dynamic are complex and include the demographic effect of high housing costs and apartment-style construction trends, which impede young families from moving into the city and city school district. The potential for those trends to shift, as well as the imprecise nature of population modeling, contribute to the reluctance of some school board and community members to close down campuses.
The school board has also elected to rebuild three of its elementaries—seeking two property tax hikes to pay for them as overall enrollment fell. The state audit suggested that "SLCSD board skepticism of declining enrollment may have contributed to these decisions."
The district should also create a formal process that annually considers the need for boundary changes or school closures independent of the leadership of the superintendent, according to the audit.
"Consolidating schools can be a painful process for elected board members and for communities," the audit states. "However, the costs associated with keeping low-enrollment schools open are significant."
Auditors recommend the district close six elementary schools to reach a 75% utilization rate (currently at 57%). Officials have also begun identifying areas to study for boundary realignment or closure and will present those clusters for the board's consideration in February, Chatwin said.
If the board does decide to conduct a boundary study, the soonest any closures would take place would be ahead of the 2024-25 school year, Chatwin noted.