Marriott Digital Library
Class photo at the Jones High School and Kindergarten, which operated in Salt Lake City from 1880 to 1887.
Between February and March, Utah lawmakers successfully passed—and Gov. Spencer Cox signed—legislation expanding full-day kindergarten statewide.
In many areas of the state, demand for daylong kindergarten has outstripped supply, with public and charter schools relying on waitlists to parcel out available seats under tight budgets. But with HB477—which cleared the Utah House and Senate with large, bipartisan majorities—a stable funding source will make more seats available, with the aim of providing at least an option of full-day classes to any family who wants it.
"The community has really rallied around and endorsed this opportunity," said Rep. Robert Spendlove, R-Sandy, the bill's sponsor.
Indeed, the effort to get to this point has been ongoing for over 15 years, according to Anna Thomas, senior policy analyst for Voices for Utah Children.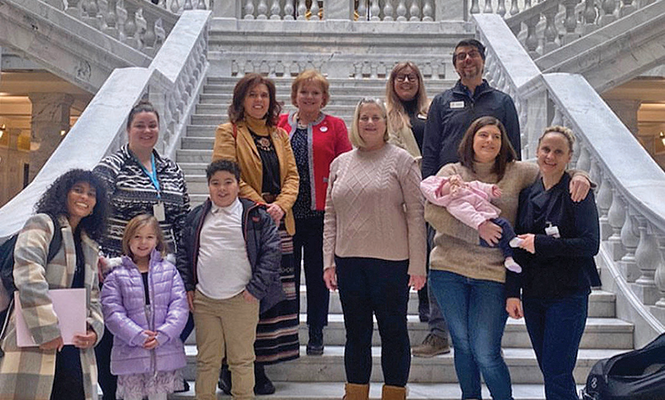 Courtesy Photo
Anna Thomas, front right, of Voices for Utah Children poses with full-day kindergarten proponents at the Utah State Capitol.
Witnessing a "clear majority" coalesce around full-day kindergarten (colloquially referred to as "full-day K") has been as heartening to Thomas as the prior legislative resistance had been surprising. Still, she said, enough decisionmakers evolved in their thinking over recent years that the push was, at last, successful.
She said the current political landscape around early childhood education in Utah—notwithstanding all the hostile rhetoric directed at schools, broadly, in recent years—shows promising signs of growth in a long-dormant field.
"Even if this issue is not important to them or their family, it is of incredible importance to other families," Thomas said.
Christine Elegante, a K-3 literacy specialist with the Utah State Board of Education, also applauded the legislative milestone, citing full-day K's more equitable framework and the boon it gives to classroom instructors to better delve into their curricula. "For teachers," said Elegante, "it's going to give them one of the most valuable resources they need—and that's time."
The shift toward full-day K brings Utah back to its roots as an active and enthusiastic participant in the once-novel kindergarten movement. It was led on the issue by remarkable women who were formerly at odds with one another, but who formed a fusion of interests on behalf of their young children.
They were teachers, mothers and activists who welcomed a daring new educational concept and brought it here to the West, providing a needed bridge to a splintered community as it approached the 20th century.
Preparing the Soil
While early prototypes of preschool education existed in late 18th-century Europe, it was the German pedagogue Friedrich Froebel (1782-1852) who laid the groundwork—and coined the word—for the modern kindergarten, or "garden of children."
A Romantic pantheist, Froebel believed that the educational process—what he viewed as helping the divine in each person to blossom—should commence as early as possible in a child's life through directed play, rather than rote learning. Rejecting the traditions of the time that children were inherently degenerate, he countered that they were essentially good, naturally curious, in need of nurturing to grow at their own pace and best able to discover and express their inner selves through activity.
"Play, at this age, is not mere sport," Froebel wrote, "it possesses high seriousness and deep meaning; foster it, O mother! shield it, protect it, O father!"
Opening his first kindergarten in the late 1830s, Froebel developed a program of "gifts" and "occupations," supplemented with songs and games, all with an emphasis on a familiarity with nature. The "gifts" were designed for specific age levels, acquainting children with such concepts as color, form and motion (as in the case of multicolored balls of yarn—the first gift) or with the relation of parts to a whole (as with the gift of eight wooden cubes that form a larger cube). The "occupations" came after all the "gifts" had been bestowed and were meant to stimulate imagination and manual skill through activities like drawing, weaving, gardening and modeling with clay.
Froebel's kindergarten concept became popular among German reformers in the 1840s before it was banned by the Prussian government in 1851. But its popularity, particularly among women who felt empowered by the services, saw kindergarten successfully carried over to the United States by German immigrants and subsequently championed by the Boston educator Elizabeth Peabody (1804-1894).
In the hands of some American tutors, kindergarten was merely a means of assimilating immigrants and the lower classes into broader society. But to others, it was a model that lent dignity and growth to parents and children alike.
What's more, as Ann Taylor Allen explained in a 1988 article for History of Education Quarterly, the kindergarten movement was an "early and powerful expression of a female ethic of cooperation, nurture and community."
"The demand for teacher training," Allen continued, "led to the creation of institutions administered, staffed and attended by women which formed little enclaves of female control." This phenomenon occurred around the United States during the latter half of the 19th century. And for a place like Utah, the female-led spaces of kindergarten work began in fits and starts during a particularly divisive era before developing into a unifying force for women of differing backgrounds.
Jumping the Fences
Following their arrival into what would become Utah Territory, Latter-day Saint settlers established schools that operated in accordance with their own generalist approach to learning. Using makeshift facilities, early Utah schools were voluntary establishments within the purview of local ecclesiastical leaders.
By the 1860s, legal responsibility for schools had moved to city councils and both Protestant and Catholic denominations were establishing their own mission schools to rival those of the Latter-day Saints.
"Mormons and 'Gentiles' (as non-Mormons came to be called in Utah)," wrote Frederick Buchanan for History of Education Quarterly, "both recognized the school as an agent of society whose prime purpose was the reinforcement of societal values."
A unified school policy was difficult to achieve in this kind of environment, considering the friction between various segments of Salt Lake society. The distrust that each denomination often held for one another proved to be a significant impediment to any publicly funded school system.
Marriott Digital Library
German immigrant Camilla Mieth Cobb opened and taught at one of Salt Lake City's first kindergartens.
But while the prospect of a kindergarten program germinating in such a terrain might appear unlikely, some remarkable women helped it along to an eventual full flower. First among these women was Camilla Mieth Cobb (1843-1933), who had come to the United States in the mid-1850s from her native Germany following her family's conversion to Mormonism.
Having grown up in an atmosphere of culture and learning, Cobb honed her teaching skills assisting the Utah educator—and her brother-in-law—Karl G. Maeser (1828-1901), as he headed various local ward schools in the 1860s.
On an 1874 trip to New York to visit her husband's family, Cobb happened upon a notice in the newspaper about a New Jersey kindergarten run by the German educator and socialist Adolph Douai (1819-1888). Already familiar with the kindergarten of her native land, Cobb was interested to learn how it was being approached in her adopted country. She departed for New Jersey to find out.
"I need not say that I enjoyed myself there and felt well repaid for the time so profitably spent and the knowledge gained," Cobb recalled in 1897 for the Woman's Exponent.
While at Douai's school, Cobb received a visit from Brigham Young's son John Young (1844-1924), who was similarly impressed by the work being done there. Putting their heads together, Cobb and Young decided to open a kindergarten back in Salt Lake with Cobb as the instructor.
Commencing in the fall of 1874 in the vestry of Brigham Young's schoolhouse—where the Eagle Gate Apartment Building now stands at 109 E. South Temple—Cobb's kindergarten had about 20 participants, with Cobb and Young's own children constituting the majority.
"I had my ardor somewhat dampened. However, I concluded to make an effort if even in a small way," Cobb later wrote of her attempts to share this new educational method with her neighbors. "I had brought some material home with me from the East, and some I found here, and with a little ingenuity turned many things not especially intended for this purpose to splendid account."
Cobb's kindergarten ran for two years before she shifted her instruction to other age levels, seeing as there was a shortage of qualified teachers in the area. She wrote articles in the Woman's Exponent in 1875, explaining such Froebelian themes as decrying inequality within school settings, where such things as dress could divide students.
"Of all resorts," Cobb wrote, "a hall of learning should be the last for such displays of fancy, and little children should not be made to feel their inequalities of social position by means of them."
From the available sources, Cobb's kindergarten seems to have made a deep and favorable impression upon those who attended. In a 1928 letter, real estate broker Seymour B. Young Jr. (1868-1941) remembered his time in Cobb's kindergarten with fondness.
"Many boys and girls now living remember 'Aunt Camilla' and bless her memory," he wrote. "Many of her pupils speak German and can sing the old melodies in German taught them a half century ago."
Buds and Leaves
Next came Anna Richardson Jones (1853-1916), who found a love for kindergarten early in life. Born in Massachusetts and educated in Iowa, she pieced together her own kindergarten class while teaching in Ackley and later served as dean of women and a teacher of Latin at Grinnell College.
"I feel more and more interested in that work," Jones wrote of kindergarten in her journal, "I think it one of the greatest needs of today."
Jones' daughter Mabel Jones Broaddus (1881-1970) wrote of her mother in 1928: "She was always progressive, eagerly availing herself of every new good thing. ... She was never too busy to leave everything she was doing to help any young person who was in trouble."
Moving to Utah in 1880 for an expedition with her husband, the botanist Marcus E. Jones (1852-1934), Anna Richardson Jones started her own kindergarten in a rented space with approximately 16 students. The kindergarten steadily grew to the point that it relocated in 1884 to the old Congregation B'nai Israel synagogue that once stood on the northwest corner of 300 South and West Temple (where the Peery Hotel has now stood since 1910).
Renamed the Jones High School and Kindergarten, Jones taught primary and kindergarten classes while her husband oversaw the college preparatory courses. Although the school lasted only until 1887, Jones continued to advocate for kindergarten work in various capacities, such as training future kindergarten teachers at the old University of Deseret building.
"In our present school system, children before entering the schools have had five or six years of life," learning good and ill at an early age, Jones remarked at an 1887 teachers' gathering, as reported in the Salt Lake Herald-Republican. "Why should not the public school provide a training for the little children as well as for the large ones?"
Already, the momentum had been building for kindergarten to take an established place within Utah's changing educational ecosystem. Some noticeable buds were springing up in the city during the 1880s, particularly among the Presbyterians. The antecedent of Westminster College, Salt Lake's Collegiate Institute had been accepting students since 1875 and operated as an educational auxiliary of the Presbyterian Church.
Seeking a kindergarten teacher with Froebelian training, Rev. Robert G. McNiece (1839-1913) and Mary Giesy Parsons (1843-1938) requested that the Presbyterian Women's Executive Committee of Home Missions send someone over to the West. In 1883, Elizabeth Steele Dickey (1833-1898) arrived to set the kindergarten effort onto a new phase.
Marriott Digital Library
The former location of First Presbyterian Church hosted a kindergarten in its basement.
Trained in Germany and having overseen a Philadelphia school, Dickey started her kindergarten in the basement of the original First Presbyterian Church on the northeast corner of 200 South and 200 East. On top of teaching kindergarten, Dickey was interested in training teachers and developing a day nursery. "On the opening day," Parsons later described, "a goodly number of eager children arrived, curious about the new methods to be taught them, brought by mothers as curious."
Many of these mothers were subsequently trained by Dickey to become full-fledged kindergarten teachers and the day nursery idea picked up enough steam to be formally established in 1884 as the Orphans' Home and Day Nursery (known today as the Children's Service Society of Utah).
"Miss Dickey sowed the seed and tended it and watered it faithfully for four years, and saw her efforts yielding precious fruit," Parsons wrote. "Her class of young women was enthusiastic and responsive to her instructions. At the end of four years of arduous work, her health failed, and she was obliged to resign."
Dickey's kindergarten may have closed with her 1887 departure, but the field would soon be festooned with new kindergartens and kindergarten associations.
In the wake of the anti-polygamy prosecutions that were occurring in the territory and a monumental change in education looming on the horizon, divisions in the city were stark.
Forming Associations
With the passage of Utah's territorial free school law in 1890, all of Salt Lake's schools were now consolidated into a single district and made free to their patrons.
Like so many others around the country that were forming organizations to advance childhood education, the Presbyterian Church of Salt Lake organized the Salt Lake Kindergarten Association in 1892. Its primary goal was to train teachers and to ensure that kindergarten was a fixed element of the public schooling system.
"By this time," wrote Andrea Ventilla in a 2013 issue of Utah Historical Quarterly, "the women's priorities shifted from converting the LDS population of the territory to making kindergarten education free and available to the general public."
The association was replaced in 1894 with the Free Kindergarten Association under the leadership of Emma McVicker (1846-1916), who later became Utah's first female superintendent of education. Sponsoring a new instructor, this organization secured the services of Alice Chapin (1845-1931)—an eminent instructor from the Indianapolis Seminary—to train teachers and run a model kindergarten.
Chapin, wrote Carol Cornwall Madsen for Utah Historical Quarterly, "was well received by both Mormon and gentile teachers, who later attended her kindergarten training classes at the University of Utah."
Moved with enthusiasm—and some amount of competition—Mormons formed their own group with the Utah Kindergarten Association.
A training program had begun in 1891 at Brigham Young Academy (later renamed Brigham Young University) and individual kindergartens were sprouting up within ward precincts. The future direction of the Latter-day Saint Church's Primary auxiliary was thus formed.
"By 1896," Madsen summarized, "the overlap of goals and methods, mutual need for funding and lobbying power, and the new spirit of détente prompted the two organizations to merge." Called the Utah State Kindergarten Association, it drew membership from among the differing religious faiths of the community.
"Their parochial interests were submerged in their mutual enthusiasm for early childhood education," Madsen wrote, "and the establishment in Utah of the progressive methods popular elsewhere in the country."
The Free Kindergarten Association eventually morphed into what we know today as Neighborhood House, while the Utah State Kindergarten Association moved ahead as a unified front to advance the cause of kindergarten statewide.
Training each other and advocating for the ideals of kindergarten, the women of this period succeeded in ultimately enshrining kindergarten into Utah's Constitution and further bolstered it with subsequent pieces of legislation in the 20th century.
Our Modern Garden
Today, there are over 2,200 kindergartens operating in the state of Utah, with almost 700 of those within the greater Salt Lake region alone. Much has changed since the days of Camilla Cobb, Anna Jones, Elizabeth Dickey and the women who harvested the grounds they planted.
The early Froebelian kindergartens over which they so enthusiastically presided have been largely supplanted by a model that places a primacy on "evidence-based instructional strategies"—to quote the Utah State Board of Education's Best Practices guide—and continuous monitoring of explicit academic progress in reading, writing and mathematics.
Operating through the prism of data and goal-making, many modern kindergartens possess more of the technocratic and managerial aspects of the industrial world than Froebel might have envisioned.
Courtesy Photo
Christine Elegante, literacy specialist with the Utah State Board of Education
On the other hand, literacy specialist Christine Elegante hails what modern kindergarten has achieved in the realm of emotional development, such as helping children to express their feelings and to work with others.
Just as Froebel and those early Utah women contended, Elegante—with 14 years of experience as a teacher—noted how easily we can underestimate children.
"I had no idea what 5- and 6-year-olds were capable of until I taught [kindergarten]," she said.
Thomas, of Voices for Utah Children, added that many assumptions that recent generations of Utahns have entertained about a young child's learning capacity—and consequently the resources they have withheld from nourishing those children—have been "completely backwards."
"There is so much learning and nurturing and developing that happens in the first five years of a kid's life," Thomas said.
With HB477 having passed out of the Legislature, significantly more families will now have access to a full-day kindergarten in their area.
While advocates estimate that about 60% to 65% of the current waitlists can be immediately addressed, there will still be areas of the state where a waiting period lingers for at least the next few years.
Time will tell what will follow this long-awaited bit of intentional investment for children and families. However, if there is anything to learn from people like Camilla Cobb, Anna Jones and Elizabeth Dickey, it is that a garden can indeed grow from loving community care, even in the most difficult of terrains.