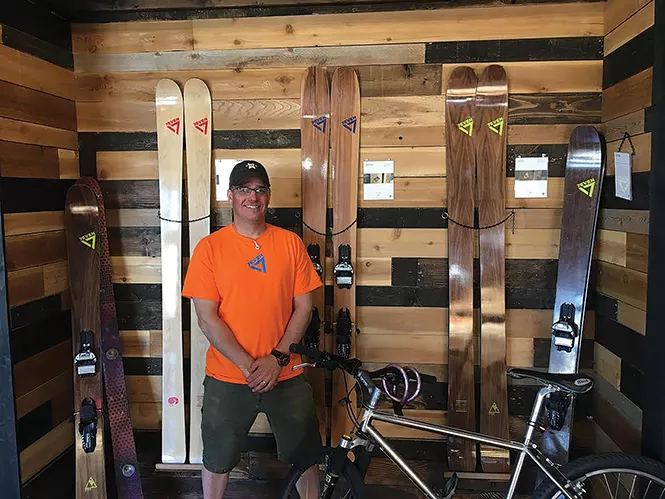 Stephen Dark
Todd Herilla with some of his custom ski models.
When spring blossoms emerge in Salt Lake City, an ominous sense of closure enshrouds those who depend on the ski industry for their livelihood. "I'm not ready for winter to be over," Todd Herilla says. He's the owner and operator of 4-year-old 7even Skis, a small cinder-block store just west of Main Street in South Salt Lake. "I'd be happy to do it year round," the young-looking 45-year-old says.
After a hectic winter of seven-day workweeks from September until early April, grinding customers' skis and handcrafting custom skis, he's not ready for the lonely summer hours that lie ahead in a store that each winter morning typically echoes with the many voices of excited skiers.
But it's hardly gloom for the man who ventured into the cutthroat struggles of a niche, seasonally limited business. For the first time in seven years, "I can do this as my only job," he says.
Josh Madsen opened his Freeheel Life store a year after Herilla opened his shop-cum-workshop. He's only a few blocks further down West Temple. Madsen's business is dedicated to telemark skiing, a form of skiing developed in Norway. Madsen argues that the growth of ski-industry conglomerates, coupled with the rise of the internet, might have killed off the specialty ski store, but now its time has come again. Herilla's business, "is extremely unique," Madsen says. "The ability he has to create custom skis for people is phenomenal. His are very well-built, durable and going to last you a long time."
A native of Pennsylvania who's skied since age 3, Herilla grew up in ski shops. His teenage dream was to make the U.S. ski team. By the time he tore his knee in 1994, he already was feeling that at 24, "I had got close but not close enough" to race for his nation. A year later, he quit ski racing altogether.
He ended up moving to Salt Lake City to be close to quality slopes, while working "real jobs," which translated to selling cars and a five-year stint as a mortgage loan officer.
After the real estate market crash of 2008, Herilla went back to his first love. He focused on two businesses—"tuning" skis or grinding, which remains the bulk of his income, and handcrafting three types of highly responsive skis. The recreational skis he wanted to make were those he didn't see on the marketplace, ones focused on performance. He spent four years developing and fine-tuning three prototypes of custom skis, while bartending at night.
In 2013, he opened 7even Skis, named after a border collie with a "7" stripe on her forehead. The first two years, he continued working the bar at night, and his business broke even, "but zero in my pocket," he says. The winter before last he made a small profit and this year won't have to rely on a second job to keep solvent. In the summer, he picks up some side-income grinding skis for a ski company.
Herilla averages between selling 30-38 customized pairs of skis a year. Ranging around $900, they can be pricey, but that reflects the intimate hours of craftsmanship he devotes to working with his clients to get the exact response they're looking for on local powder. He has no interest in a factory line. If he could build 100 or 150 each summer and sell them in the winter, that would do fine, he says.
With the season over, Herilla and his Dutch-born wife are going on a vacation for a week. But the prospect of closing the doors after the first winter he finally made it into a fully fledged business still leaves him a little blue.
"For us, it's all about the wintertime," Madsen says. Unlike ski shops that transition to bike or summer-activity stores come April, he and Herilla keep their fingers crossed for a good snow season, so they can build up capital, whether for re-investment or if only to prepare for shorter skiing seasons.
Madsen puts Herilla in the company of craftsmen and women who love what they do. "He's truly a tailor of skis," he says.