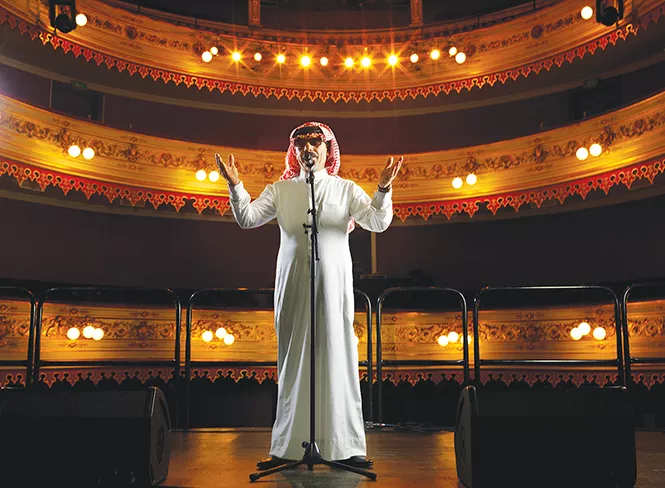 Culture is good, they said when we were kids. You'll love this [insert foreign dish or foreign music]—it's so exotic! "They" always felt like an enemy whenever they approached us with something to put in our mouths or ears. Something we wouldn't like, no way, no how. If it was food, it automatically smelled awful, had a grotesque texture or was too spicy. If it was music, we reacted to vaguely eerie Eastern melodies or the hypnotic rubbery twang of a sitar or the hellaciously loud screech of bagpipes the same way our old Mormon neighbor did when he heard us play AC/DC: We covered our ears and ran inside, lest we become possessed by whatever demon made such a dreadful cacophony.
And then, somewhere, we grew up. We realized it ain't so bad to add culinary and musical spice to our lives—culture is good. That's the thrust of the annual Living Traditions Festival, a free, weekend-long horse-dose of multiculturalism put on by the Salt Lake City Arts Council for our edification and enjoyment.
Here's a taste of the abundant musical goodies you can sample this weekend. For the full schedule, which includes music from more than a dozen countries, as well as information on the art, dance and culinary offerings, visit the festival's website.
Omar Souleyman: As the 2017 festival headliner, Syrian electronic musician and Bjork/Four Tet collaborator Souleyman is a timely selection. His upcoming album—To Syria, With Love (Mad Decent, June 2)—is a love letter to his homeland, where his countrymen are being subjected to unconscionable suffering. "It's been six years I've been away, and I'm tired of looking for home and asking about my loved ones. My soul is wounded and it's like having dust in my eyes," Souleyman sings in Arabic on the album. It's something non-speakers would completely miss in his spastic, trippy dance music (which is somewhat less booty-quaking than his previous outings). It's also interesting, and heartbreaking, how a song can sound both joyous and sorrowful. But the theme here is a longing for peace, and audiences as diverse as the ones at Bonnaroo, Moogfest, Roskilde and Glastonbury—not to mention the one at the Nobel Peace Prize Concert in Norway—understand that there's no reason you can't move to that message. Friday, 9 p.m., North Stage
German Chorus Harmonie: There's more to Germany than the krautrock of Kraftwerk, or the heavy metal sting of the Scorpions. For more than 50 years, this local choir has lifted their voices to preserve traditional German music in Salt Lake City. But one wonders if the day will come when they perform an arrangement of "The Robots" or "Rock You Like a Hurricane" because, in the future, Kraftwerk and the Scorps could, technically, qualify as traditional.Saturday, 1 p.m., South Stage.
Nino Reyos: The mysterious, soothing howl and moan of the Native American flute over a bed of atmospheric synthesizer is practically its own genre. Reyos, however, doesn't stick exclusively to the tried, true formula: His albums incorporate Enigma-esque beats, techno, world music, country and jazz—or just the flute, which is captivating all by itself. Saturday, 3:30 p.m., East Stage.
Chaskis: To the untrained ear, almost any Spanish-language music sounds the same. That's a drag, because the music of the verdant, terraced Andes blends Spanish, African and ancient Native American music into a mellower, more nuanced version of the banda or mariachi music you likely imagine. It's most recognizable by the panpipes and flutes, but there's also the distinctive percussion of the cajón (translate to "big-ass box") and the actual Peruvian national instrument, a 10-string mini-guitar called the charango. If you like these guys, check out chicha music, which combines traditional Peruvian music—mainly cumbia rhythms—with garage and surf rock. I recommend the compilation album The Roots of Chicha: Psychedelic Cumbias from Peru (Barbés, 2007). Saturday, 5 p.m. East Stage
Chris Dokos Band: Sometime over the past 30 years, you might have caught Chris Dokos and his band at Living Traditions or, more obviously, at the annual Greek Festival, playing everything from the old standards to something that, like chicha, is more akin to surf rock. Only it's much, much harder not to get pulled into the jubilant dancing the music almost always provokes. Sunday, 4:30 p.m., East Stage