AA Bondy's sincerity has been brought into question before. As he's prone to singing about theology and dressing his songs up in biblical imagery, some feel he might not really mean it. That he's, say, borrowing Jesus and the devil simply to get his point across—that it's a means to an end of sorts. And, if that were true, it's been done before.

Still, if those skeptics were to see Bondy lay out his songs live, choosing to blow ferociously on his harmonica instead of actually engaging with his audience, chances are they'd have to eat their words. At least, that was the feel of last Bondy's June 23 show at The Urban Lounge. If he weren't being sincere, he was really, really good at faking it. And, with how many were gathered and hanging on his every word, the singer may as well have played a flute and passed himself off as some sort of pied piper. What he did, he did well.

Bondy is a traveling man (as in, he does so all by himself) and he doesn't care much for the bells and whistles that come with fame; he's got a bit of a different routine: He's going to look down at his gathered mass and sing what amounts to a stripped-down favorite like "Rapture (Sweet Rapture)." He's going to take a second to drop a nearby shot of whiskey down his throat. He might change guitars real quick-like and then he's off to play another tune. Then another. Wash and repeat (for 90 minutes straight, no less). It doesn't make for an incredibly diverse show, but it's one you can't help to fall into. Add a harmonica to a strummed geet and dress the both of them up with his raspy, world-weary voice, and it makes for some pretty damned compelling nighttime music.

It's why you believe him so readily when he casually slips a cover of Hank Williams' "I'm So Lonesome I Could Cry" into the rest of his repertoire. He came from Alabama (sans the banjo on his knee) and touring all by himself is a weird sort of thing (or so he says). So it comes as no surprise to anyone that he chooses to sing about that lonesome whippoorwill. It's practically expected.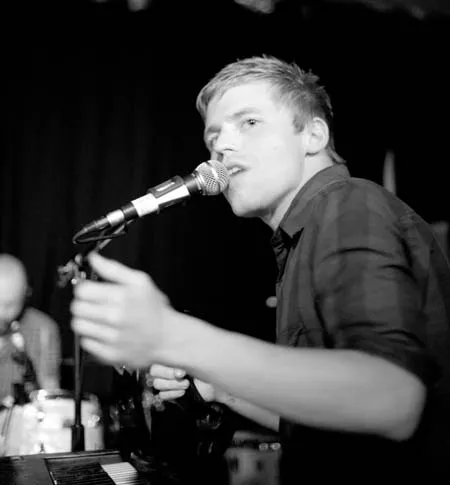 Brooklyn's White Rabbits took up residency at the Lounge two nights later with a performance that stood in stark contrast to that of Bondy's somber show. Instead of one quiet voice of yearning, its six members took residence on the stage and owned it—they played less and performed more. An acoustic guitar and mouth harp got switched out for an enigmatic keyboardist/ singer, a handful of guitarists and a couple of drummers, one on his feet and banging so loudly on his drum that he out-and-out demanded the most attention.


In fact, take that guy out and stick him in a marching band or dusty tribe someplace, and chances are real good he'd be right at home in either place. I mean, it makes sense that the first song off the White Rabbits' last album is so aptly titled "Percussion Gun." Standing just a few feet away Thursday evening when the song was finally unveiled was not unlike being repeatedly shot in the chest. Does it sound right to add that it was like being shot in a good way? Maybe not, but there it is. It was expected and it was waited for. It happened and it was a thrill ride. All other songs (with the exception of perhaps "Company I Keep," which is about as radio ready as it gets) were filler surrounding it. Really, really good filler, certainly, but "Percussion Gun" was its gooey candy center.


I'm just wondering why the band didn't get around to playing Randy Newman's "Beehive State," the one they took on at their Daytrotter session a couple years back. Maybe they did and I missed it? If that's the case, I'm blaming "Percussion Gun" for being just that good.