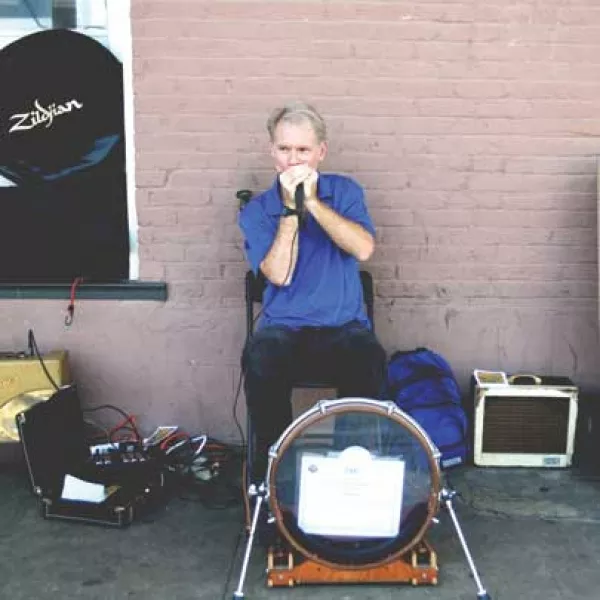 The storied blues highway running from the Mississippi Delta to the North is not a one-way road, as Adam Gussow can attest.
A native of New York, Gussow's academic pursuits landed him at the University of Mississippi, where he is a tenured professor currently teaching a class in blues literature. However, it's not the 54-year-old's master's and doctorate degrees in English but rather his talent as one of today's most respected blues harmonica players that made that reverse journey unusual.
Gussow's interest in playing music started fairly typically. "When I was 16, I heard J. Geils' 'Whammer Jammer' with Magic Dick playing harmonica," Gussow says. "Like all kids, I wanted to impress girls, so I picked up both harmonica and guitar. In my small town, I would look through the blues bins at the record store, where I found Paul Butterfield's Golden Butter and James Cotton's 100% Cotton, and learned to play. I was OK, and was in a couple of college bands for a while."
Having completed his first graduate-school stint at Columbia University, Gussow "went to Europe with a backpack and played on the streets. It turned my life in a different direction." He returned to New York after a few years and continued his street playing, and while wandering one day he came across Sterling Magee. "It was my single most transforming moment," Gussow says of the 1986 encounter with the elderly black guitarist known as Mister Satan, who held court on the streets of central Harlem as a one-man band. "He agreed to let me sit in with him, and I ended up playing with him each afternoon from 1 p.m. to 5 p.m. for a small crowd of mostly older black friends of his.
"We were sort of background music to the day. Different people would come by, sometimes a sole white guy, and we did that for three or four years without a name for the group." Gussow didn't recognize the white guys who happened by one day and filmed the pair for a segment in their movie Rattle & Hum. "Someone had to tell me they were U2. It was only 39 seconds of Mister Satan's song 'Freedom for My People,' but it did bring us a little bit of recognition."
Not long after, the duo came up with a name for the band: Satan & Adam. "We had gone about three or four years with no name," Gussow says. "We were just on the outside with no recordings, and we didn't really think about it. Then it just came to me: Here was Mr. Satan, and I was Adam. I was never really sure where Sterling—he never wanted to be called that—came up with the name, but it probably had something to do with the breakdown he had after the death of his wife. He's from Mississippi, so with the Southern manners came the Mister. I know it wasn't meant as evil or satanist."
The pair's discography now includes five albums, the latest being 2011's Back In The Game. Gussow also has a solo release, fittingly titled Kick & Stomp. "I paid my dues standing at the side of the master, " Gussow says, "which I detailed in my book Mister Satan's Apprentice. He is a great soul-blues singer, an extraordinary guitar player, and his rhythmic complexity as a one-man band with the two hi-hat cymbals/tambourines/maracas is simply unbelievable."
Agreeing with my observation that with Mister Satan's similar last name, he and the guitarist are continuing the tradition of Sonny Terry and Brownie McGhee, Gussow says, "We definitely do that, with a more contemporary, blues-funk take on it."
Mr. Satan's health problems have limited the pair's performances after years of worldwide touring, and Gussow now mostly performs solo. "I never intended to be a one-man band," he says of his original performing approach with his own percussion setup of a modified snare drum and kick pedal. "I wanted something more upbeat, a homemade element, and I got that from Mister Satan." Gussow also does occasional shows with an Ole Miss colleague as The Blues Doctors.
Gussow formerly put out free harmonica-instruction videos on YouTube—"I don't know what got into me"—and now offers harmonica clinics at the different shows he plays solo. "I'm extremely proud of pioneering instructional digital downloads," he says. "I was the first to do that." In addition, Gussow created the annual Hill Country Harmonica instruction camp in Waterford, Miss., now in its fourth year. 
The Hog Wallow Pub
3200 E. Big Cottonwood Canyon Road
Friday, Nov. 16, 10 p.m.
$7
Harmonica Workshop
Ken Sanders Rare Books
268 S. 200 East
Saturday, Nov. 17, 2-4 p.m.
$25
Pat's Barbecue
155 W. Commonwealth Ave. (2125 South)
Saturday, Nov. 17, 7 p.m.
$5