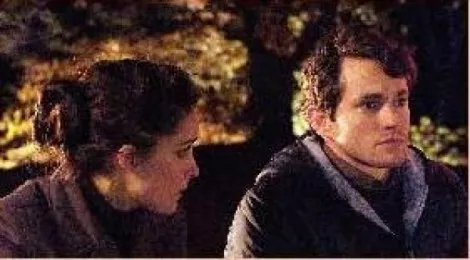 If I told you that Adam was about a man with Asperger's syndrome—a form of high-functioning autism—you'd lose all interest in it, right? Yeah, that's what I thought. Relax, though; it's actually a humorously bittersweet story buoyed by likable performances, and not an "oh geez, here comes another film about a saintly disabled person" movie.

Adam (Hugh Dancy) is an electronic engineer who now lives alone, following the death of his father, in a Manhattan apartment. People with Asperger's take things literally and have trouble knowing what other people are thinking, and they tend to misread facial expressions, but aside from that, they do OK. Adam is happiest when following a routine. He loves astronomy. He doesn't seem much different from your average nerd.
The new tenant in his building, Beth (Rose Byrne), is immediately fascinated by Adam's quirky personality, not realizing it's an actual condition—and after all, where is the line between "interesting" and "diagnosable"? Adam and Beth begin a tentative friendship and eventually a romance, though both are aware that such an arrangement will be difficult.
But this isn't some cheesy movie about a wise "special needs" person who teaches life lessons to those around him. On the contrary, writer/director Max Mayer is not afraid to show Adam in a negative light or to have Beth lose patience with him. I don't know if "realistic" is the word I would use to describe the plot—it is, at heart, a romantic comedy about cute people behaving cutely—but it does break free from many clichés, and the characters are believable.

Central to the film's success is Dancy's smiling, earnest performance as Adam, a role that easily could have turned one-dimensional and sappy. There is much to admire in Byrne, too, who has chemistry with Dancy and a girl-next-door sexiness of her own. As a pair, Dancy and Byrne are easy to like. It's a simple, light comedy with dramatic underpinnings, and a pleasant way to spend an evening.
ADAM

Hugh Dancy, Rose Byrne, Peter Gallagher
Rated PG-13