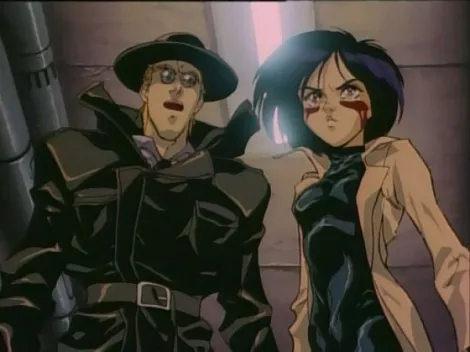 After last week's column on Hayao Miyazaki, the Walt Disney of Japanese animation, I'm going to assume that you've begun to wade in the waters of the medium. You've watched a couple of the movies, and are ready to graduate to some harder stuff and maybe even attend a convention.
I'll be honest about my recommendations: I'm not the most devout anime watcher. Some might even say my tastes in it have become an anachronism, stuck in the 1990s when my watching was at its peak. But that shouldn't matter, the stuff I'm turning you on to should be timeless.
Perhaps my favorite piece of Japanese animation is the 1993 Battle Angel. It's about a young girl who's been pieced together out of a scrap pile and finds herself working as a bounty hunter to help the love of her life realize his dream of getting to Zalem, the city in the sky where the rich who have made it live. It's elegant, heartbreaking, brutal and efficient, packing much into its dense 54-minute running time. Hollywood director James Cameron has had his sights set on a movie adaptation for years, and I anxiously await the results if that project ever bears cinematic fruit.
I've made no bones about my love of the series Robotech, and while I think it's worth taking the next step for, I've already written about it at length in this space. Instead, I'll offer some lighter fare that I've never been able to get enough of: Ranma 1/2. This comedy show is sort of like the Japanese equivalent of The Simpsons. It was a prime-time animated comedy that told the story of an unfortunate teenage boy who—when splashed with cold water—turns into a girl, and is himself betrothed to marry a girl who can't stand him. It's heavy on mythology and hilarity. There's a martial-arts master who spends his time stealing women's panties, high school drama, love triangles and more characters that turn into animals at the worst times than you can shake a fist at. More than anything, it's fun, and you can watch it with your kids (so long as you don't mind them seeing the occasional set of boobs, no worse than Bart's wiener in The Simpsons movie.)
The last movie I'll recommend is built for your inner 13-year-old. Ninja Scroll is the tale of a wandering ninja-for-hire who finds himself in the middle of a secret battle to overthrow the Shogun in a fantastical ancient Japan where demons are commonplace, all working for the bad guys. It's so full of testosterone that it might as well be the cinematic equivalent of a teenager sneaking into the girls locker room. While there is an instance of rape depicted, most of the sex and violence is so over-the-top that it can't be taken seriously, just enjoyed with a laugh.
But after you've got those watched, you might want to take a closer peek at the culture at Anime Salt Lake. With the meteoric expansion of Anime Banzai up north, the need was apparent for our capital city to get its own convention. In its inaugural year, Anime Salt Lake is being held at the Redwood campus of Salt Lake Community College (4600 S. Redwood Road, AnimeSaltLake.com) on March 2 to 3.
This convention, like much of the "cosplay" culture, has a heavy emphasis on a DIY attitude. There are how-to panels on costuming, drawing your own manga and publishing, in addition to discussions about the art and culture. There are plenty of contests as well, ranging from video games to live-action roleplaying (LARPing). There's even going to be a live dating game for fans of anime.
Screenings will be held on both days, including a Friday-night showing of two episodes of Robotech that you shouldn't miss.
On display everywhere will be all kinds of costumes, painstakingly handcrafted by the fans wearing them. And what convention would be complete without an exhibition hall where locals can feature their anime-related goods and art?
With Anime Salt Lake, you get everything that goes into an anime convention, but without the commute. Tickets are $25 for the weekend. I'll be there (as a featured guest). You should check it out.
Bryan Young is editor-in-chief of BigShinyRobot.com.