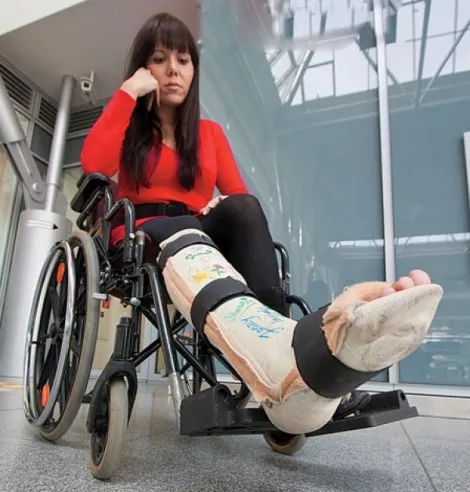 First, the bad news: If you're active, especially if you're an action athlete on any level, you
will
eventually get hurt.
Besides such surprises as the astronomical size of your insurance co-pay and the fact that you'll be charged for everything, even the use of the examining table in the ER, there are other important details no one ever mentions about being injured. I'm an expert in this area, having had a great deal of unfortunate experience with emergency rooms, doctors and hospital beds. Most recently, I shattered a humerus, in which there are now 12 screws, four rods and two plates holding shards of bone together.
So, onward. After you've been hurt, remember that you are not yourself. The most common impulse, especially among athletes, is to deny being hurt. I remember a Masters ski racer who fell so hard in a race he was knocked out for about five minutes. After coming to, he insisted he was fine and wanted to go up for his second run. The coach literally had to restrain him. If you've been unconscious (even for a few seconds), if you're bleeding faster than a slow ooze, if you heard or felt a pop in a joint or there is a pain deep inside even though nothing is showing outside, never tough it out. Shock or blood loss can kill. Get in the damned ambulance and go to the hospital.
Unless you tell them not to, they'll cut off your clothing. If you want to preserve your team uniform or favorite shirt, tell the ER folks to take it off, not cut it off. Sometimes they can't, but most of the time they can, and will. At the ER, have the hospital lock up your wallet, rings, watch and other valuables. This service is free.
If you've been admitted to the hospital and had an IV drip of pain meds for a few days, it could take half a week for the resultant fuzziness to clear out of your brain (as with all medications, responses vary). Meanwhile, you may be quite dazed and confused. Pick a place for your keys and glasses and always, always put them in that spot.
How do you get pants on over a leg cast? How do you pull on a shirt over a sling or arm cast? Forget your own closet; go to Deseret Industries and buy clothing you can cut up. Cut the side seam in a pair of pants so they'll easily slip on over a cast. Look for shirts or tops with wide armholes, then cut off the sleeves about six inches down. Cut a slit along the bottom seam so that the sleeve is open at the bottom and can be pulled on without any effort. If you duplicate this on the other sleeve, it will look deliberate, like part of the design. Buy plus-size clothing made of jersey or loose spandex so that it drapes nicely; you can then get dressed without yanking on your injury. If a piece of clothing you've "adjusted" isn't working, toss it and buy something else—since all of DI's stuff is sold at bargain prices, you can afford to experiment.
Another big inconvenience: bathing. Go to any laundry and ask for some plastic laundry bags. Buy a roll of wide masking tape at a hardware store. Cut a bunch of 6-inch strips of tape and affix them to the edge of the bathroom vanity. Put the injured limb in the plastic bag and fasten each end with overlapping strips of tape. The first couple of times, it will hurt when you pull the tape off; after that, those tiny hairs will be gone and the tape will come off easily.
As for washing hair, go to a beauty supply store and purchase a plastic cape, the kind used by salons when washing customers' hair. Fasten the cape tightly around your neck and seal the open flap with masking tape. Kneel on the outside of the tub with your head over the inside of the tub. A handheld showerhead is a wonderful thing at this time. Put shampoo and conditioner within easy reach. Wash, rinse and condition your hair normally without any worry about slipping in the shower or getting your dressings or cast wet.
OK, that's the bad news. Now the good news: All this effort, which eventually must be done by every athlete, helps makes you incredibly resourceful. There must certainly be something good about that.