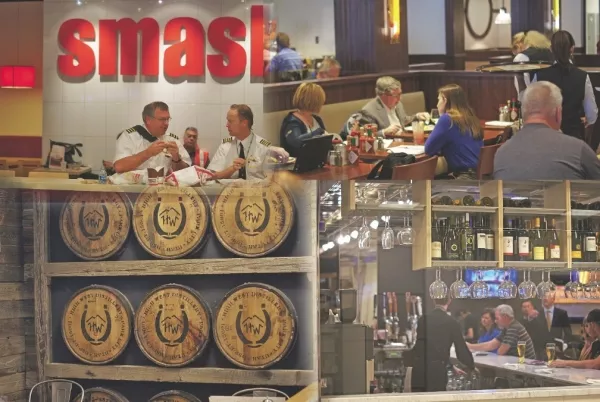 If the Salt Lake City International Airport has factored into your travel plans this holiday season, you've no doubt noticed some major changes there. If you'll be utilizing the airport anytime soon, I recommend building extra time into your travel schedule to drink, dine and shop. The last time I wrote about our airport's eating options, the best I could say is that Dick Clark's American Bandstand Grill had opened. There, at least, you could finally find a meal that wasn't fast food.
Well, times have indeed changed. Now, the Salt Lake City International Airport is in a league, food-wise, with the best airport dining destinations in the country, including JFK, Atlanta, Philadelphia, San Francisco and Los Angeles. Nearly 70 new shops and restaurants recently opened; you can find everything from Greek and Mexican food to wine and whiskey bars, high-end dining and gourmet coffee. Even better is that a number of the restaurants join trailblazers like Squatters and Granato's as being locally based operations. There was a time that when travel involved the airport, the best you could expect was airport food—just a notch or two above hospital food in its appeal. Now, when your travels take you through the SLC Airport, you can actually find restaurant food. Here are some highlights.
Over at Concourse D, there's the new airport outpost of downtown SLC's Vivace and Cucina Toscana, called, aptly enough, Vivace Cucina Toscana (Terminal 2, Cucina-Toscana.com). According to Executive Chef Elio Scanu, the food at Vivace Cucina Toscana is "very fresh and from scratch." The menu includes bruschetta appetizers like crostini topped with sauteed mushrooms and Asiago cheese, an antipasto plate and tomato-basil bisque. There's a large salad selection as well as paninis and pizzas, plus pastas like baked ziti with Italian sausage and lasagna al forno. Entrees include bistecca di manzo—grilled hanger steak with spinach and mashed potatoes—and a grilled salmon option with pomodoro sauce. For breakfast, you can even get frittata bianca: a frittata made with fresh zucchini, mixed greens, tomato and prosciutto di Parma.
Also new to Concourse D is Smashburger (Terminal 2, 801-575-2087, Smashburger.com), making its airport debut, featuring "smashed-to-order" 100 percent Angus Beef burgers on butter-toasted artisan buns. So long, Burger King and McDonald's. For those with a sweet tooth, there's also a Krispy Kreme (Terminal 2, KrispyKreme.com) and Rocky Mountain Chocolate Factory (Terminal 2, 801-531-3572, RockyMountainChocolateFactory.com) on the D Concourse.
As I mentioned, Squatters Pub Brewery (Terminal 2, 801-575-2002, Squatters.com) was one of the first of our local businesses to foray into the airport, and you can still get great grub and libations there. New to Concourse C is Salt Lake Pizza & Pasta (Terminal 2, SaltLakePizzaAndPasta.com), where—like at their Sugar House home base—you'll find a wide array of (you guessed it) pizza and pasta, along with soups and salads. They are joined on the concourse by UFood Grill (Terminal 2, Concourse C, 801-322-6307; Concourse E, 801-322-6308, UFoodGrill.com), which features nutritious and healthy fare like wraps, salads and paninis, made with whole grains and light cheeses and dressings. The beef for burgers and steaks is lean and grass-fed, and there are a number of vegetarian, gluten-free, low-sodium and low-fat menu options. Pinkberry (Terminal 2, Pinkberry.com) is inspired by European gelaterias and offers a wide range of frozen yogurts, including the holiday-themed gingerbread classic. And, at Millcreek Coffee Roasters (Terminal 2, 801-575-2802, MillcreekCoffee.com), you'll find the same high-quality, freshly roasted coffees that have won over the hearts, minds and palates of hordes of Utahns.
On the connector between C and D Concourses, there's a Market Street Grill (Terminal 2, MarketStreetGrill.com) that features a huge selection of seafood and steaks, including items like seafood Louie, Market Street's famous clam chowder, fish tacos, and certified Angus Beef steaks and burgers, as well as grilled, fried or broiled fish. You can even chow on Maryland lump crab cakes Benedict for breakfast. In the same airport vicinity is a new Cafe Rio (Terminal 2, CafeRio.com), serving fresh Mexican fare, and Greek Souvlaki (Terminal 2, 801-575-2793, GreekSouvlaki.com), a family-owned local business dishing up Greek specialties.
At Concourse B, you'll want to make time to enjoy a meal at Cat Cora's Kitchen & Lounge (Terminal 1, CatCora.com), which features tapas and cocktails. The lobster macaroni & cheese, made with coldwater lobster and Gruyère, is alone worth booking a flight to somewhere. And the grilled lamb chops with romesco sauce are equally awesome. The specialty cocktails are great, too: Try the big O, which is chilled vodka with ginger beer and kaffir lime leaves. Down and across the lower level of Concourse B from Cat Cora's is the new eatery I'm the most excited about: Popeyes (Terminal 1, Popeyes.com)! Yes, I can finally get my fix of Popeyes' spicy fried chicken and great sides like dirty rice or red beans & rice. But, as with the Hill AFB Popeyes location, I'll need to pass through a metal detector to do it. When is Popeyes finally going to open an outlet here that doesn't require a security check? Also on Concourse B are a couple of good quick-food spots: Auntie Anne's (Terminal 1, 801-575-3445, AuntieAnnes.com) and French Meadow Bakery (Terminal 1, FrenchMeadow.com), the latter offering a nice lineup of organic, all-natural baked goods, including yeast-free, vegan, sprouted grain, gluten-free and Kosher Parve options.
One of the most popular new dining and drink spots at the airport is High West Distillery & Saloon (Terminal 2, HighWest.com). It's there you'll find High West's award-winning whiskies, along with award-worthy food like black-coffee-&-bourbon-glazed cod, whiskey-cider-braised beef short ribs and campfire s'mores. There's even a whiskey & chocolate pairing available at High West on Concourse E.
Other appealing airport additions include Great Wraps (Terminal 1, 801-575-2414, GreatWraps.com) and Fresh Market on the Go (Terminal 1), for folks looking for a quick, nutritious food fix. And then there are also a couple of terrific new spots for relaxing and imbibing. Vino Volo teamed up with Squatters and Wasatch Brewery to create a killer place, called Vino Volo Ale House (Terminal 2, 801-575-2210, VinoVolo.com), to enjoy wine, craft-brewed beers and cocktails. Meanwhile, over in the mezzanine area in Terminal 1, there's the gorgeous new Gordon Biersch Brewery Restaurant (Terminal 1, GordonBiersch.com), featuring from-scratch American cuisine and Gordon Biersch's internationally acclaimed handcrafted beers.
Time to call your travel agent!