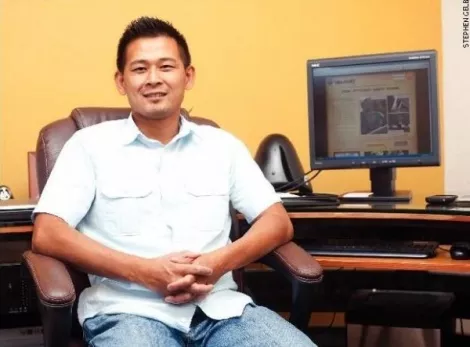 Bringing his love of interactive games in line with technology, Alain Eav of Lehi started a game called Ninjahit, in which a group of people are assigned to hit each other by snapping pictures of their target with their smartphones. After doing so, a new target is assigned. The person with the most hits after the game period wins.
Why Ninjahit?
Ninjahit is a game that allows people to be social and have face-to-face interaction while being engaged in a fun activity. I wanted to be a little different than everybody else because most apps are designed to be played by one's own self. So I thought, "Let's put a game together where people are involved."
How do people play?
You go to NinjaHit.com, create an account, and download the app from iTunes for $1.99. You can play anywhere—you're not stuck to any location. You also link up with people in your area, so if you go to BYU or the U, you can play with people on campus.

One game is called "Assassin." After getting a group of around 30 people, the moderator starts the game and a server sends each of the 30 people a random name and picture profile of the person they're supposed to hit. When you see that person, you tap on the "ninja hit" button, the phone's camera feature opens up, and you send a snapshot of your target to the server, which then sends you your next target. You can also add text for trash-talking. So, that's why it's called Ninjahit; in order for you to get up close to hit somebody, you gotta be sneaky like a ninja.
Do you plan to expand?
Definitely, that's our goal. It's also a cross-platform game so people with different phones can play the game together. Out of 10 friends, the chances of all 10 having an iPhone is slim. Most likely, someone will have a Blackberry or an Android or a Windows mobile phone, etc., so any group of friends with any of these smartphones can play. By doing that, we hope to expand the game to people all around the world. We have also talked to some colleges and universities who may be getting into Ninjahit.
So would you say Ninjahit is healthier than a World of Warcraft addiction?
[laughs] That's tough. I would say WOW is so popular, and there's a lot of fantastic things about it. But with our game, there's a lot of cool things about it as well, such as not being stuck in a room for eight to nine hours. You interact in the real world, and it's very proactive and social.