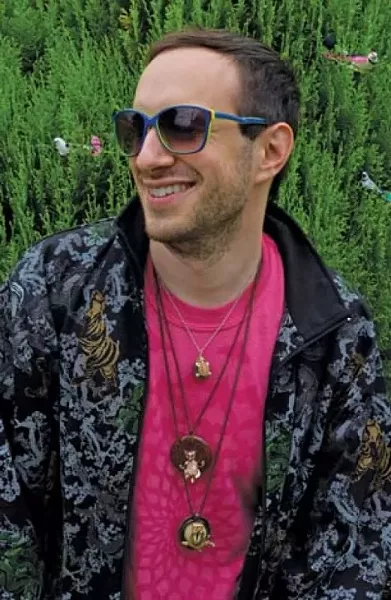 Frequent words used to describe Alexis Gideon's work include "weird," "strange" or "offbeat," but a more apt signifier is simply "nonparallel." The Portland-based multi-instrumentalist is without a doubt one of a kind in his fusion of music, visuals and dense cultural lore, combining rich historical texts and high-end concepts with street-smart appeal.
Gideon, who first broke out as half of experimental rap duo Princess, turned heads in 2009 with Video Musics, a hip-hop opera loosely based on Hungarian mythology and featuring stop-motion/animation images synched to explosive guitar and a sing/rap flow. The inventive multi-media project didn't always translate to a live setting, though, particularly in bars where crowds couldn't immediately make heads or tails of characters like Video Musics' reptilian space-cowboy, Brimstone Blaine.
Audience confusion is partially why Gideon plans to hit alternative venues in support of Video Musics II: Sun Wu-Kong, a longer, more elaborate concept album rooted in dreams of severed heads, reincarnation and Twin Peaks—recurring notions that managed to align with close readings of Arthur Waley's Monkey, a condensed version of the 16th-century Chinese novel, Journey to the West. Gideon whittled down Waley's epic from 100 chapters to three sections involving a meddling monkey king's destruction and his subsequent punishment and atonement under a Buddhist monk, leading to the pair's climatic quest for enlightenment.
"The way the journey worked in Waley's book is incredibly episodic, so it was possible to extract a lot of info by taking out particular fights that wouldn't really affect the plot," says Gideon. "I just grabbed stories I wanted and slowly turned them into music and lyrics."
Unlike its predecessor—which dished out stand-alone tracks—Video Musics II is meant to be consumed in one sitting. "It follows more of a traditional opera structure, though clearly aesthetically different," he says. "I wanted to reintroduce my natural inclination for composing, which is much more messy and all over the place."

While giving into one instinct, Gideon abandoned another. "I'm a little bit of a control freak," he says. But after some initial difficulty in delegating duties to his super crew—animators Ezra Daniels, Becca Taylor, Cynthia Star and Shelley Short—Gideon's glad he shared the load. Besides taking his ideas to the next level, each artist contributed a unique personal style to the piece. Daniels' work adds an element of grotesque (see: baby-eating demons) while Short's way with patterns elevated the water scenes. Gideon, who describes his style as "really bad drawing," complemented the story's violence with a sense of playful innocence.

In addition to guest animators, Gideon also teamed up with Anna and Chris Brozek to release Video Musics II, becoming the first national act to join the Salt Lake City record-store owners' emerging label Slowtrain Records. "I feel like a lot of stuff about this project involved weird moments of serendipity," he says. Days after considering whether to continue on with his label Sick Room, the Brozeks went viral with their latest venture. The union was a no-brainer.

"I love those guys and their store and I can't imagine two people better suited to start a label," Gideon says. "They're in it for all the right reasons, about music and making records as collectible items—especially with Video Musics moving away from traditional albums toward weird hybrid art."

The album officially drops in November and will be available on pink vinyl shipped to each customer, with an accompanying DVD sold in stores. Gideon is currently on tour in support of the project, largely bypassing bars in favor of art spaces and institutes; in October, he'll perform at Portland State University's Confucius Institute, further exploring the intersection of academic scholarship and popular music. Right now, his only focus is leaving the house.

"It's been a long time working in the basement," he says. "I'm ready to come out and share."

ALEXIS GIDEON
The Pickle Company
741 S. 400 West
Saturday, Sept. 18, 7 p.m.
$5

Slowtrain Subterranean
221 E. Broadway
Sunday, Sept. 19, 7 p.m.
$5