As the new executive director of Art Access Gallery, Shandra Benito has a vision for how the nonprofit organization—with its mission to serve diverse and often underserved communities with arts programs—should be perceived. And that vision involves quality, not sympathy.
Benito recalls finding out about an exhibit by people with disabilities when she was living in Missoula, Mont. "I was super-excited because I'm deaf, I'm a woman with a disability, and I love art, and I made sure to go to that exhibit," she says. "When I walked in, I was so disappointed, because it was just kids' drawings. It was marketed as people with disabilities, not children with disabilities. I love children's art, and [it can be] really meaningful, but I felt it was perpetuating this idea that 'people with disabilities' is the same as 'children.' Like we don't have high-quality artists with disabilities."
A Seattle native, Benito arrives in Salt Lake City with an extensive background in the nonprofit sector and social work, including a stint as head of fundraising for Abused Deaf Woman's Advocacy Services. She is, however, new to working full-time for an arts organization, in addition to being new to the city. The Art Access position, she says, "merges two things I'm really passionate about—which is artistic expression and also working with populations to say, 'We believe that everyone should have access to this.' And we understand that the system doesn't always provide that right now."
She believes strongly, though, that Art Access has long been a community leader at providing that kind of service, with more than 30 years of supporting arts programs. That means she really doesn't see a need to re-invent this particular wheel in terms of altering the organization's direction. When asked where she has put her energy first in learning about a new place, Benito replies, "It's a really easy answer: people. That's staff, our board, artists that are part of our community, our clients. I really want to have the opportunity to meet and listen to everyone. I think there's so much wisdom and so many powerful ideas that exist in the community, and I really feel that my job right now is just to harness all of that."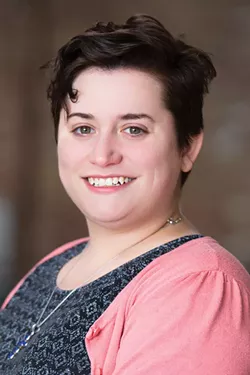 That commitment to individual relationships also played a role in why she felt that Salt Lake City was a good fit for someone most familiar with larger cities. The aforementioned year she spent living in Missoula provided a sense of community, she says, "that you could really know who you're working with. I was working in a domestic violence program, and I knew our officers, I knew the doctors at the hospital, I knew the prosecuting attorneys and the defense attorneys, and I thought that was really cool. In Seattle, that's not really possible. ... A lot of the things I loved about Montana, I found when I came here that I loved, too."
Community has long been at the heart of Art Access' mission, to an extent that might not always be understood or appreciated even by those tapped into the local art scene. The organization channels funding into a variety of artist residencies, from facilities like The Road Home shelter and VA hospital to local elementary schools. Art Access has also partnered with other arts organizations like Salt Lake Acting Co., including providing art work by women military veterans for display at the theater during the run of the similarly themed play Harbur Gate this month. Even some of the gallery's exhibits have led to collaborations, like when a representative from Ronald McDonald House saw a show last year curated by Heal Courageously featuring photography of people experiencing life-threatening illnesses, and asked for a similar project dedicated to the House's young clients.
Supporting these programs—and many others, including an art therapy program for survivors of sexual assault that's entering its second year—requires funding, and the financial challenges of a nonprofit are always an issue. While the current political climate promises both potential changes to government funding sources and reasons for people to spend donation dollars elsewhere, Benito seems ready for the challenge. "The goal should always be to sustain through those ups and downs of different types of funding," she says. "When it comes to what we want to do, fundraising is about sharing our story with people, and making sure everyone who comes in knows who we are, and what we do."
For now, Benito's new ideas are all about focusing on that mission and making sure others know about it—from developing new guided tours of the gallery, to insuring that such tours also address accessibility for all populations, including the hearing- or vision-impaired. And it's another chance to showcase the artwork itself, with an emphasis on how good that art is. "We have art by a number of communities that are under-served and maybe marginalized by the arts community," she says, "and I think that we show people that that's high-quality art, and that's a piece of the conversation that we lose if we don't create a space for those people to learn art and show their art."