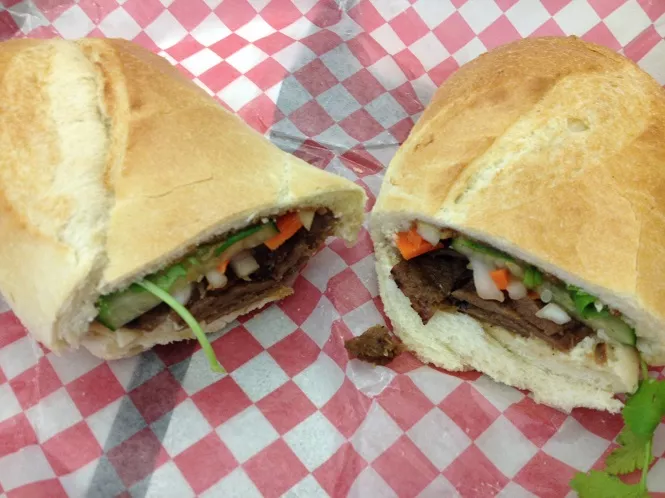 Amanda Rock
BBQ Bahn Mi
Understanding the need for fresh, healthy food in an area loaded with fast food, Kim Hoa Nguyen and her brother, Binh Nguyen, opened All Chay in a tiny neighborhood strip mall in Rose Park. Serving up meatless versions of familiar Vietnamese favorites like pho, banh mi and bun thit nuong, a cold noodle dish flavored with fresh herbs, this brother and sister team are on a mission to feed the masses healthier and happier food. Depending only on word-of-mouth advertising, All Chay has become very popular, a testament to their delicious food.
Amanda Rock
Flan
The service is generous and friendly, the owners will take time to fully explain each dish. Order at the counter, then find a place to sit among the ample tables and comfy booths. As for the menu, I'm convinced you can't go wrong. Close your eyes and blindly point to a dish - it will be excellent! In the little time they've been open, I've eaten there over a dozen times and the food has been consistently delicious, leaving me wanting more.
Managing a flavorful piquant broth without the usual meat and bones is impressive, this speaks volumes to Bihn Nguyen's cooking skills. Creating umami (that savory taste you can't put your finger on) without the use of animal products is quite the feat. Scallions and onions float prettily at the surface of the fragrant broth served with a generous selection of soy-based meats, fried triangles of tofu and vermicelli noodles. To personalize your pho, aromatics such as basil, jalapenos and a wedge of lemon are supplied. Hoisin sauce and Sriracha can also be added to amp up the flavor. Finding your personal taste is part of the pho fun. My favorite add-ins are a healthy dose of lemon juice and jalapenos.
Amanda Rock
Takeout Pho
There are quite a few selections of Bahn Mi, a Vietnamese sandwich made on a baguette with jalapenos, mayo, pickled carrots and daikon. At only $4.50 per sandwich, it's quite the deal. The Vegan Sardine is my favorite; made from soy meaty stuff wrapped in seaweed, the taste and texture is nicely fishy accented with the tangy pickled veggies.
All Chay's menu is impressive, including spring rolls, noodles and plenty of unique dishes like Spicy Cha Cha, fried faux shrimp served with rice. For dessert, don't leave without ordering the flan made with agar agar instead of gelatin. The sweet, jiggly coffee dessert is a wonderful note to end the meal.
Amanda Rock
Spicy Cha Cha