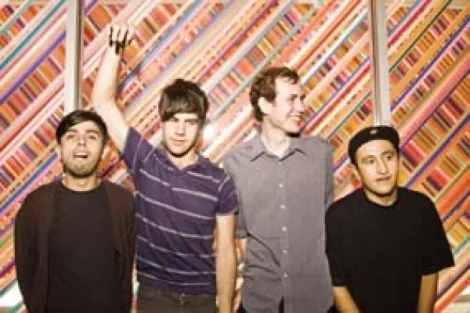 Bands like
Abe Vigoda
suggest that all-ages venues—like Los Angeles' The Smell—have the power to transform music as we know it. n
Los Angeles-based pals No Age, Mika, Miko and a whole slew of other Smell regulars have taken the nation—and the world—by storm. And it wasn't until this month that all of Abe Vigoda could legally drink.
n
"We love playing all-ages venues because we started out young, and it seems like the audience members get more into the shows. They're generally not as conservative as older people at a bar," says singer Juan Velazquez.
n
Much of Abe Vigoda's loyal followers are in their teens and 20s, so when they play an all-ages show—like their upcoming gig at Kilby Court, 741 S. 330 West, Oct. 28, 7 p.m.—they can rest easy knowing no one was excluded. "Of course, we play over-21 venues if those shows are booked, but we certainly prefer to play places where everyone can attend."
n
"We love to play house parties," Velazquez says, adding that the group played a crazy house gig in Provo. "It was still daylight out. We played and then drove to Salt Lake City to play the second show [at a club]. It wasn't super-well attended, but the crowd really liked it."
n
Abe Vigoda—often described as a tropical punk band—is currently part of an all-star tour curated by Philadelphia-based producer/DJ Diplo, along with experimental electro outfits Telepathe and 8-Bit Boy.
n
"We haven't even met Diplo yet," Velazquez says, "We're meeting him in a few days. He just liked our music and asked us to join the tour. We never expected to play all over the U.S. and internationally. It's pretty awesome. It's like a high-school dream come true."
n
While Abe Vigoda started out as a fairly standard California punk band, they've since evolved, incorporating more unique guitar hooks and irregular time signatures that help take their second effort, Skeleton, to the next level.
n
"We don't even play songs from our first album [Kid City] because our sound is so different now. We don't even practice those songs. I probably can't even remember how to play them," Velazquez says.
n
He and his band mates now prefer a more atypical sound.
n
"I'm not super music-theory guy or anything, but I do like to play with drum patterns and keep things exciting," he says. "The last thing we want to do is bore people. We are really influenced by some '60s surf bands, but we have a lot of influences. Hip-hop, rock bands, everything."
n
Abe Vigoda recently shot a video for Skeleton's title track. "It was lots of fun," Velazquez says. "It's this really over-the-top video with a tongue-in-cheek goth/industrial theme. We wore this really insane white makeup, and the video was filmed in black-and-white, so there's quite a contrast. It looks really nuts, but we had so much fun making it, and we're happy with the finished product." Best of all? It's something everyone can see.