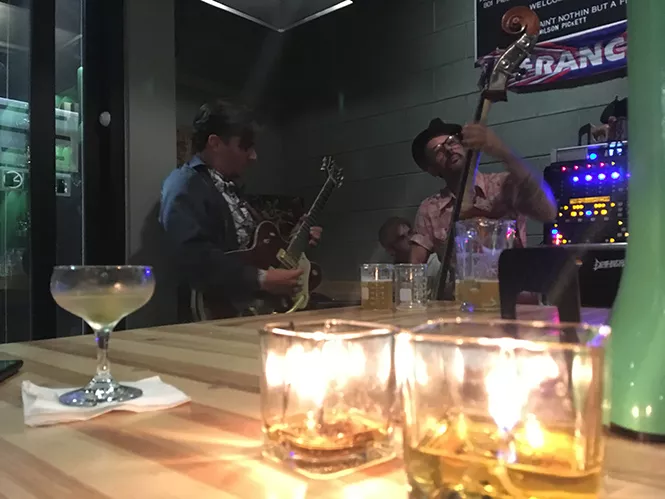 Nick McGregor
Cole Maxwell and Shane Kiel at Water Witch.
Thursday, July 19, marks exactly one year since I arrived in Salt Lake City. In that time, I've seen well north of 100 touring bands, and tons of well-known locals at more than 20 rad venues. But a recent performance at Water Witch stands as the most revelatory experience yet: an unnamed trio of hellcats blazing through an instrumental set of rockabilly and jump blues while crammed into a corner of the tiny bar for what co-owner Matt Pfohl and bartending staple Michael Wright raved was the venue's first crack at live music.
Even as Cole Maxwell laid down hot licks on his Gretsch, Shane Kiel gave his upright bass a proper thumping, and a drummer whose name I regrettably didn't get went to town on a scorching set of originals, standards and wicked reinterpretations of candy-coated gems like "Mr. Sandman," everyone in the bar laughed about the fact that the band had no name. Maxwell and Kiel perform "rockabillia and Western exotica" as The Blushing Violets, while Kiel is a longtime member of garage punk rippers Los YaYaz. And although I didn't catch up with the drummer, the sight of his creepy Bruegel-esque bass drum head painting triggered a memory of seeing him play a show last October at Piper Down, when Los YaYaz, Weird Stew and Jacob T. Skeen opened up a greasy and dirty rockabilly bill.
It's exactly this kind of lightning strike that exemplifies Salt Lake City's seam-bursting scene. The band might not go by a reliable name yet—hell, they might never even appear again—but I can try to track them down at any number of cozy bars hosting live music without promoting it to the high heavens. In this big city that (in my opinion) gets too much grief for being bland and vanilla, you can pick your creative poison and dig in, befriending the main movers and shakers as you bounce from show to show and accumulate experiences, or operating on the margins as you breeze from one concert to the next.
I've seen ample evidence of that in my 12 months here. Stumbling on VHS Vic and Jeremy Devine's project Cool Banana, I'm intrigued at the junk-store esoterica possibilities. Seeing electronic seeker Belle Jewel live makes it feel inevitable that she'll soon be opening for Grimes and conquering the festival market. Even though local blues master Tony Holiday and his band The Velvetones might be moving to Memphis later this fall, protégés like Ol' Fashion Depot and standbys like Synderville Electric Band are primed to carry on the searing tradition.
As for the hip-hop—holy hell, Utah. No one told me such an entrenched scene existed here, or that, on any given night, I can relive my early '90s mixtape dreams sampling everything from G Funk-inspired gangsta rap to grimy, lyrically sharp East Coast bangers. Talk about another scene overflowing with talent: established acts like Rhyme Time and Numbs, rising stars like Zac Ivie and Burnell Washburn, up-and-comers like James the Mormon and XavierTheRapper.
The best part about all of this is that I know I'm only starting to scratch the surface. Hundreds more artists are right around the corner—some happily operating in relative obscurity, some driven to achieve more widespread fame. Some I'll stumble upon the way I did at Water Witch last week, lucking into an unannounced evening of cocktail-fueled intensity that sets my searching brain into overdrive (Mr. Drummer, I apologize for not catching your name, and I'd like to make amends next time I see you). Some will come to my attention through more established channels: open-source advertising on social media or opening for national touring artists. Some will come through sheer serendipity, like when you overhear the barista at the coffee shop talking about his new beat-driven project (here's looking at you, Gibson Bracken of The Gontiks).
I'm only one year in, but I'm already obsessed with Salt Lake City's musical variety, and intrigued at what I'll come across in the future. I know in Utah terms, that means I'm still a newcomer, so go easy on me. But I'm here for the long haul and committed to navigating the local music slipstreams with you.