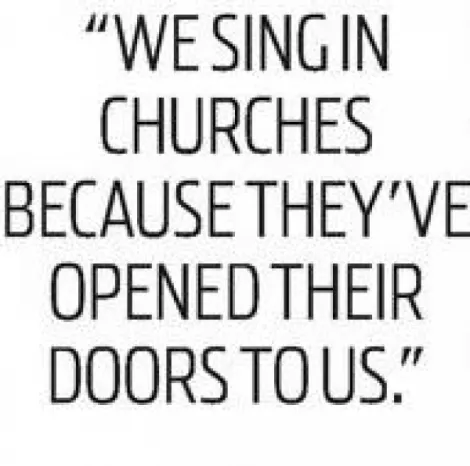 Sacred Harp members find their voice.
The human voice is the most natural instrument; the first device we use to meet our most primal survival needs as well as to relay individuality and emotion. While vocal music has long provided an avenue of expression for human aspiration, it was the revolutionary spirit of American colonists that created a new form of choral expression, one that would reflect the rules and regulations of a new world. Just like a democratic form of government, Sacred Harp singing was intended to make all voices equal. Created in 18th century England, it didn't really gain in popularity until coming to America with the colonists. Initially a method to teach singing to those untrained in music, it had critics in New England and finally migrated to the South in the latter half of the 1800s. Eventually The Sacred Harp, a repertoire book referred to as the Cooper Book by the Utah chapter, solidified the style of simple harmonies, and "shape note" singing has withstood assaults by those who would "improve" it ever since.

There are now Sacred Harp groups all over the country, and the local one is organized by Jenny Jenson, although "organization" isn't quite the word to use for it. Jensen explains, "It's not a performance, there is no lead voice, and people can participate whenever they want." These people sing for the sheer joy of it. She admits that it's all one volume; there are no dynamics and it can sound a bit harsh at first.

The texts are overtly Christian, but the group is nondemoninational, and their meetings are not religious services. "We sing in churches because they've opened their doors to us," she explains. The group has been at All Saints Episcopal Church for four years, and before that at This Is the Place State Park—where Sacred Harp members were also welcome—for five. The fewest number of people required is four, one for each part of the vocal harmony. "We've never had to go home for too few people," she notes. Their last gathering included 13, although they've had as many as 400. "Some people are regulars, and some only visit once. You either love it or hate it." Anyone in the group can pick out a song, and they arrive at "singing the pitch's convenience" in a range that they can all sound comfortably. No one brings an agenda, and she has found "I've made some nice friendships I wouldn't have made otherwise." The group usually flourishes in college towns, and she says it has become especially popular among BYU students.

Sacred Harp singers from all over the country connect on Fasola.org, an online community that also hosts get togethers including an annual summer singing camp in Alabama.

"We have found it easy to communicate over the Internet," Jensen says, "but there's also the possibility to mutate. Things outside the tradition tend to stay outside."

With occasional new additions to the repertoire, it's a tradition that appears alive and well. The movement gained some notice several years ago when it was featured in the movie Cold Mountain, and the DVD extrasincluded Sacred Harp gatherings. The documentary film Awake, My Soul came out in 2008 after seven years in production.

All this demonstrates that there is still an urge within people to let the vocal chords flail in expression of something deeply held inside. It's one of those things you can't quite fathom until you've witnessed it for yourself, and then you understand their fervor, and the freedom the lack of criticism gives them. Like democracy, every voice is heard with equal weight, and though the results sometimes aren't pretty, there's a value in the activity taking place. The unpredictability can be exciting: "You never know who's going to show up; anything could happen," she explains.

"It's different every time. The first few years, we sounded really ragged. But, once you get it in your ear, when you try to sing something else, it's difficult."
SACRED HARP

All Saints episcopal Church

1710 Foothill blvd. First tuesdays
1480 edison (145 east)

Fourth tuesdays
801-766-4482
Sacred Harp shapes their songs.