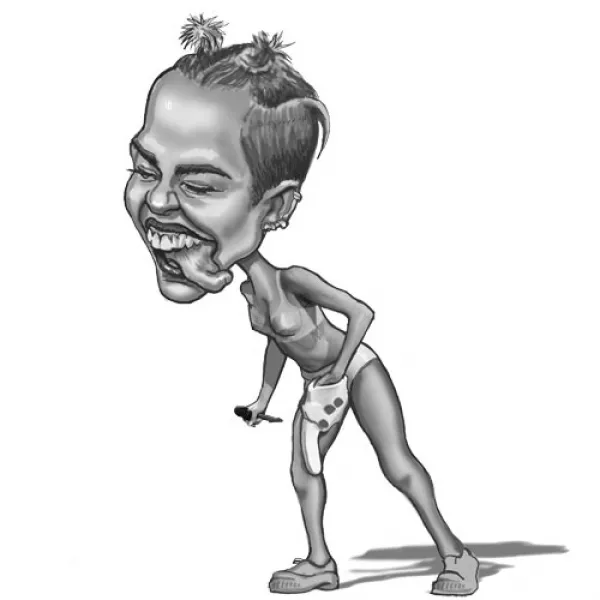 Hardly a soul is alive today who doesn't know what twerking is, thanks to the minimally talented and long-tongued Miley Cyrus. Even if you happened to miss Miss Cyrus twerking like crazy on the Video Music Awards, by now you will have seen replays of her performance, which shocked some, puzzled most and totally bored front-row spectator Rihanna, whom the cameral caught looking as if someone had offered her a canapé tray filled with bacon-wrapped turds.
At first, as reports came in describing the former Hannah Montana's awkward but energetic twerk-fest, a large segment of the citizenry found themselves in the dark as to the signification of twerking. Was it perhaps just an innocuous new dance step, on par with old-time curiosities such as the jerk, the swim, the pony, the twist and the Freddie, or similar to here-today-gone-tomorrow exertions such as the Macarena or Gangnam Style?
Those who saw stills or moving images of Miss Cyrus could be forgiven for thinking that twerking involved some form of self-pleasuring, especially since the troubled young pop sensation repeatedly touched, stroked, caressed or slapped her central pleasure zone, sometimes with her own short digits and sometimes with a large foam finger, which may or may not have been lubricated. Others, of a Christian disposition, might be forgiven for thinking Miss Cyrus had been possessed of an evil spirit; those in the medical profession might have watched, pondered and diagnosed Saint Vitus' Dance.
Viewers with an oral fixation zeroed in on Miley's elongated and out-of-control tongue, which one physician identified as "restless tongue syndrome." Twerking, for these viewers, was totally a matter of her overactive tongue.
It wasn't long, however, before TV viewers and the world at large became acquainted with the true meaning of twerking. Various digital dictionaries rushed online with definitions similar to that provided by Oxford Dictionaries, to wit, "to dance to popular music in a sexually provocative manner involving thrusting hip movements and a low, squatting stance." Other definitions were more technical in nature, using such terms of art as jiggle, wobble and shake, all involving to some degree or another what is delicately called the rump, arse or booty.
Opinions vary on the genesis of twerking: Some are certain both the word and the act are of modern origin; others argue for an ancient origin. Those in the modern camp say twerking derives from a ceremonial dance of the Mapouka of West Africa, and the name itself was popularized by DJ Jubilee in 1993, who memorably intoned, "Twerk baby, twerk baby, twerk, twerk, twerk." Adherents of an ancient origin point to an Old Norse fertility rite called Getwerken, or in some accounts, Twerkerung, which involved simulated sex performed by celebrants fully attired in animal skins.
When Miley Cyrus did her celebrated twerking on national TV, she dispensed with the animal skins and twerked in her own skin, plus a minimal flesh-colored bikini. Her version of twerking, awkward and embarrassing as it was, had the virtue of distracting viewers from her very minimal talent, which was undoubtedly the point of the exercise.
Taking the longer view, linguists and lexicographers alike have quickly moved to turn the verb twerking to the noun twerk, citing Miss Cyrus as the first bona fide twerk. According to this definition, as cited in the Universal Dictionary of Urban Idiom, a twerk is "a person of minimal or no talent who makes a spectacle and/or fool of him/herself, often in an obnoxious manner, to distract observers from noticing the aforesaid paucity of talent."
Some scholars take issue with citing Miley Cyrus as the first twerk. They point to various historical figures who had brief moments in the sun as celebrated twerks, including Pope Twerkian I, the emperor Maximus Twerkus and the Mormon apostate LeGrand Twerkum, who regularly mooned, or twerked, visitors to Temple Square.
Linguists say that bringing the noun twerk into general circulation has several virtues, the least of which is supplying a word for an entity, human or otherwise, that has hitherto been without a word. The noun twerk allows language users to quickly get a handle on persons who may have, up till now, gotten away with twerky behavior, in the sense described above. The culture of modern celebrity provides us with a host of obvious twerks: the Kardashians, Herman Cain, Paris Hilton, Snooki, Russell Brand, Honey Boo Boo, Britney Spears, Jason Chaffetz, et cetera.
Meanwhile, in breaking news, Miley Cyrus has released a statement saying she will leave her tongue to medical science.