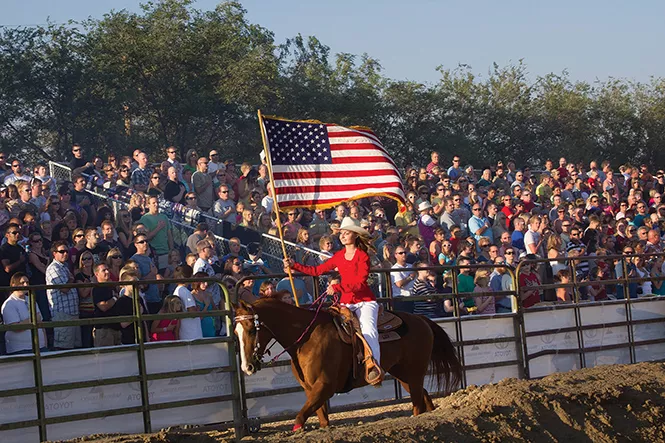 As summer begins its slide into autumn, county and state fairs around the country will bring food, entertainment and unique memories to millions of visitors. On the eve of the Salt Lake County Fair, we asked City Weekly staffers and contributors to share their own recollections of special fairground experiences.
Casey Koldewyn, freelance contributor: My family has gone to the Salt Lake County Fair every year that I can remember. We might have missed once, maybe twice, but certainly not more. Cheap-ticket-Thursdays are what got us in the door, and we always attend the rodeo. When I was really little, I participated in that rodeo. My dad joined the ranks of many probably well-meaning parents who decide that having their children placed on sheep, told to hold on tightly and then, completely bewildered, propelled out of a gate and around the rodeo arena on top of said sheep, is totally fine—fun, even. One of these lucky traumatized kids got a bike. I won a belt buckle for coming in second.
Amanda Rock, freelance contributor: My parents were pretty overprotective, so my experience at the fair wasn't like other kids'. The Ferris wheel and other fun-looking rides were deemed unsafe and, therefore, strictly off-limits. My mom patiently explained to a despondent 5-year-old me that the rides were not securely built, and the operators were probably drunk. Watching the kids with less-devoted parents screaming with delight on the rides was heartbreaking, but I wasn't sad for long. Consoled by my favorite snow cone—bright red Tiger's Blood—the gigantic stuffed animal prizes caught my eye. My dad was a champ at the carnival games, and made sure I left with the biggest and best stuffed animal.
Kylee Ehmann, freelance contributor: A few days after loading my first paycheck onto my unused debit card at the age of 16, I was determined to buy something important. I wandered through the rows of dirty-white tents at the Weber County Fair, searching for that all-important first purchase. It took me until closing time to find it: a floppy sun hat of near-impractical size priced at $10. I wasn't an outdoors person, but I knew that it was mine. Six years later, I still don't go out much, but that hat is serving me well, providing shade during my short walk from FrontRunner to Trax.
Enrique Limón, editor: Growing up on both sides of the U.S./Mexico border, I was fortunate to have double the pleasure and double the fair fun. La Feria de las Californias in Tijuana had a makeshift freak show, and I remember paying the two-headed boy 50 pesos to separate and reveal the trick (spoiler alert: It was two kids). Perhaps more indelible, though, was asking a farmer to lend me his imposing charolais to walk around San Diego's Del Mar Fair. Such was the amazement of a group of 15 or so Japanese tourists in seeing this portly kid parade around the gentle bovine that they all stopped in their tracks to frantically take pictures. To this day, I'm sure that I became an instant meme in Japan à la Barron Trump, but alas, those were pre-internet days, so we'll never know. A sad bookend to that memory is recently becoming lactose intolerant. If I could go back in time, Bran Stark-like, I'd advise young Enrique to consume as much butter, milk and cheese as possible, and to learn the lactose tricks from his new cow friend. Childhood cholesterol statistics be damned!
Anna Kaser, street team: One year, when I was about 13, I participated in my family's small county fair pig-wrestling competition. Pig wrestling consisted of a team of about four people chasing around a greased pig in a mud pit. The teams' goal: to capture the greased pig and place it in a barrel in the middle of the pit. Each team's pig was picked according to its age and size. A team of small children got a 10-15 pound pig; a team of grown men got a 300-pound pig. Our pig weighed about 70 pounds. Suffice it to say, we didn't achieve much besides getting extremely dirty.
Randy Harward, music editor: In the fall of the year we graduated from high school, my friend "Wade" and I, as newly minted free-range adults, believed the Salt Lake County Fair—in the afternoon—would be a great place to meet women. Only we were 18, worked in fast food, had no goals and our first move upon arrival was to buy guinea pigs on impulse. We weren't getting laid that day. Instead, we wound up in a tent facing a fortune-teller who resembled the squeaky-voiced psychic from Poltergeist. I recall only one prediction: "You're going to meet a girl in February and—oh, boy, are you gonna have lots of sex with her!" Alas, Tangina was off by a number of years.