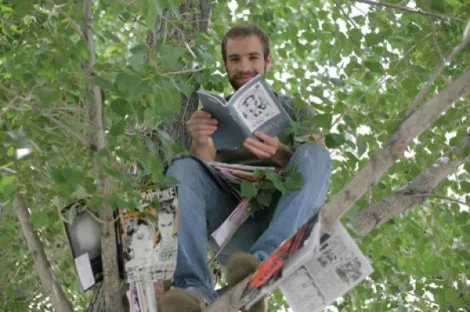 Clint Watson has been reading about a "Scatological Think Cap" recently, along with all manner of other content in a slew of self-published, indie rags called zines.
Of the more than 2,500 unique titles and 6,000 total pieces in the Salt Lake City Public Library's Alternative Press Collection, many, says Watson, who happens to be the collection selector, can be provocative and intriguing, silly or just strange. "I respect them all. It's another route to expressing yourself," Watson says.
The library will host its second Alt Press Fest on July 9, bringing attention to the world's largest public library zine collection and providing a means for writers, illustrators and creators in the community to meet and collaborate.
In 1997, in the basement of the main library's former building, Julie Bartel and Brooke Young started up the "Zine Collection"—the country's first. Since then, it has changed names and expanded in size. Most—approximately 80 percent—of the collection's zines are called personal zines or "perzines," ranging from autobiographical ramblings, esoteric poetry, comics and art collections to plainly informative cooking recipes and gardening tips. Others encompass anti-war sentiments or promote music.
Like modern poetry, whatever a zine-maker calls a zine is essentially a zine—from black and white, copy machine-printed to hardbound and in color. "[Zinemakers] do it is because they can't not," Watson says. "They're the type of person who is always creating something, just wanting to be creative. That's worth working for and building up."
Several local zines with longevity include Mike Brown's Leviathan, Trent Call's Swinj and Wes Sadler's—aka Eric Blair—Chiaroscuro. Still, despite the Main Library's large collection of zines, few were produced in the Salt Lake City community—though, "we suspect there are more being made [here] than people are aware of," Watson says. Incognito or shy zinesters are encouraged to come out of the woodwork and make themselves known.
Prominant local bookseller Ken Sanders has long supported the local zine movement, saying, "When you get into monolithic and insular culture such as we have here, you get a rich history of alternative press." Sanders sees some local zines dropped off at his bookstore and quickly snatched up. Generally, zines can be found at local, independent bookstores, coffeeshops and record stores.
More than 15 zinemakers, printmakers, writers and artists will exhibit works at the festival, including Call, Brown, Dada Factory, Potter Press, Vincent Fritz and the University of Utah's Book Arts Program. Claire Taylor, studio coordinator at the Book Arts Program, used to make zines but now focuses on artists' books, both self-bound and making book ornamentation more ornate. "It's the next evolution of the book," Taylor says. "It's taking the book as inspiration and creating something that evokes a book. Zines could be considered an aspect of book art." Taylor will be representing the program and offering information on weekend workshops and semester-length courses in letterpress, bookbinding and artists' books. She'll also exhibit her own animal-focused artwork.
Additionally, the festival will include music—Drew Danburry, Bramble and Lindsay Heath Orchestra, among others—an exclusive silent film festival and other alternative arts like fire spinning, tall-bike jousting and puppeteering. The SocBeats of Salt Lake Adult Puppet Theatre—the adult wing of Starry Eyed Puppets—will perform Beat poetry read by sock puppets. Mary Anne Heider, librarian and puppeteer, thinks the readings—scheduled for every 15 minutes—will entertain while complementing the written word. "It'll be a fun niche," Heider says. "Not that we want to be shocking and outrageous; we still might be. The Beats were very alternative in their day, still so today." Three puppeteers—Heider, her husband, Matt, and George Plautz—will perform "Bagel Shop Jazz" by Bob Kaufman, "The Blue Angel" by Allen Ginsberg, and six other pieces.
Even with all its embellishments, at its core, the festival's focus is zines. Exhibitor and artist Call has been producing Swinj intermittently since 1998, when he was a 17-year old Highland High School student. The first editions were a collection of his and his friends' reflections on art; recently, the zine has focused on Call's drawings and cartoon-like images. He says he used to gain more recognition for his zines than for his art and hopes to get back to his roots, including promoting a new edition of Swinj published for the festival.
For Call, the creative process is more important than anything else, especially when working with a physical and tangible medium. "In other cities, there are racks and racks of [zines]. It's always confused me why there aren't more here. People still don't know what they are," Call says, "The best thing that could happen at the festival would be to get one kid excited about it and start making them."
ALT PRESS FEST
Salt Lake City Main Library Square
210 E. 400 South
Friday, July 9, 3-9 p.m.
Free
AltPress.slcpl.org