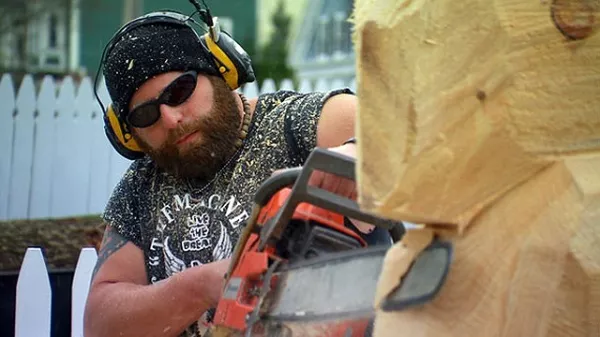 National Geographic
American Chainsaw

American Chainsaw
Thursday, Nov. 29 (National Geographic)
Series Debut: After the Season 2(!) premiere of Rocket City Rednecks, it's American Chainsaw, a new reality series about "The Machine" Jesse Green and his motley crew of Massachusetts chainsaw sculptors. Says National Geographic, the TV arm of a respected publishing institution, "Chainsaws are very dangerous—one wrong move and someone could lose a finger or an arm, or even worse: They could cut off their entire face!" NatGeo has taken what could have been a showcase for Green's visceral technique and the artistry of his finished works and spun it as more hillbillies-done-got-jobs reality dreck—just shut up and start cutting, ferhellsake!

The Walking Dead
Sunday, Dec. 2 (AMC)
Fall Finale: Any complaints the complainers may have had about Season 2 (too much talking and "feelings," not enough zombie-splattering, Carl's lack of house-staying-in-ness) have mostly been obliterated in the first half of Season 3; last Sunday's "When the Dead Come Knocking" episode alone delivered enough intensity, nudity and creepiness to satisfy even the hard-core fans who actually stick around for Talking Dead. Tonight's fall finale—The Walking Dead will return February 2013, says here—is titled "Made to Suffer," so expect more of the same as well as all, or none, of the following: a Daryl/Merle reunion, Maggie and Glenn's rescue, the introduction of more characters from the comics and another regular getting good 'n' dead. Whatever happens, you can come to Brewvies Cinema Pub (677 S. 200 West, 21+) and watch it all for free on the big screen at 7 p.m., courtesy of City Weekly, Big Shiny Robot, True TV and Dixon's Quality Prosthetic Weaponry.
Finding Mrs. Claus
Sunday, Dec. 2 (Lifetime)
Holiday Movie: When Santa Claus (Will Sasso!) spends too much time selfishly bringing joy to the world and neglects Mrs. Claus (Mira Sorvino!!), she occupies herself by slipping away to Las Vegas to help a little girl with her Christmas wish (these people really need to find outside interests). When Santa tracks her down, Christmas hangs in the balance and you-know-what ensues! Finding Mrs. Claus isn't even in the same comedy universe as last Sunday's Lifetime movie, the epically bad/good Liz & Dick, but it is a charming little slice of holiday cheese, and Sasso and Sorvino have the skills to make a shaky, implausible premise work. Like they have Christmas in Las Vegas …
Shahs of Sunset
Sunday, Dec. 2 (Bravo)
Season Premiere: Another argument for shutting down this cable network and turning it into a 24-hour moving dot on a screen to torment cats, Shahs of Sunset is now somehow entering Season 2—is there a game of programming chicken going on between Bravo and E! to see who can get anything on the air? If you've been lucky enough to never have gotten a whiff of this "reality" series, imagine all of the worst "dramatic" elements of The Real Housewives, Jersey Shore and Keeping Up With the Kardashians paired with an even more entitled/vapid cast than, well, The Real Housewives, Jersey Shore or Keeping Up With the Kardashians. The worst offense: Absolutely. Nothing. Happens. Congratulations on being rid of these plastic assclowns, Iran.

Sons of Anarchy
Tuesday, Dec. 4 (FX)
Season Finale: In a season that's served up a body count nearly as high as The Walking Dead's, the violent exit of lone sympathetic character Opie and Walton Goggins as a tranny hooker, the most shocking aspect of Sons of Anarchy remains why is Clay still alive? Come to Brewvies tonight at 8 p.m. and see his gigantic mug (one last time?) on the big screen for free, courtesy of City Weekly, True TV and Teller-Morrow Auto Repair.