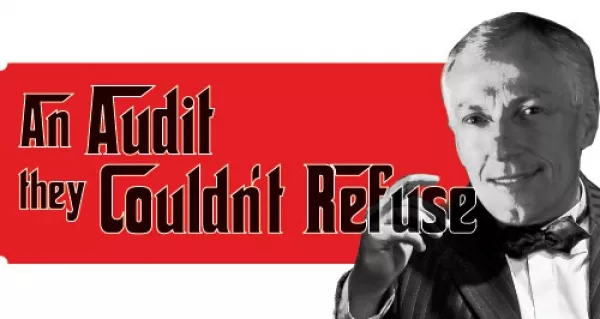 On Jan. 18, 2012, at the end of a long day of medical testimony, "John Doe" took the stand in 2nd District juvenile courtroom in Farmington.
In early 2011, Doe's daughter had been investigated by the Division of Child & Family Services over allegations of child abuse. On the stand, Doe recalled a DCFS investigator coming to his daughter's house unannounced in late spring 2011. "She was going to take the children from the house and very possibly put them up for adoption," Doe testified. "Do you think that caught my attention? Do you think I wanted to call somebody? You bet I did."
So, he told the court, he called his friend Greg Bell. Now serving as Utah's lieutenant governor, Bell had been a powerful figure in Davis County, as former mayor of Farmington and Republican state senator for Fruit Heights.
But Doe knew Bell in a different capacity. Not only had they been neighbors, but they had shared ecclesiastical duties at an LDS ward. "We certainly know and respect each other," he went on to say. They were acquaintances, he clarified, not "bosom buddies."
Bell, the man continued, told him he couldn't interfere in the case because of the separation between the executive and the judicial branches of government.
But Bell, according to Doe's testimony, was sufficiently concerned by what Doe told him that he initiated an audit of the case on the taxpayer's dime while DCFS was investigating the child-abuse allegations—which were not of a sexual nature—and the Attorney General's Office was preparing to take the case to trial.
Doe recalled Bell telling him, " 'Just for myself, I want to see how this comes out.' I said, 'Great, we don't have anything to fear. Please do it.' "
DCFS had investigated Doe's daughter once before over similar allegations in 2008. The agency had made supported findings of abuse and worked a volunteer plan for a year with her and her husband so the children could safely remain at home. However, according to court testimony, weeks after DCFS closed its case, the mother's concerning behavior began again.
City Weekly requested access to audio recordings of the hearings. Judge Andrus granted that access conditioned upon keeping private information about Doe's daughter and her children confidential.
Despite Bell's intervention, the judge would eventually rule that the children be placed in DCFS custody. Bell's audit did not lead to the outcome that Doe sought nor did it lead to any changes at DCFS.
A high-ranking state official applies pressure on a state agency as a favor to a friend and doesn't get his way—it shows the system works. Shouldn't that be the end of the story? It might have been had the audit not been mysteriously "recalled." The auditors allegedly took back from DCFS every copy of the audit or had them shredded.
Up until the time that City Weekly, acting on a tip, requested a copy of the audit—also termed in state e-mails at one stage as "an informal review"—no mention or evidence of the audit existed in the public realm. Much of the audit that City Weekly eventually did receive was blacked out, or in records parlance, "redacted."
This is despite the fact that staff from the Governor's Office directed auditors to tell caseworkers that the records they were seeking "are necessary for the proper performance of a review that will produce a public benefit greater than any intrusions on personal privacy rights."

Serving the Taxpayer
Most Utahns have heard a heart-rending DCFS story.
City Weekly
itself has reported on a number of stories where parents claim to have unfairly lost custody of their children to an implacable state agency. And while any constituent can contact his or her legislator with such a concern hoping they will intercede on their behalf, Bell, as a member of the executive branch, having a personal interest in a specific DCFS investigation seems to be unique.
According to the lieutenant governor's website and other official documents describing the role of the office, supervising state elections is the lieutenant governor's chief responsibility. The Department of Human Services (DHS), which oversees DCFS, answers to the Governor's Office.
All the same, the Governor's Office had no problem with Bell's call for an audit. According to an e-mail from spokeswoman Ally Isom, Utah's constitution "contemplates that the Lieutenant Governor will provide the Governor advice on 'policies, programs, administrative and personnel matters,' while Section 67-1a-3 gives the Lieutenant Governor the authority to employ personnel to help him carry out those duties."
She continues, "It is more than appropriate for the Lieutenant Governor, in the course of advising the Governor, to commission an audit to ensure that a state agency is following its internal policies and procedures. State taxpayers are well served by ensuring state agencies comply with policies and procedures."
Bell, who's standing for re-election in November alongside Gov. Gary Herbert, proved more reticent to opine on the audit. Through his chief of staff, Cody Stewart, Bell declined City Weekly's request for an interview.
That silence doesn't surprise several sources close to this story's events who requested anonymity due to concerns over retaliation before they would talk. They argue that the sole motive of Bell's audit was to make DCFS back away from the family investigation.

Call for an Audit
The average citizen's path to redress with regards to child welfare cases is somewhat lengthy. DHS spokesperson Elizabeth Sollis explains the choices an aggrieved parent has to register his or her concerns regarding a DCFS case are first with the caseworker, then a DCFS constituent services specialist, followed by, if the parent is still unhappy, the Office of Child Protection ombudsman, then the head of DHS and finally "their legislator, committee members of the Child Welfare Legislative Oversight Panel, or the Governor's Office."
John Doe had a far more direct route. In his court testimony, Doe said he called his friend Greg Bell, "to give him advice, to recommend an attorney."
Initially, Doe said, Bell talked to Department of Human Services director Palmer DePaulis, a former Salt Lake City mayor, who oversees DCFS.
DePaulis tells City Weekly that Bell was "really, really concerned," that "there could be issues in DCFS practices that were not right." DePaulis says he tried to reassure Bell. "Our policies looked OK to me."
In a June 25, 2011, e-mail from Bell to DePaulis marked "HIGHLY CONFIDENTIAL AND PERSONAL," Bell wrote, "I'm just not buying it, Palmer. I'm not saying all is well, but I feel very unsettled. The stakes are so high—[redacted]. This administration cannot be party to any rushed proceedings which do not give [redacted] every legitimate protection." Bell urged DePaulis to "think about an independent expert evaluation." He concluded, "I've emphasized things in [redacted] e-mail which give me serious pause."
Doe said Bell asked his staff to investigate "some things" and report back. What were those things, Assistant Attorney General Laura Thompson asked Doe on the stand. "He told me it was apparent that there was a presumption of guilt without ever looking into possible innocence and that concerned him," Doe replied.
Several weeks later, Bell told Doe he felt "enough concern that this case is not being handled properly that I have commissioned an independent audit to look into the circumstance surrounding this investigation."
Sea of Black
Legislators routinely request performance audits of the operations of state agencies that constituents or others have expressed concerns about. And DCFS routinely faces audits, which, according to DePaulis, typically focus on policies and procedures. A 2011 performance audit into DCFS, the findings of which the agency agreed with in its entirety, is available on the Utah general auditor's website.
While DePaulis labeled Bell's audit as one of many his department routinely faces, his agency's January 2012 response to the audit suggests a degree of alarm. At the conclusion of its response, DHS noted, "Finally, we express our concern about the purpose, scope and timing of this audit."
After further redactions, DHS noted, "[the audit's] scope is inadequate to form any meaningful conclusion about Utah practice in [redacted] cases." It concluded, "We believe that the audit does not accurately portray an understanding of DCFS investigation and policies regarding the handling of [redacted]."
The audit itself has not been released to the public. When City Weekly requested a copy of the audit from the Lieutenant Governor's Office, it came so heavily redacted that much of it is simply a sea of black. Audit
The position DHS and DCFS were placed in by the audit was at best uncomfortable. According to heavily redacted e-mails between Bell and DePaulis, Bell both drove the audit and leaned on DHS chief DePaulis to personally investigate claims Bell was concerned about. Bell also forwarded an e-mail "from a source near the family" to auditor David Pulsipher. According to several sources, auditors were in and out of the local DCFS offices handling the case for six weeks or more.
While the audit recommended adopting practices used in other states, what is not clear, because of the redactions, is whether it specifically addressed the merits of the investigation into John Doe's daughter, the case that had originally piqued Bell's curiosity.

The Smoking Gun
The second child-abuse investigation by DCFS into John Doe's daughter began in April 2011, when one of the children's doctors referred the mother to Child Protective Services, part of DCFS, over concerns of child abuse. A DCFS investigator later told the court that she'd interviewed one of the children at school. The mother arrived at the school and agreed to meet the investigator at home. There, the investigator recalled, she was "near hysterical, crying. She did not understand why this was coming up again. She truly felt she had done nothing wrong."
Interviews with doctors and school authorities "were consistent with all the information we had gathered that [the abuse] was escalating," a DCFS investigator told the court, which led to the agency petitioning for state custody of the children in June 2011. Judge Andrus issued an interim protective-services order granting DCFS access to both the family's home and to the children.
Doe, the children's maternal grandfather, was outraged. He testified that what the state saw as abuse, he saw as innocent issues he had witnessed firsthand. He also believed the state agency was employing storm-trooper-type tactics and was intent on taking his grandchildren away from their parents when they had done nothing wrong.
Bell's audit was completed by early December 2011. The audit was then sent to DHS to await its response to questions and concerns identified in the audit. The state's petition for custody of Doe's grandchildren­—held up, according to court testimony, due to the daughter and her husband's increasing lack of cooperation with DCFS investigators and court orders—went to trial almost to the day when DHS sent its final response to the audit, in mid-January 2012.
Doe testified that a week before he took the stand, Bell told him he "had what he thought was the smoking gun, which proved my daughter's innocence. This [hearing] should have never started in the first place, and he was shocked that we were sitting here right now. But [Bell] said, 'I can't interfere,' and the audit has been effectively buried."
No such evidence, however, was introduced to the court.
Business as Usual
Department of Human Services chief Palmer DePaulis scoffs at the notion the audit was buried, since, he says, DHS, which oversees DCFS, responded to the audit. DHS disagreed with all of the findings, except for one, upon which they had "previously identified the need for clarification."
DePaulis declined to expand on his agency's response. While the audit looked at specific practices by his agency, the audit is case-related. "We can't talk about a case, we can't share those details," he said.
As to the audit's findings, he says, "either we were doing what they were recommending or the recommendations were off-base," he says. "Audits happen, and we respond." Unless his department agrees with an audit's findings, "it does not influence how we run our cases," and such was the case with Bell's.
The only copy of the audit DHS has is the one provided to the agency by the Lieutenant Governor's Office after
City Weekly
submitted a records request to DePaulis' agency. DHS spokesperson Sollis confirmed that all other versions of the audit had either been returned to the auditors or shredded. Whether it is normal practice for the audited agency to either return or destroy all copies they have of the audit was a question DHS referred to the auditors. Lead auditor David Pulsipher did not respond to several requests for an interview.
John Schaff is the auditor general of Utah. He heads up a 27-person-strong staff that handles audits requested by legislators or a committee. In addition, individual state agencies have their own internal audit groups. "It is my understanding the lieutenant governor had some concerns and took an auditor from the Department of Corrections and an auditor from the Department of the Inspector General's office and had them do some work for him," Schaff says.
Bell's assignment of three auditors to the DCFS case "was not business as usual," Schaff says. "Usually, audits are assigned through a carefully orchestrated methodology; our [legislative] committee would assign our audits."
But, at the same time, "it's not unusual to say […] let's help the governor out, he asked for an audit, he wants independence. It's all about trying to get the best information."
Two of the three auditors Bell selected are well known to Schaff; he says they "have strong credibility" as auditors. He trained Bell's audit team leader David Pulsipher, who heads up the Department of Corrections' internal audit team.
While the audits from Schaff's office are subject to a random peer review from auditors outside of the state every three years, who, if anyone, reviews audits such as the one Bell had done is a good question, Schaff says.

Not in My Family
The audit fieldwork ran from July 2011 to September 2011. The auditors spoke to six DCFS workers, two attorneys at the Attorney General's Office and attorneys and experts on the specific type of abuse at the heart of the case. They also interviewed seven caseworkers from four surrounding states to see how other states approach the abuse.
Even though Bell had ordered an audit on one of Gov. Herbert's own state agencies, DePaulis says caseworkers would have no reason to be worried about an audit looking into a case they are simultaneously working on. He puts his hand on DCFS director Brett Platt's forearm. "This man would direct his caseworkers and staff that they should not be concerned about anything to do with an audit," DePaulis says.
"We have their back," Platt adds, noting that his workers "are used to living in a fishbowl." They have to ignore the ill will their work can generate and "focus on the status of the case." Whether it's a family who referred allegations against someone—only to see no prosecution take place—or a family who finds itself the subject of an investigation, state services geared around protecting children inevitably generate tension, controversy and anger.
In the case of Doe's daughter, the family became increasingly difficult for DCFS to work with. Judge Andrus ordered in August 2011 that the children be medically evaluated and the parents psychologically evaluated. Neither set of evaluations occurred, because, according to court testimony, the family, their attorney and the state could not agree on evaluators. Then, when evaluators were appointed, the parents failed to make or keep appointments to be evaluated.
The parents also began secretly taping the DCFS workers when they interviewed the children. Those interviews were supposed to be confidential. "After it was discovered the conversations were being recorded, the kids have been very closed off, unwilling to speak to us candidly," one of the investigators told the court.
Lori Findeis, a licensed clinical social worker who specializes in working with children who have been abused, acknowledges that there is a societal perception that child abuse "couldn't happen in a nice family," particularly in a family that is part of the social majority. Within any group that shares the same belief system, "it's more difficult to believe someone you know and trust, who has the same moral values that you do, could perpetrate a crime such as child abuse."
That disbelief can sometimes place abused children in a difficult position. What one DCFS investigator later told Andrus' court with regard to a specific concern her agency had, might well speak for the entire investigation. "I believe [the children] love their mother and father very much and would feel torn on whether or not to report [whether their parents were complying with court orders].
When the audit was finished, Doe recalled, Bell had told him, " 'I don't believe this.' He said, 'I'm being told there's some very gross improprieties by DCFS in this whole matter.' "
Two days later, back on the stand, Doe repeated to Assistant Attorney General Thompson his recollections of Bell's condemnation of the DCFS case based on his audit's findings.
"Do you have anything to substantiate what you're talking about?" Assistant Attorney General Thompson asked Doe.
"Greg's word," he replied.
Thompson asked Doe if he was aware DCFS had initiated its own audit of the case. He said he was not.
That audit had revealed that DCFS had, in fact, made a mistake—albeit not one that Bell's auditors had caught—namely, they had failed to report the case to law enforcement.

Sweet Innocent Children
At the hearing, Assistant Attorney General Thompson represented the state and attorney Steve C. Russell appeared for the parents. Dr. Lori Frasier from Primary Children's Hospital, an expert on child abuse, testified that she reviewed the documents of the case and found that abuse had occurred.
On Jan. 13, 2012, the third day of the hearing, Thompson announced that the parents had agreed to plead no contest to the charges of abuse by the mother and neglect by the father in failing to protect his children.
Five days later, Thompson told Andrus that she had been contacted by Bell's office. Bell was a friend of the defendants' family, she told Andrus. "The state was confronted [by the Lieutenant Governor's Office] about whether or not the parents have voluntarily entered those pleas" of no contest.
That was because during the first days of trial, an investigator for the Davis County District Attorney's Office was sitting in the back of court. Russell was concerned that "the evidence developed in these proceedings could be used" against his clients.
Regardless, the parents told Andrus their plea deal was of their own volition.
The judge now had the fate of the children in his hands. He could rule for them to stay with the parents, relatives of the parents, or he could place them in a foster home or an institution.
On the stand, Doe acknowledged that he believed, even after his daughter and son-in-law had pleaded no contest, that they had done nothing wrong. "We're pretty straightforward here. We know right from wrong. Truth from lie." He criticized the state's handling of the cases. The things being said by DCFS staffers "were in some cases lies, in some cases distortion of the fact." But either way, "The kids are sweet, innocent children. They don't deserve what [the state is] trying to do." He was mature enough, he added, "to draw a line and move on."
On Jan. 20, 2012, Andrus ruled on the case. He criticized the parents for deciding that "their concerns trumped a court order." He was particularly irritated by the mother. She knew "I wanted to monitor her behavior," and yet she had done "exactly the kind of behavior that was concerning, and that she was accused of. Frankly, the mom just doesn't get it."
He labeled the mother "manipulative" and found that her children had endured abuse "they shouldn't have had to go through." So, he concluded, the children would be removed from the family and placed in DCFS custody.

Love and Bias
In the end, Greg Bell's audit did not change the course of standard DCFS case management. Though no one interviewed would say it on the record, the pressure from above could have derailed the investigation. Given its timing and that it came from the second-highest executive office in Utah—it easily could have intimidated and kept DCFS from doing its job.
In his final comments, Andrus referred to one of the grandparents lying to a doctor about an affidavit. People get emotionally involved in a case, "not because they are bad or evil," he noted, but rather driven by "zeal and the emotion of feeling, 'Gee, there's a wrong that has been done, and I need to right it.' "
The end result, however, was that "In this case, that love and that bias gets in the way of the truth."