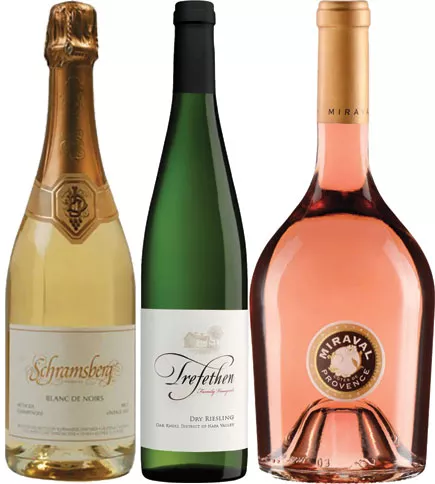 It's not very often that I devote an entire "Drink" column to a single restaurant libation list, but the drink menu at Provisions restaurant is so well thought-out and so enticing, that this week I'm making an exception. It's a model of what even a smallish, independent eatery can offer its customers in the way of beguiling beverages.
Provisions bar manager Giancarlo Farina and owner/chef Tyler Stokes have assembled one of Salt Lake City best—though certainly not the biggest—wine lists, along with an equally appealing selection of beers, spirits, cocktails and booze-free options. There is something for everyone, and for every budget.
For example, anyone looking for an economical nosh could order up a plate of Provisions' marinated olives for $4 and a bottle of Oregon's Full Sail "Session" lager for an addition $4, and get out of the place for $10—including a 25 percent tip. On the other hand, you might want to indulge in Provisions' neo-classic take on the Old Fashioned ($12). I'm not certain the guys in AMC's Mad Men would sign off on this version, despite their fondness for that cocktail, but I like it: Knob Creek bourbon is muddled with orange marmalade, bitters, fresh basil and rosemary. It'd be an interesting pairing with Chef Stoke's equally neo-classic take on steak tartare, although you might just want to sip a glass of straight-up High West Whiskey American Prairie Reserve bourbon ($9) with your raw beef.
A Belgian brew like Delirium Tremens Belgian ale ($12) would be a slam-dunk with the wood-fired mussels, just as Provisions' alcohol-free Sunset Splitz (passion fruit, coconut water, soda, housemade pomegranate syrup) would saddle up nicely next to the kale salad with persimmon, pomegranate, Marcona almonds and chevre.
Over on the wine side of things at Provisions, there is also much to love. Wines by the glass run from $8 to $12, while bottle prices range from $31 for 2013 "The Show" Malbec from Argentina to $390 for 2009 Shafer "Hillside Select" Cabernet Sauvignon, Napa Valley. The majority of the wines by the bottle are in the $35 to $60 neighborhood, however.
I like the eclecticism of the wine list, which is mostly filled with American wines, as befitting the "American craft kitchen" that Provisions calls itself. There are exceptions, such as Sophie Laurenz Grüner Veltliner, from Austria ($11/glass; $43/bottle), which is a perfect foil for oysters on the half-shell. And Locations Vermentino ($42/bottle), from Corsica, France, would work nicely with the sweet-potato tortelli in chorizo broth, Napa cabbage and gremolata.
With a dozen Pinot Noir choices on the wine list, you could have a ball trying different versions to drink with wood-fire-roasted mushrooms, slow-poached egg and truffle oil. The 2012 Walt "Blue Jay" Pinot Noir ($78/bottle) from California's Anderson Valley was rich and concentrated, with beautiful lavender and blueberry aromas, and flavors of blackberry jam and vanilla on the tongue. At the high and low ends of the Pinot spectrum at Provisions are 2012 Sea Smoke ($130/bottle) and 2012 Mark West ($8/glass; $32/bottle).
Two of my favorite sparkling wines are featured: Gruet Brut ($10/glass; $39/bottle) from New Mexico, and 2008 Schramsberg Blanc de Noirs ($72/bottle) from California.
Other bottle highlights—wines that put a smile on my face whenever I see them—include Bucklin Old Hill Zinfandel ($60), Atrea "Old Soul Red" ($45), Trefethen Dry Riesling ($55), Parallel Chardonnay ($100), Orin Swift Papillion ($134), Grgich Hills Fume Blanc ($60), Duckhorn Sauvignon Blanc ($65), Charles Cimicky "Trumps" Grenache-Syrah blend ($45) and Miraval Côtes de Provence Rosé ($52).
Thirsty yet?