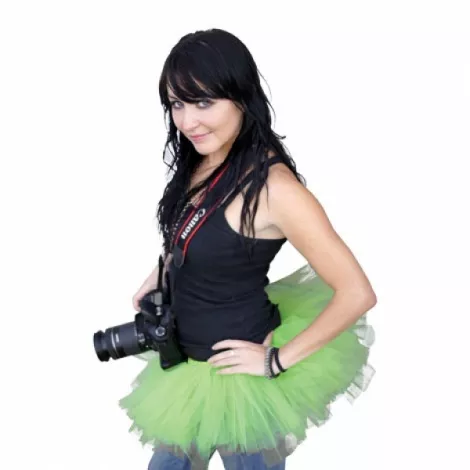 Andrea Thornton is a designer, photographer and frontwoman to two local businesses. One offers trendy clothing for babies (PunkBabyClothes.net) and the other for babes. Most recently, she and partner Dave Wall have developed a designer tutu. They hope that Rockstar Tutu (RockstarTutus.com) will become a fashion staple just like the little black dress.
How long have you been in the fashion business?
Although tutus are a relatively new project for us, we have been in business for nearly five years. A while back, we decided to add baby tutus to our My Baby Rocks clothing line (PunkBabyClothes.net). We initially tried to find a company selling them wholesale, but were highly disappointed with what was out there. There were a bunch made in China that were poorly manufactured and arrived wrinkled and smashed so badly they were hardly wearable. We knew there had to be a better method, so we set out to create our own. They were a huge hit and we couldn't make them fast enough. We refined our tutu-making process and decided to set up a separate company offering them to adults and kids as well. Why should babies have all the fun?
Are tutus the next big thing?
I think they could be. But the reality is that most tutus you can get are crap. No one has really done a good job in making this product so no one really wants to wear it. But unlike many of the tutus out there, ours are sewn rather than tied. We make them right here in Salt Lake City using high-quality materials. I myself wear tutus regularly, so I realized the need to create a tutu that could stand up to regular use and abuse. After thousands of tutus and a wide variety of methods and materials, we developed a tutu that can go the distance. In addition to the standard colors, we now offer deluxe themed tutus featuring things like glitter, lace, leather, studs and designer ribbons. We wanted to take the tutu out of the traditional baby and ballet setting and make it something you could wear any time of year and at any age. With the wide range of styles and options, the tutu is something you could wear like a miniskirt on a sunny day or even over jeans. Not only are our tutus the best quality and most fashionable tutus you can get, our capacity to theme them is even more impressive.
Are you just retailer or are you involved in any shows or events?
We have a lot of different things coming up. You can check out an event schedule on our Facebook Rockstar Tutu fan page. We are particularly excited about our fashion show coming up at The Urban Lounge on Jan. 21. In addition to our upcoming fashion shows and event booths, we are taking tutus out of the costume and dance and bringing them to your daily lives with what we call Tutu Tuesdays. As the name suggests, every Tuesday we are trying to get girls involved and wearing tutus: to school, to work, to the club, wherever. We are currently looking to sponsor girls interested in helping to promote this.
Do you have any advice for other small-business owners?
It's a tough place to be growing your business, but in times like this it is paramount to be very open-minded and realize that opportunity may lie where you least expect it. Willingness to change the business to fit the times seems to be the life preserver needed to keep us going.