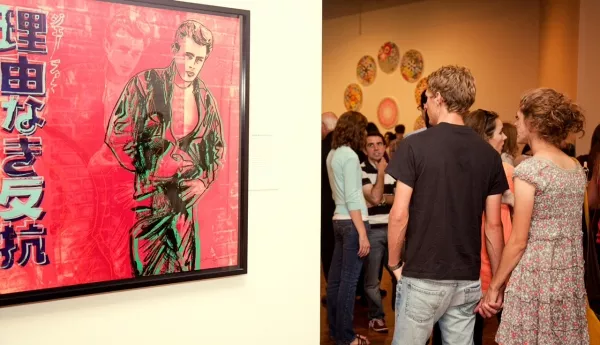 "Rebel Without a Cause" by Andy Warhol
Since Andy Warhol emerged as one of the first of the new breed of "art celebrities" in the 1960s, his artwork and aesthetic has had a profound and widespread influence not just on the art world, but on the way people think about art. His celebrity was as much about the hip New York art scene and "happenings" of which he was a part as it was about the actual works he created, although they had an incredible impact as well.
Work by Warhol and Japanese artist Takashi Murakami from the Freedman Family Collection and the BYU Museum of Art is being exhibited by the museum. The exhibition, titled Think Flat, looks at the impact of not only Warhol's work, but his ideas, and those of Murakami, who is creating work in the same vein. The term "Flatness" embodies not just the flattening of perspective utilized by Pop Art as well as abstraction, but also a flattening of the structural differences between different levels of culture, economic levels, and high and low art. Known for appropriating the visual language of advertising and commerce, Warhol's best-loved works use things like the Campbell's Soup logo and Brillo pad boxes. At the opening of the exhibit Sept. 7, visitors could dress in Jpop wigs and '60s attire in a photo booth like it was Warhol's Factory all over again. Silver balloons added a Warhol touch as well.
Jeff Lambson, curator of contemporary art at BYU, explains the connection between Warhol and Murakami, often called the "Warhol of Japan": "While it's true that Murakami deals with many of the themes explored by Warhol in the '60s and '70s—such as consumerism, pop culture, repetition and the market—he is doing it in a way that is unique to our modern world."
Warhol's work didn't just reflect and comment on the world he saw; it served to point the direction the world was heading. "We live in the world Warhol predicted 50 years ago," Lambson says, "where everyone can have their 15 minutes of fame through Facebook, blogging, reality television or publicity stunts. Murakami is a product of this world Warhol helped create, and while some of his themes are similar, they are deeper and more complex because they exist in the future Warhol created and predicted."
Murakami's work extends Warhol's aesthetic into what he calls the "superflat" present, using images from Japanese anime and consumer culture. Lambson notes, "While Murakami's work is about fantasy and consumerism, it also comes with a warning that was not as implicit in Warhol's work: Murakami also uncovers the paradoxes inherent in our new, 'flat' world, and the delights and perils that accompany it. If we become too transfixed with this fantastical world, we can become detached from reality and in the search for something better, lose touch with what matters."
Although he may be most closely associated with commenting on the commercialization of society, Warhol was one of the first postmodern art celebrities. His work in the long run served to celebrate the stratification of American culture in the form of celebrity worship, and merely reorder the hierarchy of the art world's iconic images. High art learned to incorporate irony in its usage of mainstream consumer iconography, and those not in the "scene" still found it just as hard to get into the right parties.
Murakami's work acknowledges that in the virtual world, there is no "scene" anymore; the world is decentralized when there is no more locus of control or "art capitol" the way Paris or New York in the past used to be. His mixed-media pieces partake of that sense of disequilibrium, and don't have the sense of comfort of a Warhol Campbell's soup can. As much as Murakami might use a familiar anime character or Mickey Mouse image, there is a sense of existential foreboding that Warhol's work didn't have.
But Warhol was that rare artist who not only changed the way we view the world; his work came at the Marshall McLuhan-esque moment when he was able to become one of the dominant presences that helped bring about the consumer culture we live in today. "Warhol was creating art during the rise of the middle class, when industrialization was making many luxury items affordable and available to more people," Lambson says. "Fifty years later, we are in a much different world, where things are cheap and don't have lasting value. We are constantly bombarded by 'things' in the real world and the virtual world, and Murakami's work is about navigating that space—taking advantage of it, but also sometimes doing it with wariness and caution."
THINK FLAT: THE ART OF ANDY WARHOL & TAKASHI MURAKAMI
BYU Museum of Art North Campus Drive, Provo
801-422-8287
Through Feb. 18, 2013
Free
MOA.BYU.edu