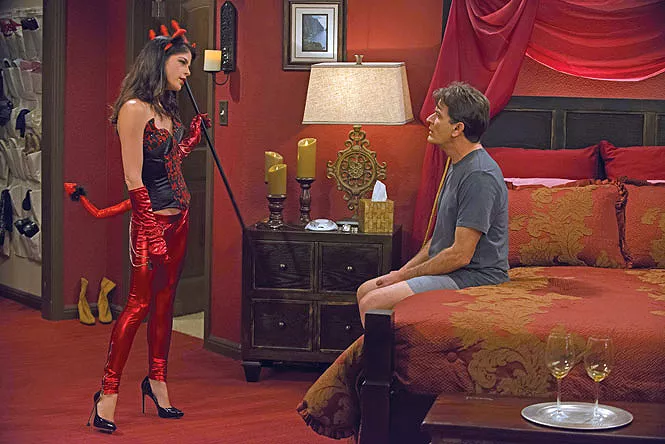 In March 2011, Charlie Sheen was fired from CBS' Two & a Half Men for being, well, more Charlie Sheen than he had been during production of the sitcom's previous seven seasons. He then went on a public meltdown tour, the infamous scorched-earth "Winning" carnival that eventually became the actual My Violent Torpedo of Truth/Defeat Is Not An Option Tour. To further prove that he was sane and sober-ish, he also hosted the Gathering of the Juggalos that year, and dated and/or married a succession of adult-film starlettes.
Naturally, this all led to another TV deal: FX, home to edgy comedies like It's Always Sunny in Philadelphia, Louie, Archer, The League and Wilfred, set up an unusual deal for Sheen and Anger Management, a sitcom wherein he plays an anger-management therapist conveniently named, as he was on Two & a Half Men, "Charlie." The network ordered 10 episodes with the option to buy 90(!) more to take the series directly to $yndicationville, depending on the initial order's reception.
Even though Anger Management turned out to be just another hacky, laugh-tracked sitcom of the CBS variety wedged oddly into FX, the June 2012 premiere episode became the highest-rated comedy debut in cable history—which was 23 million fewer people than tuned in to see Ashton Kutcher replace him on Two & a Half Men. Different shades of Winning.
Anger Management's 100th and final episode airs Monday, Dec. 22, but you'd be hard-pressed to find anyone outside of FX who's aware that it's even still on. After the initial curiosity wore off, the show's ratings have dwindled week by week, to the point now where it's barely pulling Pasta Boat infomercial numbers. FX has been blowing through back-to-back episodes for months now just to get it over with by Christmas (by the way, exec who greenlit Anger Management's back 90, your bonus this year is a Pasta Boat).
The last time Anger Management made the news was when co-star Selma Blair threw herself off the money train last year by calling Sheen out on his supposedly lax work ethic—bam, fired, replaced overnight. Not to side with the "rock star from Mars" here, but can Blair really call a guy who's cranking out 90 episodes in a year lazy? Making mediocre TV is hard work—just ask Ashton Kutcher and Jon Cryer.
As I pointed out when I reviewed the premiere episode in 2012, Anger Management is still a better comedy than Two & a Half Men. That's like saying herpes is better than gonorrhea, but where Men is run by a Hollywood hack who hasn't had a new idea since the '90s (Chuck Lorre) and takes itself seriously as a continuance of the "artform," Anger Management is slowly suffocating the sitcom with a pillow. Most of the jokes never land (despite what the laugh track indicates), cast members and storylines disappear and reappear randomly (Shawnee Smith, as Charlie's ex-wife, is always in the opening credits but rarely appears anymore—should have gotten her deal, Selma Blair), the show's women are written so misogynistically that porn actresses would wince (the casting sheet probably just reads "Alcoholic Slut" and "Alcoholic Slut No. 2") and the stench of We Don't Care Anymore is thick (the last episode is actually titled "Charlie and the 100th Episode").
Which is why I've watched Every. Single. Episode. from the beginning. My morbid fascination with this death march is weird, for sure, but I have enjoyed watching the wheels fall off as it grinds toward its final destination. Anger Management may not have killed off the plague of the tradition sitcom, but I salute Sheen for trying (and for the adult-film starlettes, and the drug tolerance, and ...). You're a great American, Carlos Estevez.