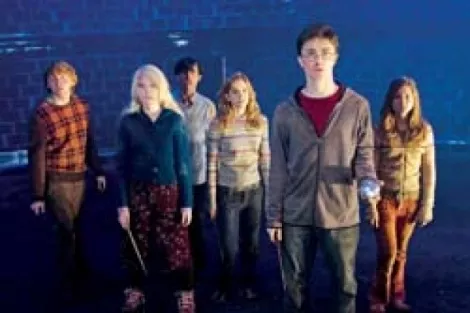 beer."After having read the first four Harry Potter novels in their entirety, I never made it through J.K. Rowling's fifth installment, Harry Potter and the Order of the Phoenix. There was nothing particularly wrong with the story—Rowling was in full command of her characters and her universe—but the sense of magical discovery that permeated the early stories had been all but swept away. In its place was the tale of a 15-year-old Harry whose defining characteristic was that he was just so … well, so freaking angry.
It took director David Yates' adaptation for me to grasp the magnitude of my not getting it—as well as how much Yates did get it. After the events of Harry Potter and the Goblet of Fire, Harry (Daniel Radcliffe) naturally has plenty to be angry about. He witnessed the death of classmate Cedric Diggory at the hands of the revived Lord Voldemort (Ralph Fiennes) and has spent another summer alone in Surrey without any news of what is transpiring. When he finally does return to the wizarding world, he discovers that the Ministry of Magic has rejected his version of events, launching a media campaign insisting that Voldemort's return is a fiction conjured up by Harry, Professor Dumbledore (Michael Gambon) and those loyal to him—the Voldemort-battling veterans of the Order of the Phoenix.
Screenwriter Michael Goldenberg—taking over for Steve Kloves, who adapted all the previous films—has to wrangle a lot of material into what turns out to be the shortest of the Potter films. He's wise enough to spend plenty of time with Dolores Umbridge, the Ministry of Magic operative sent to Hogwart's as the new Defense Against the Dark Arts teacher to keep an eye on things. Imelda Staunton brilliantly plays Umbridge as a tittering but nasty bureaucrat/ideologue, and part of a sly political allegory about paranoid institutions willing to do anything to protect their own powers. It's part of the tension that makes the Potter world of Order of the Phoenix so much darker: Harry's growing realization, part of any teen's maturation process, that authority figures aren't inherently worthy of respect.
But Yates and Goldenberg prove most effective at streamlining the story into an exploration of Harry's evolving sense of family. The opening shot finds Harry alone in a playground swing, taunted by his hated cousin Dudley, one of his few blood relatives; his greatest fear is the loss of his godfather Sirius Black (Gary Oldman), the one person he truly considers family. But as Harry is forced by Umbridge's nonchalance to lead a clandestine study group in real magical defense, his classmates—including best friends Ron (Rupert Grint) and Hermione (Emma Watson)—rally around him. Harry's bitterness comes also from his sense of isolation, but only because it takes him so long to understand that a family isn't defined by blood—a reality the disowned Sirius understands and that Harry comes to understand better as he learns unpleasant truths about his own father.
This is, of course, also an adventure, and Yates—despite a résumé drawn largely from BBC television productions—proves more than capable of handling the big moments. Production designer Stuart Craig works wonders with the massive entry hall of the Ministry of Magic and its crystal ball-filled Department of Mysteries, while the climactic wizard duel demonstrates the kind of sharp, cleanly defined choreography that should have Michael Bay begging to take notes. If Yates and Goldenberg prove clumsy anywhere, it's in their attempt to pack in elements from the book—spacey student Luna Lovegood (Evanna Lynch); Hagrid's dim-witted giant half-brother; the Black family's surly, racist house elf—without really having enough time to develop any of them. The Potter faithful are a demanding bunch, and the filmmakers occasionally seem unsure how to combine the story they want to tell with the story they think they're expected to tell.
Yet, with an unexpected directorial flair, Yates has managed to take a blockbuster fantasy and craft a dark coming-of-age drama. That's the story Rowling was trying to tell in the first place, the one I resisted until the film was able to strip it down to its essentials. The final image of Harry—a lovely bookend to the first shot—finds him a bit more at peace. But when the result is such a rich narrative, the angry Harry can return—should he need to—any time he wants.
HARRY POTTER AND THE ORDER OF THE PHOENIX
***.5
Daniel Radcliffe
Emma Watson
Rupert Grint
Rated PG-13