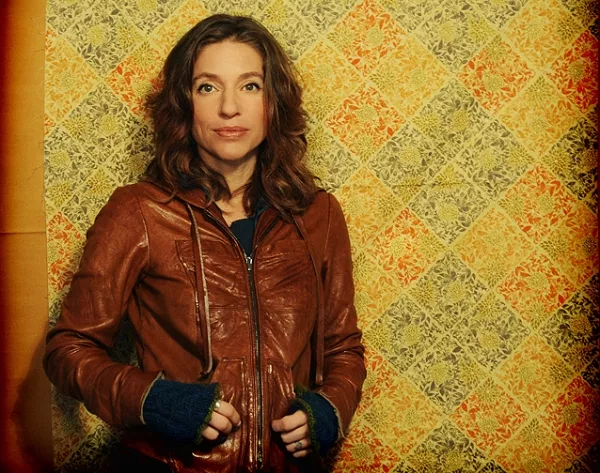 "If yr not getting happier as you get older/ then yr fuckin' up," sings Ani DiFranco on "If Yr Not." The line, as heard on DiFranco's 2012 release, ¿Which Side Are You On?, essentially speaks for itself, but it's also a clue to how the 43-year-old folk singer's songwriting sensibilities have progressed over her 29 years of penning lyrics.
"My early songs have all the strength and passion of youthful conviction but also the pitfalls of immaturity, such as angst," DiFranco says. "My older self writes from a different place, less eager and driven, maybe, but more grounded and at ease with my circumstance."
DiFranco has a lot to be at ease with. Including her latest album, she's recorded more than 20 studio albums on her independently owned label, Righteous Babe Records. She's won Grammys and toured the world; she's been acknowledged with awards for her influence in folk music and her endeavors fighting for social justice and women's rights. She's now married to longtime collaborator and co-producer/ partner Mike Napolitano, and they have two children together. She's also recorded with some of her idols, such as folk-singing pioneers Utah Phillips and Pete Seeger.
All that aside, DiFranco—an artist whose fans are nearly as passionate as she is—isn't writing songs from a comfortable place and phoning in baloney. Far from it.
"It is one of my greatest challenges as an artist to find new subjects to write about and/or new ways to write about familiar subjects. Songwriting is the most difficult and elusive aspect of my job," DiFranco says. "I just try to rise to that challenge every day and remain in pursuit of genuine and unfettered expression."
One of the most vocal feminist musicians, DiFranco poses some interesting thoughts on how her notions of feminism have changed over the years—and how she wishes that the perception of feminism in society at large would evolve as well.
"In my youth, feminism was a path to self-empowerment and social equality, but as I and the society around me mature, I believe we need to look at feminism as a more fundamental antidote to patriarchy and the violence that it breeds," DiFranco says. "I now understand feminism to be not just for women but for all people in their search for peace and social balance. I believe we must address the fundamental imbalance of patriarchy before we will find the cure for all other social diseases, such as war, racism and destruction of the environment."
This sentiment can be heard on the album's title track, a song originally popularized nearly five decades ago by folk legend Pete Seeger, who also makes an appearance singing and playing banjo on the new version. Peppered into the original framework of the union rally cry, DiFranco includes her own verses influenced from recent headlines and from her opinions about feminism: "Feminism ain't about women/ No, that's not who it is for/ It's about a shifting consciousness/ That'll bring an end to war." It's enough to raise your neck hair and inject some passion in your soul. The track's instrumental richness is burgeoned by contributions from children's chorus The Rivertown Kids and The Roots of Music Marching Crusaders, a brass band made up of at-risk middle school students from New Orleans.
DiFranco includes her own "manifesto"-type songs on the album, as told through her signature honesty and sharp tongue. "J," written during the 2010 oil spill in the Gulf of Mexico, speaks of environmental destruction and society's dangerous reliance on fossil fuels. She tackles issues in a way that, she says, tests deeper waters as to what you can and cannot say in a song. In the message-driven "Amendment," DiFranco sings, "If you don't like abortion, don't have an abortion."
"I think that the audience I have developed over the years has very open ears and minds," DiFranco says, "and I am grateful to them for receiving my manifestos with as much enthusiasm as my love songs."
ANI DIFRANCO
w/ Toshi Reagon
The Depot
400 W. South Temple
Saturday, Oct. 19, 8 p.m.
$33 in advance, $35 day of show
AniDiFranco.com