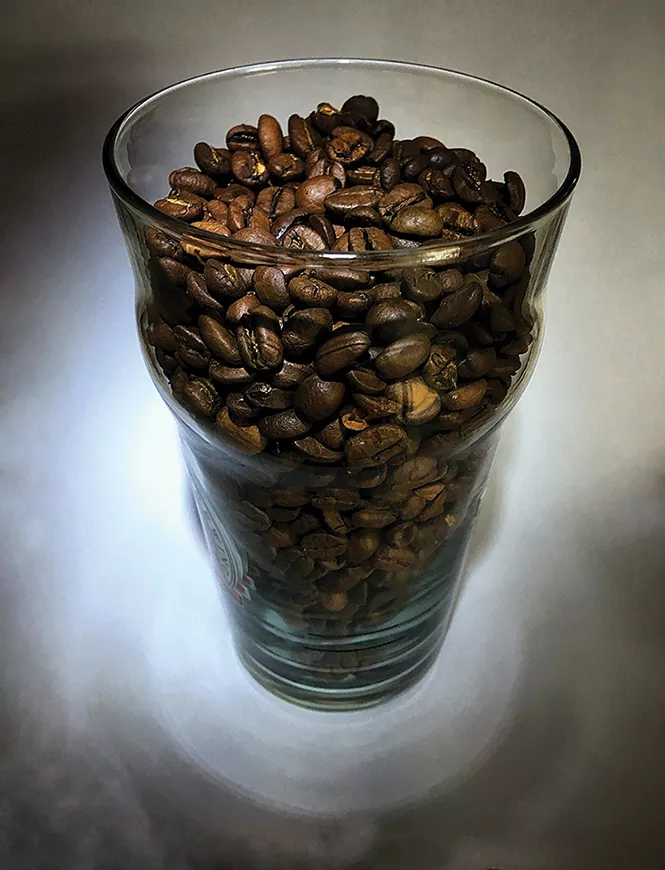 Today's lesson deals with one of the most popular craft-beer adjuncts around: our beloved coffee. The coffee bean is a natural and complementary flavor to most stouts, as the beans play well with the beer's roasted character. But as brewers get more creative, they're finding ways to enhance more than just obvious-looking or similar-tasting beers. The Wasatch Front is thick with breweries and coffee roasters constantly looking to infuse their respected beverages into groundbreaking new brews. Here are just a few examples of these great new (not just for breakfast) beers in your neighborhood watering holes.
Epic Son of a Baptist: It pours a near-black body of rich-looking ale, while the head is an attractive copper hue that is quite brassy in appearance. The nose has roasted coffee right off the bat—not Folgers, mind you, but complex fruity and roasted notes. Starting off with coffee, as you can imagine, subtle hints of pipe tobacco and leafy tea are also in the mix. As my mouth is coated with more stout, notes of licorice seem to sting the sides of my tongue, adding a brief spice. Toward the end, the stout becomes more evident, as molasses, char and roasted barley emerge. It's little more complex than I was expecting, considering this is the smaller version of Epic's Big Bad Baptist. I love coffee and stouts; it's a real pleasure to drink a velvety-smooth coffee-enhanced ale where both are equally represented.
Overall: This is a great example of a coffee stout. It should be noted that Epic contracts with different coffee roasters from around the country to blend local coffees specific to the cities Epic distributes in; the label on my can listed Salt Lake City's Blue Copper Roasters. What a great Idea.
Uinta 801 Small Batch Coffee Pilsner: Pouring a bright, golden-copper color, by its clarity, it's hard to imagine that this is a coffee beer. The nose is faintly sweet, as lightly roasted coffee and toasted malt combine to create an aroma akin to a vanilla caramel macchiato. The taste is roughly similar, but leads with a snap of sweet and toasty grains. The coffee addition—provided by Publik Coffee Roasters—begins to peak on the tongue around mid-palate. Slightly fruity green coffee beans quickly transition to a robust mixture of freshly ground dark roasted espresso, sweetened by generous amounts of pilsner malt. Near the end, mild roasted bitterness builds in combination with subtle herbal hops, providing excellent balance to the initial malt sweetness. It finishes semisweet, with prickly and drying CO2 rounding it out.
Overall: This is an excellent example of a beer you wouldn't think would work well with coffee. It shows a well-crafted approach to balancing two different worlds and making them one.
Shades of Pale Beer X Espresso Stout: This creation is opaque black in appearance with a tall head of rich, tan foam. The nose has concentrated coffee and dark chocolate with roasted spices, while the taste starts unapologetically with espresso provided by Layton's Daily Rise Roasting Co.. At first I notice a natural tart cocoa bitterness that reminds me of chocolate-covered espresso beans. This is present throughout, and really sets the stage for the mid-palate. After moving it around in my mouth, tart and coffee-like qualities develop, taking it into a smoky realm with notes of caramelized sugar. The finish is semi-dry, with some acidic coffee bitterness.
Overall: It's an espresso-lover's dream that captures what you love about the more extreme coffee roasts.
Coffee beers rotate in and out of production at all times of the year. Ask your brewer when theirs is on. As always, cheers!