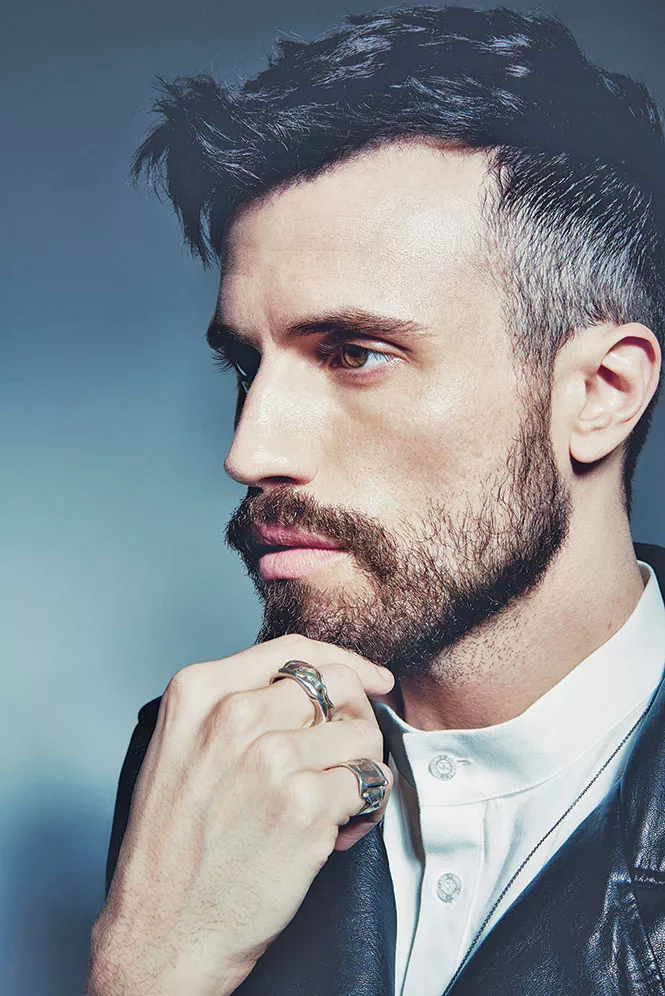 Didn't we all wonder? Why would Neon Trees singer Tyler Glenn, when coming out as gay a couple of years ago, still declare his faith in his religion? You know, the one that spends so much time and money trying to crush the very lifestyle he'd just confessed to the world?
I knew when I was 13 years old that I wanted to quit the Church of Jesus Christ of Latter-day Saints—the one my mother forced me to go to, despite not going herself, because she wanted me to have a religious education. The one whose members, in spite of seeing my sister and me every Sunday without fail, thought my mother, who worked three jobs to support us, was a whore because she was divorced, smoked and had a long-term boyfriend (a better father than my biological one) who rode a Harley-Davidson and played the drums. The church whose members told a 13-year-old boy how disrespectful it was to come to church, on Christmas, in brand-new jeans, a collared shirt and a pullover sweater because the Lord deserves slacks and a tie (I'd outgrown my only ones). And, then, after deigning to let me stay, these members sang, "As I have loved you/ love one another" with no sense of irony.
So when Glenn, whose very genetic makeup is offensive to the church, tried to make it work with them: Why? What value is there in a relationship where one partner finds the other repellant?
To me, the answer was obvious, but it took two years before Mom finally allowed me to leave. She worried I would be ostracized, but wasn't I already? I had no idea what was in store. Once I left, the refrain was that the apple doesn't fall far from the tree. My friends' parents didn't want me around, lest I corrupt their righteous little cherubs. The flock can be cruel when one flies away. It's a defense, I suppose. Each departure signals that their belief system may not be bulletproof.
But I've never had to come out as gay. I can only guess that it's as terrifying and heartbreaking as it is liberating, and that what you gain—freedom, joy—is nonetheless mitigated by what you lose: friends, family, closely held beliefs.
So maybe Glenn was in the bargaining stage of grief, seeing if it was possible to remain faithful to himself and his religion—and to find, at the end, acceptance. That's why some LGBTQ Mormons try to make it work: They hope to hang on to their religion if and when the organization comes to its senses. But the church, inasmuch as "the church" signifies the organized, meddling institution—and not its good, non-judgmental individual members—continues to reject them.
It was the actions of the church—their continued efforts to thwart equality for LGBTQ people, including disfellowshipping children of LGBTQ parents—that finally led to Glenn having enough. He's finally speaking out in "Trash," the first single from his forthcoming solo debut.
"I think I lost myself in your new religion," Glenn sings. The rest of the lyrics address the hypocrisy of professing love and practicing hate, baptizing children before they really understand what they're getting into, and how it feels to leave the church. You know, before ultimately declaring, in a great double-entendre, "One man's trash is another man's treasure."
Interestingly, the video for the track shows Glenn singing in a hallway adorned by altered portraits of LDS prophet Joseph Smith. Painted by Glenn, Smith's face is covered by what looks like the Misfits' skull logo—perhaps a way of turning the tables and asking how the church feels about being the outcast, now.
"It's my first day back in Salt Lake since releasing it. I've heard so many positive remarks about the video and things I didn't consider, like, that it would help people or make people feel emotional," Glenn told City Weekly last Saturday at the unveiling of Harvey Milk Boulevard, where he performed a live set. "For me, it was literally an expression of one weekend of losing my faith completely and then feeling completely high from the idea that maybe I can do something that I want to do and live my life."
Heartbreaking and liberating, Glenn's statement is a second coming out of sorts. One with a far-reaching appeal.
"I was trying to encapsulate this really angry, confused moment in the video," he says, "and now I'm seeing that that's how other people felt and feel, and it's really, really inspiring to see it resonate in that way."
Additional reporting by Enrique Limón.