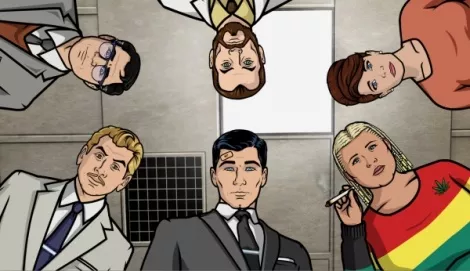 ArcherThursday, Jan. 27 (FX)

Season Premiere:
While
Bob's Burgers
has gotten
slightly
better over on Fox (there was nowhere to go but up), the one and only animated vehicle for the gravelly perfect voice of H. Jon Benjamin is as FX's
Archer
. Season 2 opens with the world's most inept spy agency taking on the job of guarding a billionaire's teenage daughter in Switzerland—naturally, she's a nymphomaniac who can't keep her hands off Sterling Archer's "Vilhelm." Despite the sex jokes that fly by every 1.5 seconds,
Archer
is still more smartly scripted than 90 percent of live-action network comedy fare, not to mention more daring than anything on Adult Swim—and, occasionally, even FX. Pretty sure Louis C.K. has never referred to Germany as "the Alabama of Europe."
Fringe
Fridays (Fox)
New Timeslot: Traditionally, Fridays are where Fox sci-fi shows go to die—but Fringe already has a sizable built-in audience that'll (theoretically) follow it anywhere. Besides, The X-Files did just fine there … 15 years ago—and Scully and Mulder weren't competing for the same eyeballs against a show like The CW's Supernatural. The good news: In its Friday debut on Jan. 21, Fringe brought over the entirety of its Thursday crowd; if those numbers hold, Fringe just might succeed where (cue Peter Griffin voice) Dark Angel, Firefly, Fastlane, Wonderfalls, Terminator: The Sarah Connor Chronicles, Dollhouse, The Good Guys and so many others failed miserably. The bad news: Supernatural isn't a rerun tonight.

Monty Python


Wally Gator


Crocs

Mega Python vs. Gatoroid
Saturday, Jan. 29 (Syfy)
The Movie Event of 2011: At least, that's how Syfy is pitching it—and who can argue with a mutated-critter flick featuring a throwdown catfight between '80s teen-pop starlettes Debbie Gibson and Tiffany(!), both of whom contributed a new song(!!) to the soundtrack? Gibson plays a loony animal-rights activist who steals genetically modified-and-growing pythons from a lab and sets them free in the swamp; Tiffany plays a loonier local sheriff whose fiance is eaten by said pythons and, after uttering the soon-to-be-immortal line, "We're gonna need a bigger gator!", feeds super-steroids to alligators to even up the food chain. Hysterical Acting!, winking '80s references ("I don't hear anything … I think we're alone now," Tiffany deadpans), mid-budget CGI and dozens of dismembered rednecks ensue. Sadly (spoiler), Deb and Tiff won't be able to appear in Mega Python vs. Gatoroid 2—Britney Spears and Christina Aguilera, however, should be available by then.

The Lost Valentine
Sunday, Jan. 30 (CBS)
A jaded television reporter (Jennifer Love Hewitt) stumbles upon the story of an old lady (Betty White, as per TV law) who's waited for her missing-in-action World War II pilot husband to show up at the train station every Valentine's Day for 67 years. This leads the reporter to begin a search for the missing husband, as well as start up a romance with the old lady's son, even though she's already sorta-involved with a news photographer who happens to be out of town. Lesson: Love never dies, and TV news reporters are easy.
Chuck
Mondays (NBC)
Dear Chuck writers: Either split up Chuck (Zachary Levi) and Sarah (Yvonne Strahovski), or just kill Sarah (note the name of the show). Everything else is still working in Season 4—hell, even Jeffster haven't worn out their welcome yet—but the spy-couple angle is beyond played, as evidenced by the demise of NBC's Undercovers (remember that?) and the boyfriend body count on The CW's Nikita (at least her break-ups are quick, easy and cleaned up by a tactical team). Dump Sarah or kill her on the Valentine's Day episode next month—The Only TV Column That Matters™ is nothing if not sentimental.