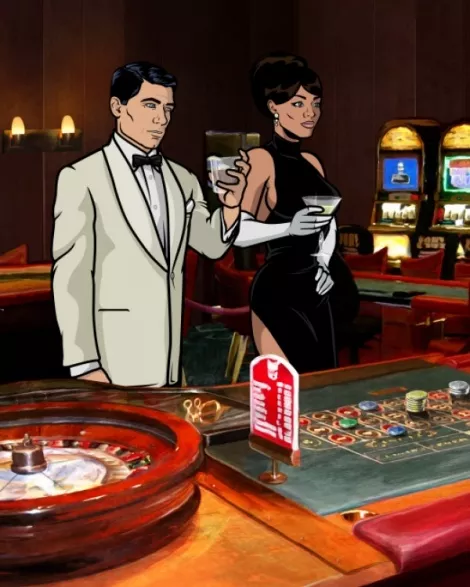 Thursday, Jan. 14 (FX)
Series Debut:
Unless you're Adult Swim, cable forays into "edgy" animation don't stick (remember Spike's
Stripperella
?). FX's new
Archer
, from the minds behind Adult Swim's
Frisky Dingo
and
Sealab 2021,
could be the trend-breaker through the power of sheer funny. Spy Sterling Archer (voiced gravelly by 'toon vet H. Jon Benjamin) works under his mother (
Arrested Development
's Jessica Walter) at the International Secret Intelligence Service, juggling romantic entanglements with fellow spy Lana (Aisha Tyler), ISIS secretary Cheryl (Judy Greer) and random honeys, despite being utterly inept at both. It's James Bond via
Arrested Development
, with Benjamin's simultaneously suave and stoopid delivery holding it all together.
Archer
is funnier and smarter than
The League
, but that's no guarantee that it'll work on FX—catch it now or in 3 a.m. reruns on Adult Swim … eventually.

Thursday, Jan. 14 (Lifetime)
Season Premiere: Back in New York! And not a year past its expiration date! The first outing of former Bravo property Project Runway on Lifetime last year was dated (held up by legalities), set in Los Angeles (so they could wheel in a piece of beef jerky resembling Lindsay Lohan as a guest judge), and not all that exciting (read: short on The Gays). All seemingly remedied for Season 7, but proceed cautiously: useless Lifetime companion show Models of the Runway is also back.

Sunday, Jan. 17 (Fox)
Series Debut: Christopher Chance (Mark Valley) is the ultimate bodyguard-for-hire, injecting himself into clients' endangered lives and … What? I need only mention that Human Target co-stars Jackie Earl Haley? Done.

Sunday, Jan. 17 (Fox)
Season Premiere: Agent Jack Bauer is out of the ass-kicking business, but they're dragging him back! Having recovered from his bout with, oh, death at the end of Season 7 last May, Jack (Kiefer Sutherland) is ostensibly retired at the beginning of Season 8, playing with his granddaughter in New York City and preparing to return to Los Angeles with annoying daughter Kim (annoying Elisha Cuthbert). Naturally, a plot to assassinate a Middle Eastern dignitary who's in New York City for peace talks is revealed and Bam! Jack's back for One Last Mission—and Chloe's (Mary Lynn Rajskub; somebody start an eye-roll drinking game) got his back at the New York CTU! Also onboard is Katee Sackhoff (Battlestar Galactica) as a CTU operative with a secret past (do they not screen people anymore?), but it's still Sutherland's show. The NYC backdrop adds considerably to the usual 24 urgency, and slightly less suspension of disbelief is required this season: Sutherland looks as grizzled and ready for a break as Jack should.

Monday, Jan. 18 (The CW)
Series Debut: The heartwarming "Juno meets Gilmore Girls" story of a quirky teenager (Brittany Robertson) who reconnects with her hipster 30-something birth parents (Kristoffer Polaha, Shiri Appleby) in Portland, Ore.? Sounds perfect for The WB circa 2001! Too bad this is The CW.

Monday, Jan. 18 (MTV)
Series Debut: Geeky small-town Texas teen Liz Lee fights against conformity with the help of nerdy friends in what could be MTV's most contrived "reality" series yet—and yes, The Only TV Column That Matters™ realizes the full weight of that statement. Liz & Co.'s brand of "individuality" is so hipster clichéd (Larping! Dodge ball! Ironic vintage T-shirts!) that the "conformists" seem absolutely justified in shunning them. Hell, I'd rather hang out with the Jersey Shore morons.