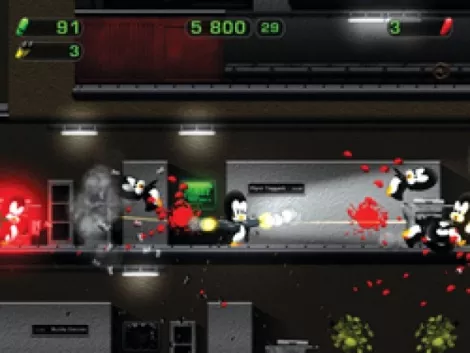 One advantage to this job is the occasional free title arriving at my doorstep. Because as much as I love playing video games, it sure does hurt to pay $40 to $60 for one.

There are tons of free games out there, but some are just samples to get you to pay for the full version, and others … well, others just plain suck. So when I came across a game called TAGAP: The Apocalyptic Game About Penguins, I was a little skeptical—until I started playing.

The concept is genius: Penguins are being used for drug testing until one day, a penuin named Pedro rises up against the evil Dr. Glowenko. But the rebellion is not easy—Pedro has to battle zombie penguins; robotic Penguinators; and Pablo, the genetically engineered, heavily armed badass lackey of Glowenko.

This isn't your run-of-the-mill independently developed freeware action shooter. The graphics and maneuverability of it are truly top notch. It's violent without being sickening, and the violence is tempered somewhat by the bright animation and the fact that the maniac killers are cute, cuddly penguins.

This game is slick, smart, creative and, best of all, free. It would be a bargain at $29.99—a price I wouldn't hesitate to pay the geniuses at the Penguin Development Team. These guys and/or gals represent the future of gaming. It's important that talent like this continues to turn out high-quality independent games to give players options other than buying a new game or not buying it at all. Video-game design and publishing is a business, but in order for gamers to continue having the greatest choice in the types of games they pay and how much they pay, we have to get behind independent talent and titles like this in an effort to change the way things are done.

That's not to say that big studio games are bad; there are two good ones reviewed below. But it's really nice to see a free game that's entertaining, exciting and refreshing. Besides with maniac, killer penguins, how can you go wrong?
---

InBrief
Madden 2008
What's always made this franchise great is the level of control it gives a player. It offers several game modes to let you pick how you want to play: Own a franchise and guide them to the Super Bowl. Play a quick head-to-head game or, my new personal favorite, Superstar Hall of Fame mode, in which you develop the rookie player in the month leading up to the NFL draft (or input him from your NCAA 2008 game). Hire an agent, conduct workouts, go to the combine and conduct interviews to develop your attitude as well as your playing skills. Also this season, the hit stick gives you more control over where to direct your hits; LaDainian Tomlinson can't score five touchdowns against you if you take out his knees. It may seem like I'm fawning, but the game is just that good—once again. (Rated E; PS3, XBOX 360, PS2, XBOX, Wii, PSP, PC; $39.99-$59.99)

Shin Megami Tensei: Persona 3
It may seem like Madden is the only game released this time of year, but Shin Megami Tensei: Persona 3 from Atlus Software will give you a nice break from the rigors of the football season. This anime role-playing title is set in a Japanese high school where beyond the classes and social aspects of high school are strange and evil creatures that need a-killin'. Like everything in video games, every task has an effect on other tasks. How strong your personal relationships are and how well you do in your classes determine how well you do in your battles during the Dark Hour when the bad guys come out. You can move through this title at a speed that's comfortable. It's a great game that is even better when you take your time and enjoy. (Rated M; PS2; $49.99)
cw