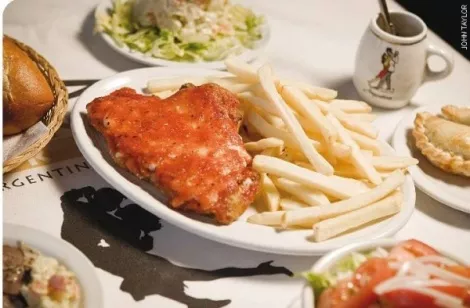 I'm not really much of a golf fan, although I always do seem to get sucked into watching the final round of The Masters tournament, in much the same way that I dispense with college basketball until the Final Four rolls around. Anyway, this year, The Masters ended in breathtaking fashion with a sudden-death playoff and a victory by Argentine golfer Angel Cabrera.

I was reminded of Cabrera's win on the Monday following The Masters, sitting in Clearfield's Argentine Corner restaurant, where highlights from the tournament played repeatedly via Argentine satellite television on each of the three TVs strewn about the dining rooms. Along with the golf replays, we also tried during dinner to make sense of an Argentine reality TV show—something about a "tough love" boot camp for teenagers, who spent most of the show shouting at one another. I need to brush up on my Spanish.

For four years now, owner Jose Luis Palacios and his wife Graciela have operated Argentine Corner, which caters largely to Argentine ex-pats and returned LDS missionaries. Although it's right off North Main, it's easy to miss on the first pass. Once there, you'll be welcomed warmly by Jose Luis and treated as family (which sometimes means being ignored). You'll also feel like you're in someone else's house, where the walls are festooned with soccer T-shirts, a soccer net, Argentine flags, a dusty guitar, maps of the world and other mismatched bric-a-brac.

Our meal began with small complimentary plates of thinly-sliced beef tongue drizzled with a tangy house vinaigrette, spiked with red chili peppers. Alongside were a couple forkfuls of Russian potato salad and a one-inch square piece of egg tart. In a fancy restaurant, this appetite teaser would be called an amuse bouche. At Argentine Corner, it's just a generous way to welcome customers. To officially begin a meal, I suggest the savory Argentine pies called empanadas ($1.50 each). I prefer the most basic: ground beef and tiny pieces of minced hard-cooked egg in a beautiful, golden half-moon homemade crust.

As with much Argentine cuisine, Argentine Corner features food with an Italian influence. So you'll find pasta dishes like gnocchi, spaghetti and ravioli alongside Argentine-style grilled meats, flan and those aforementioned empanadas.

Chicken Milanesa Napolitana ($9.99) is a tender piece of pounded boneless chicken breast, coated with lightly seasoned bread crumbs, deep-fried and then served with a thin slice of ham, melted cheese and a mild tomato sauce.

For an extra buck you can have it "house" style, which means topped with a sunny-side-up egg. It's a simple but very satisfying dish, and one that kids can love, too. Be careful, though, if you order pizza for the kids. These are Argentine-style pizzas, and many don't even utilize tomato sauce. For example, the rustic fugazzetta pizza ($11.99) is a thick homemade crust topped with sliced smoked ham, cheese and caramelized onions. It's wonderful, but it ain't Domino's.

Argentine Corner now features organic beef from Fackrell Farms. Unfortunately, short ribs—part of the asado plate ($11.99) I ordered—were cooked beyond recognition; it could have been car bumper as far as I could tell. Much better was the slightly spicy grilled sausage and the roasted chicken leg that made up the rest of the platter, which also included a choice of salad or fries. Interestingly, the "fries" aren't fried; they're baked, but surprisingly satisfying.

All the asada meats came covered in a traditional chimichurri, a paste/sauce/salsa made of parsley, garlic, oil and chili peppers. For the classic Argentine barbecue called parilla, head to Argentine Corner on a Friday or Saturday evening.

Strange, but true: You know how some restaurants offer mints, hard candy or maybe a fortune cookie following dinner? Well, upon paying the bill at Argentine Corner, each in our party received a stick of lip balm with the restaurant's phone number and Website address. That's a first.

Bountiful now also sports an Argentine dining option. Marcello's Ristorante Italiano & Argentina BBQ—a popular spot for its homestyle Italian fare—now offers Argentine cuisine in the form of parilla (although it's spelled "parrillada" on the menu). Like Argentine Corner, this familyrun restaurant (Giuseppe and Rosa are the owners) is a definite one-off, a place where glass tabletops display business cards left behind by customers, along with other oddities like dollar bills and old receipts.

Plastic grapes hang from a ceiling trellis, and CDs of accordion music are for sale in one corner. Cucina Toscana this is not. But for cheap, hearty, Italian fare, the calzones, pizzas and pastas at Marcello's offer good value and flavors that the entire family can get behind. There's also an Italian dinner buffet on the weekends for $12.95 that's hard to beat price-wise.

The cannelloni and lasagna are especially tasty, but skip the thin, runny fettuccine Alfredo. Not many Marcello's customers seem to order from the Argentine side of the menu. But those who do will not go home hungry.

For an Argentine mega-meal, opt for the parilla Argentine barbecue dinner for two ($30.90). Included in the deal is house salad, antipasto, garlic bread (Marcello's has great breadsticks) and an assortment of grilled meats which typically includes chicken, pork, beef skirt steak (entrana), chorizo and then the really interesting stuff: sweet breads (molleja) and morsilla, which is Argentine blood sausage. It's all delivered sizzling to the table on an actual metal grill/plate. Olé!

ARGENTINE CORNER


442 N. Main
Clearfield
801-773-9909
ArgentineCorner.com



MARCELLO'S RISTORANTE ITALIANO & ARGENTINA BBQ


375 N. Main
Bountiful
801-298-7670