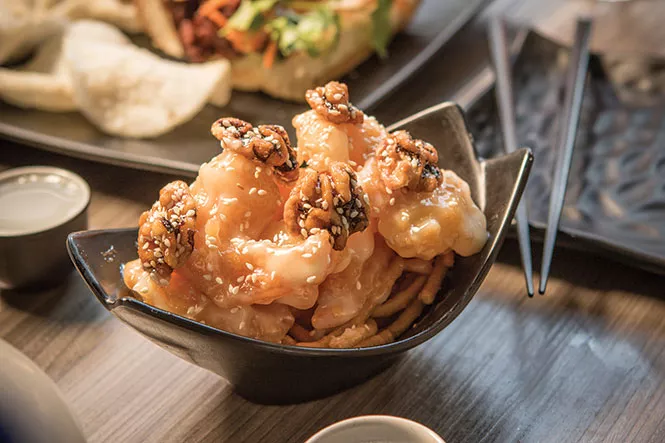 In late 2010, I reviewed a restaurant that I liked quite a lot, called Pipa Asian Tapas & Sake Bar. However, the location—in a shopping center on 900 West—proved to be a challenging one for the upscale eatery. Dishes like quail in chile-lime sauce, silken tofu and avocado with ginger vinaigrette, and Siamese shark steamed in a soy-ginger broth were a hard sell and Pipa didn't last very long.
That's the bad news. The good news is that the Pipa owners eventually resurfaced downtown—right next to the City Weekly office, in fact—with Pleiku, named after a city in central Vietnam which is the capital of Gia Lai Province. It's on Main, in the space that was formerly home to Cindy Lee Café.
The ambiance and décor—as was the case with Pipa—is ultra-modern and chic, with molded plastic chairs and a wall-length banquet, mostly done in white and cream tones. A backlit bar in the rear of the restaurant is eye-catching, and the drop pendant lighting is as contemporary as it is subtle; you might need to bring a flashlight. Groove/lounge/electronica music à la Hotel Costes plays continuously, sometimes at volumes that are more "nightclub" than "restaurant." But that doesn't seem to concern the mostly hip crowd that gathers at Pleiku.
While you peruse the eclectic Asian menu—with Vietnamese, Thai, Mongolian and Chinese dishes all intermingling—you might want to enjoy one of many unusual libations. The Hello Kitty combines blood orange juice, passion fruit, lime and sake ($8.50), while the mango mojito is a refreshing mélange of mango puree, sake and fresh mint. Or, share a carafe of Asian yogurt ($14), Soju (Korea's most popular alcoholic tipple) and lime soda called Yogurt Soju. There's a mix of imported and local beers available, but if you're a wine drinker, I suggest bringing your own, unless you're a big fan of Cupcake Vineyard wines, as the wine list consists of 100 percent Cupcake bottles.
Overall, prices at Pleiku—especially given the high-end atmosphere—are surprisingly moderate. You get a lot of food for your dining dollar here, along with friendly, professional service that is above average. There is a tapas menu, which is a good place to start. Tapas are large enough by far to share. Although it is nearly teeth-achingly sweet, I couldn't resist the Snowball Shrimp ($7.50): large, crunchy shrimp coated with a sweet and creamy glaze, tossed with crunchy sugared walnuts and sprinkled with white sesame seeds—a delicious dish that could just as well be a dessert.
Another tapas choice is the Mini Pho Cups ($6). It's a trio of three small bowls, each brimming with Pleiku's richly flavored pho, spilling over with garnishes like bean sprouts, jalapeño slices, cilantro, sriracha and more. It's a great option for anyone who loves pho but doesn't want to commit to an entire meal of it. For those who do, there are six regular pho bowl selections ($9-$10), including brisket, rare beef, beef balls, vegan and seafood versions. I found the pho tai chin (rare beef and brisket) to be very satisfying, although the kitchen failed to honor my request to have my pho sans cilantro.
There is a tasty tapa that made the trip from Pipa to Pleiku: Shaken Steak Cubes ($8). These are cubes of marinated and grilled crispy boneless sirloin beef served with veggie accompaniments like cucumber, greens, onions, cilantro and such. Another terrific tapa—one large enough to function as an entrée—is called Tofu Stacks ($6). Five large, tender squares of tofu are fried and served on a black plate, bathed in a thick, rich black bean sauce with diced vegetables.
I was disappointed, however, with the Singapore curry noodles ($10). I ordered the dish with shrimp and pork for an extra $1.50 (tofu is the other protein option). The flavor of the dish was fine, but what disappointed me were the noodles: thin, vermicelli-style noodles that were overcooked and mushy. On the other hand, the flavor of the Thai Basil wok dish ($10) completely sparkled. It's a stir-fry dish of medium shrimp (or chicken, beef or tofu) tossed with crunchy scallions, red and green bell pepper slices, onions, chiles and fragrant Thai basil. A bowl of steamed rice comes alongside, and we were offered extra gratis rice when needed.
I don't think there is a single food item that has taken over the dining scene in the past few years like bánh mì, the traditional Vietnamese sandwich. To be accurate, the term bánh mì actually refers to various kinds of bread ("mì" is wheat). Keeping in mind that Vietnam was a French colony, it's not surprising that the bread of choice closely resembles a French baguette, although in Vietnam it is typically made with a combination of rice and wheat flour.
Anyway, bánh mì ingredients here are as varied as the imagination, ranging from pork belly and paté to veggies such as carrots, cucumbers and cilantro. Pleiku offers four versions ($7.50 each): a "classic" with Vietnamese deli meats, one with caramelized pork, another featuring chicken teriyaki, and the one we tried: lemongrass tofu. A hearty, crispy hoagie-type roll was split and stuffed with shredded carrot, onion, daikon, cucumber, lemongrass, cilantro and tofu with bland, puffed, rice "sea chips" served alongside. It's not the best around, but it's still quite adequate if you have a bánh mì craving, especially for the price.
Low prices, distinctive décor, good food and superb service mean we'll be returning to Pleiku, happily.