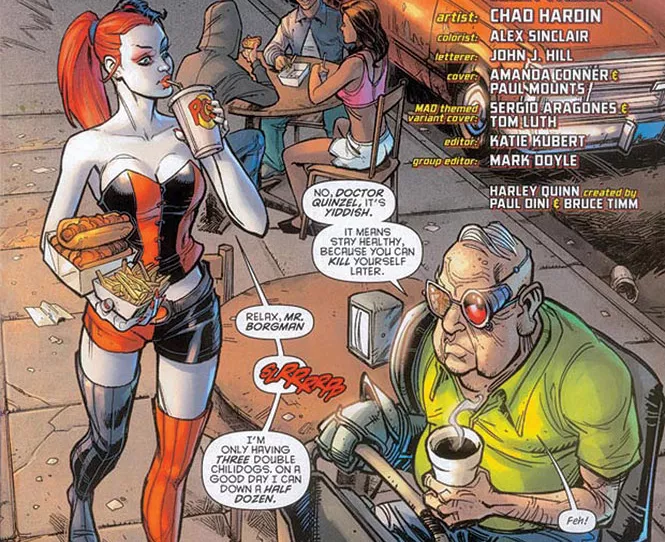 When DC Comics announced at the 2013 Baltimore Comic-Con that it was launching a brand-new series featuring Batman villain Harley Quinn with Utahn Chad Hardin as one of the principal artists, Hardin was across the country at the inaugural Salt Lake Comic Con, signing prints and meeting fans.
"I knew about it before SLCC, but I was under strict orders from DC to not talk about it, and they wanted to really control every interview and press release," Hardin says. "Jeff Vice and Lynn Walker tweeted the DC press release before I knew about it." Hardin says he then "got to spill the beans" during a panel on the last day of the convention.
Now, this year, Hardin returns to Salt Lake Comic Con as a local celebrity who has put his own touch on the DC universe. Hardin is scheduled to be in the Artists' Alley all three days of the 2014 convention, and will take part in multiple panels.
His career is a dream come true for the Cedar City-based artist, who grew up loving comic books. Favortes were X-Men, Amazing Spider-Man, Batman and Usagi Yojimbo, with creators like Masamune Shirow, Mike Mignola, Arthur Adams and Todd McFarlane influencing his style. After earning his bachelor's degree in illustration from Southern Utah University, Hardin broke into the freelancer market with video games, where he did everything from promotional advertising to in-game artwork. His talents landed him a gig with Boom! Studios, working on titles like Fists of Justice and Warhammer, but Hardin knew he wanted to work on bigger projects.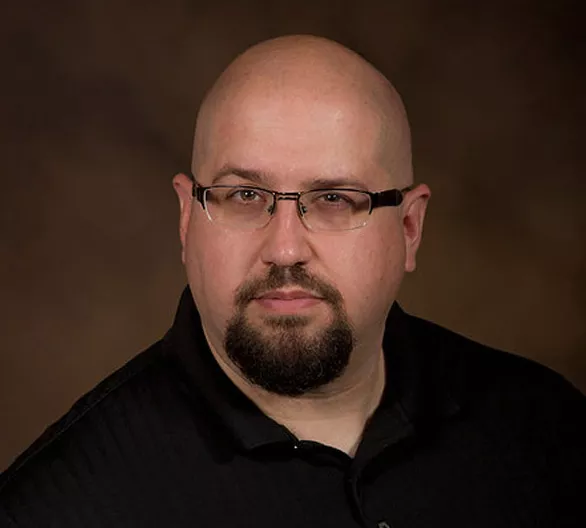 "Boom! has always treated me excellently, and I wish I could say I've treated them as well as they treated me," Hardin says. "One of the hardest things about climbing the career ladder in comics is eventually you need to seek jobs that come from larger publishers, but I count the work I did with Boom! as the work that turned me from a rookie into a professional. Especially my work on Stan Lee's Traveler, which I still consider one of the highlights of my career."
Hardin eventually landed gigs with both DC and Marvel Comics through talent searches, hitting up editors until assignments came his way. Over the years, he was able to apply his aesthetic touch to characters like Zantana, Blue Beetle and Spider-Man. During this time, he also landed a gig with Dark Horse Comics, working on the Dragon Age series, and got an MFA from the Acadamy of Art.
"Getting to draw Spider-Man was wish fulfillment on a massive level," but working with DC was an even better experience, Hardin says. "They always returned my artwork; they always sent paper. They just seemed to have it together."
So when DC hit the reset button on their entire universe in 2011 and started running the New 52 titles, Hardin already had an impressive résumé and proven work ethic that put him in the minds of head artist Amanda Conner and writer Jimmy Palmiotti. He was handpicked by the duo with no audition or design tests, and has been at the artistic helm of almost every issue since Harley Quinn No. 1 launched in November 2013.
The series takes Gotham's prankster princess—along with some familiar faces and newer names—to Coney Island, where all sorts of mayhem and humor ensues. The series has out-sold projections around the country.
"It's awesome because we all have arrested development," Hardin says. "Jimmy and Amanda are two people who love comics. Lots of people want to elevate comics to a higher art form; we like playing in the mud. That's why this book has done gangbusters when no one expected it to. It's a fun book. It's a book that hasn't forgotten that comics were meant to be fun."