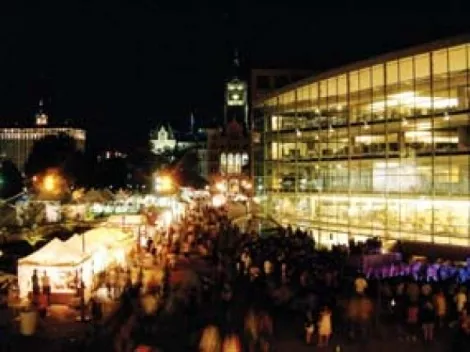 The
Utah Arts Festival
has turned into Disneyland.
Don't take that literally, and certainly don't take it as a sarcastic swipe. The annual outdoor festival remains, after more than 30 years, the state's best one-stop opportunity to see the work of its finest artists, listen to its best musicians and generally spend a summer day steeped in culture. This is no Mickey Mouse operation.
But, as the festival has grown, both in scope of mission and in sheer geography, it has grown more and more difficult to take it all in over the course of a single day. Like Disneyland, it now requires a plan of attack—a way to plot your course so that you don't end up spending as much of your time walking from place to place as you do enjoying the attractions. Here's just one carefully calculated way to get the most out of your admission and make a day of it.
First of all, you'll need a ticket. You could stand in line … or you could buy online, saving time and money. A $10 adult ticket costs just $7 pre-purchased through UAF.org, and even with a $3 processing fee per order, you still save money on the minimum two-tickets-per-order deal. If you must buy at the event, consider the less heavily trafficked West Entrance (behind the City & County Building) or East Entrance (at the corner of 300 East and 500 South). Remember: No credit cards.
Assuming you pre-purchase and pick up your tickets at the Main Entrance will-call, get there in the early afternoon. Lunch time will be the perfect time to head directly west, where the Tapas Tent is located. Utah Food Services' Robert Sullivan will be guiding students from the Art Institute's Culinary Program in the preparation of daily appetizers and wine pairings. You don't want to get started on an empty stomach, now do you?
Head southwest toward the City & County Building, and get a feel for what you'll experience with one of the demonstrating artists displays beginning daily at 12:30 p.m., where you might observe bead work, drum making, glass work or oil painting. Then begin your stroll through the artist booths; there are more than 130 of them covering a range of disciplines from painting and sculpture to jewelry and clothing, but don't try to do it all at once.
Did you bring the kids along? If they're already getting squirmy, stop in at the Target Art Yard. Activities this year revolve around a musical theme, with a variety of hands-on opportunities for musical and rhythmic entertainment. And if they're getting hungry as well, a convenient PB&J booth provides the comfort food.
You're probably getting a bit peckish yourself now that your tapas have worn off, so head east to the food court with its offerings from local purveyors of yummies. Sit and rest a while in the seating area—or if it's a bit later in the afternoon by now, enjoy one of the spoken-word performances at the Big Mouth Stage (beginning between 1:30 and 3 p.m., depending on the day). And don't forget to use the nearby restrooms while you're pausing to refresh.
Head north and east past the Main Library to enjoy more artist booths. That path will take you through the plaza to the Library Square fountain and misting wall, since you'll probably be ready to cool down right about now. If you want to extend your respite from the heat, drop into the Community Writing Center for a kids' mini-workshop, panel discussion or community reading.
The sweltering late afternoon is also a great time to head into air-conditioned comfort for the Fear No Film Festival in the Library Auditorium. Short film programs show throughout the day, this year organized around semi-political themes: "Lean to the Left!" "Lean to the Right!" etc. Absorb the filmmakers' food for thought, then swing back by the food court for your evening noshes.
Evening is also the time for the entertainment headliners to come out on the Amphitheater, Park and Plaza stages. Settle in for some music and/or dance performances by extraordinary local artists. Or maybe you can make a little music yourself, as the evenings offer an opportunity to participate in jam sessions on the extraordinary musical installation Earth Harp—a pair of massive stringed instruments, extending from the Library wall both to the Amphitheater Stage and to The Round—created by MASS Ensemble.
By now, it's been a long day, but you can still cruise through your final wave of artist booths as you make your way to the Main Entrance/Exit. In less than 12 hours, the entire spectrum of Utah artistry has opened up to you. And maybe, if you've been efficient, you won't need to spend the next 24 hours recovering.
UTAH ARTS FESTIVAL Library Square, 200 East & 400 South, 322-2428, June 26-29 from 12-11 p.m. daily. UAF.org