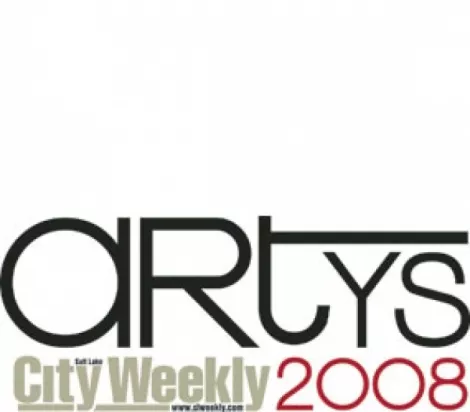 City Weekly Artys issue celebrates the wealth of talent in Utahs performing, visual and literary arts by paying tribute to the individuals and organizations that elevate and inspire our culture. City Weekly readers vote on Utahs artistic cream of the crop and our writers choose their favorites as well. An annual arts calendar, gallery guide and articles on the local art scene make this an invaluable resource.
Deadline for voting: Monday, August 25
In several categories, nominees were selected by City Weekly staff, freelance arts contributors and members of the Utah arts community as a guideline for reader picks. In all categories, write-in votes are welcome and encouraged.
Check back for the winners coming in the September 11th Issue!
BEST PAINTER
Trent Call
Sri Whipple
Lenka Konopasek

BEST MIXED MEDIA ARTIST/SCULPTOR
Adam Bateman
Shawn Porter
Cordell Taylor

BEST ILLUSTRATOR
Pat Bagley
Leia Bell
Dave Chisholm

BEST PHOTOGRAPHY
Teresa Flowers
Cat Palmer
Shalee Cooper

BEST THEATER PERFORMANCE
Effie Johnson, The Heiress
David Spencer, The Tricky Part
Duane Stephens, Saturdays Voyeur 2008

BEST PLAY
Mike Dorrell, Talking Wales III
Mary Dickson, Exposed
Nancy Borgenicht & Allen Nevins, Saturdays Voyeur 2008

BEST PRODUCTION
The Vertical Hour
Gutenberg! The Musical
The Clean House

BEST DANCE PRODUCTION/PERFORMANCE
Alchemy
Nine Sinatra Songs
Revenge of Yoga the Musical

BEST INDIVIDUAL DANCER
Christiana Bennett
Erin Lehua Brown
Nicholas Cendese
Natosha Washington

BEST CHOREOGRAPHER
Charlotte Boye-Christensen, Lost (from Alchemy)
Stephen Brown, Revenge of Yoga the Musical
Peggy Dolkas, Yes, But How Did You Get There? (from Innovations)

BEST CLASSICAL/OPERA PERFORMANCE
(no nominees)

BEST LOCAL COMEDIAN
Greg Kyte
Marcus
Collin Williams

BEST IMPROV TROUPE
Off The Wall
Laughing Stock
QuickWits

BEST NON-FICTION BOOK
Always a Cowboy, Will Bagley
Bargaining for Eden, Stephen Trimble
Trespass: Living on the Edge of the Promised Land, Amy Irvine

BEST FICTION BOOK
The Losers Guide to Life and Love, A.E. Cannon
The Last Cowgirl, Jana Richman
Sweethearts, Sara Zarr

BEST POETRY COLLECTION
Fault, Katharine Coles
A Metaphorical God, Kimberly Johnson
Hand Me My Shadow, N. Colwell Snell

SHORT FILM
Kick Like a Girl, Jenny Mackenzie
Pajama Gladiator, Glenn Harmon & BYU Animation Program
Testimony, Michael Cox

FASHION DESIGNER
Keith Bryce
Cheryl Forester & Cassia Nielsen
Danny Nappi

JEWELRY DESIGNER
Laura Besterfeldt
Shanna Brady
Allison Dayton

HAIR STYLIST
(no nominees)

TATTOO ARTIST
(no nominees)