Best Painter
Trent Call

Master of all styles, or artistic chameleon? If any local artist is running the risk of overexposure, it's Trent Call, whose work is seemingly everywhere. But viewers never seem to tire of his art because each time they see it, it's a different painterly persona—urban graffiti, cartoon figures, pop art pastiches or fetching figures. Besides painting, his artistic impulse extends into cartoons, sketchbooks and even art in vending machines. Hey, better to blow 75 cents on an art booklet than some fake rub-on gangsta tattoo.
Swinj.com
Best Mixed Media
Shawn Porter
Raw, organic and specifically designed for the space they occupy, Shawn Porter's sculptural works are larger than life—but they aren't imposing. They're delicate and heavy; recent works employ flowing linear wooden strips weighted with hundreds of cast and tinted plaster balls. Porter takes no shortcuts; each piece of wood is masterfully cut into long strips, made longer by attaching multiple pieces together precisely. The plaster is all hand-cast and -finished, not to mention hand-moved in wheelbarrows and truckloads and placed just so. Hours of meticulous design and immaculate craft ultimately yield sculptural work that fills the space and takes form outside the lines.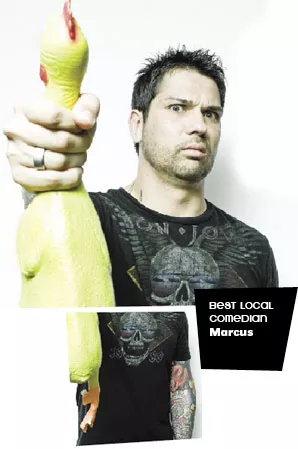 Best Local Comedian
Marcus
Yes, he's still local—the runner-up to NBC's Last Comic Standing hasn't gone Hollywood on us. In fact, when recently approached to shoot a big-budget comedy concert DVD wherever he wanted, Marcus chose his native Utah (the show was filmed at Peery's Egyptian Theater in Ogden on Sept. 9). The hella-tattooed comedian/impressionist, who'll be on the road with the Last Comic Standing tour into 2009, called in with this for The Fans: "Wow! This is the real reason I did Last Comic Standing, to better my chances at winning an Arty ... again. Actually, I'm very flattered and humbled. … Thank you for this, it means a lot to have the support and be in the company of all of the rock & rollers, counterculturists, tattooed heathens, artists and rabble-rousers, and the only paper that unites us: City Weekly!" Now that's comedy. MySpace.com/MarcusComedy

Best Illustrator
Pat Bagley
Bagley helped us weather the Bush administration with his satirical Clueless George series portraying the Good-Ol'-Boy-in-Chief as a hapless monkey. These days, he continues to supply The Salt Lake Tribune with biting political cartoons whose equal-opportunity jabs spare no party. Beyond the paper, the soft-spoken rabble-rouser is putting the finishing touches on a new edition of Welcome to Utah and focusing on strengthening his publishing company, Whitehorse Books, which he hopes to establish as the best seller of LDS books offering an independent perspective of Mormon culture, history and doctrine.
Best Photography
Cat Palmer
Fresh from displaying at the Utah Arts Festival, Palmer is one of the rising stars of the local art scene. Her images are always striking, because the subjects make you feel the twinge of being looked at, instead of being the looker, for a change. Metal bars from her sculptures impinge on the photographs as well. She's also active in the community, teaching classes and serving on the board of the Women's Art Center. Political statements in her works include three women wearing gas masks with marker-drawn slogans: "I am not Republican. I am not Democrat. I am human." Worth remembering in an election season. NoirCatPhotography.com
Best Dance Production/ Performance
Nine Sinatra Songs
Was it the colorful costumes designed by Oscar de la Renta, the disco ball that made the stage shimmer or the spirited dancing that made audiences fall for Nine Sinatra Songs? Twyla Tharp's playful ode to Ol' Blue Eyes was the perfect end to a brilliant Ballet West season. The company's thoroughly entertaining, flirtatious dance interpretation of Sinatra's timeless music—which was part of a four-piece program that included more traditional ballet fare, such as George Balachine's "Serenade"—showcased an exciting artistic range that will surely come to captivate Utah audiences for many seasons. BalletWest.org
Best Original Play
Exposed by Mary Dickson
Plan-B Theatre Company's production last fall was the perfect answer to every naysayer claiming Salt Lake City doesn't have any culture: entirely home-grown, with a script based on local playwright Dickson's personal experiences in the aftermath of the 1950s atomic-bomb testing in Nevada, and the southern Utah residents who lived downwind from it. Local visual artists were also called on for a sprawling exhibit of the same name at the Pickle Company. The result was a collection of powerful work commenting on one of the darkest chapters of our local history. You know, like artists are supposed to do. PlanBTheatreCompany.org
Best Theater Production
Gutenberg! The Musical, Plan-B Theatre Company
Actors Kirt Bateman and Jay Perry wear a lot of hats—literally—in this hilarious show about a writer/composer team pitching their concept for a Broadway show about the inventor of the printing press. Their mock work-in-progress "staged reading" becomes a poke at musical-theater conventions by the score, and a showcase for two marvelously energetic performances as the nervous twosome performs every character in their show. It's a send-up that left you laughing—and humming—your way right out the door. PlanBTheatreCompany.org
Best Classical/Opera Performance
InterPlay: Carnivale
Give Another Language—the multimedia, interdisciplinary arts group behind Interplay: Carnivale—credit for creative write-in voting; when you're sui generis, you've got to look somewhere. And while there's not much that could be considered "classical" about Another Language's annual technologically enhanced performance pieces, you could argue there's a touch of the operatic in the creation of theater that unites performers across a continent into a single work of art. Supertitles may not be required—just some creative software to combine 21st-century arias into choral pieces. AnotherLanguage.org
Best Theater Performance
David Spencer, The Tricky Part
Sure, a one-man show can be an ideal opportunity for a tour de force; it also leaves an actor on an island where everything rests on his shoulders. Spencer has now pulled off two such feats in local theater—he won in this category two years ago for I Am My Own Wife—and continues to display a gift for fully inhabiting roles. He was in character as playwright Martin Moran before the lights even went down, and guided audiences through a funny, harrowing journey into the complex aftermath of childhood sexual abuse. PlanBTheatreCompany.org
Best Individual Dancer
Erin Lehua Brown
Perhaps growing up on Hawaii's unspeakably beautiful Garden Island imbued this Ririe-Woodbury dancer with a special grace, ease of movement, and talent for communicating complex emotions to audiences. Or, maybe it's Lehua Brown's insatiable love of teaching and side projects—such as Brownrice, the duet company that she founded with her dancer husband—that contribute to her incandescent stage presence. Lehua Brown's show-stopping performance in 2007's "La Petite 'Rag'" cemented her place as one of Ririe-Woodbury's most dynamic corps members. RirieWoodbury.com