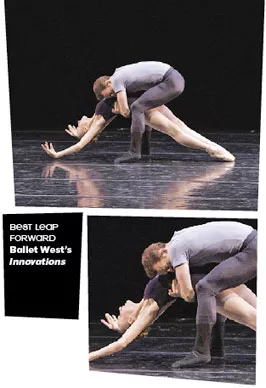 BEST LEAP FORWARD
Ballet West's Innovations

Inside every great classically trained ballet dancer, there is a choreographer aching to create an original work. Ballet West's Innovations program showcased three fresh, exciting, and … well, innovative original world premiere works created by company dancers for company dancers. Artistic Director Adam Sklute was so pleased with the dancers' magnificent achievements and the audience's enthusiastic reception,
Innovations
is slated to become an annual addition to Ballet West's season.
323-6900, BalletWest.org
BEST DANCE SAMPLER
Studio D
Have you ever wished that you could see a little Ballet West, a bit of Repertory Dance Theater, and a dash of Ririe-Woodbury all on the same evening? Thanks to Studio D—an annual program dedicated to offering affordable tickets to young audience members—you can. Ballet and modern dance never merged so seamlessly—especially since the audience is allowed to drink and snack throughout the performance. Now that's brilliance. StudioDUtah.org
BEST BEEHIVE BURLESQUE
Slippery Kittens
Recently featured on TV's America's Got Talent, the Slippery Kittens Burlesque Troupe count David "The Hoff" Hasselhoff among their growing fan base. Composed of sexy ladies of varying shapes, sizes and tattoo coverage, this all-mom group is helping put the age-old art of burlesque back on the map—as well as their home state of Utah. SlipperyKittens.com
BEST HALF-KIWI HUNCHBACK COMEDIAN
Dave Metcalfe
"Once you go hunchback, you'll never go back" boasts Metcalfe's fan group, "The Hunch Nation." And with good reason. From his many comedy-festival wins to sharing the stage with comedy heavyweights like Frank Caliendo and Lewis Black, this Utah-based New Zealand expat turns what some may call a handicap into a laugh-filled comedy riot, delighting local and national audiences. DaveTheHunch.com
BEST DIRECTING DOUBLE-PLAY
Keven Myhre, Moonlight & Magnolias and The Clean House
His dynamic sets have long been a highlight of Salt Lake Acting Company productions, but Myhre has begun to show how much magic he can work when he's running the whole shebang. The 2007-2008 season showed the range of his directing talents, beginning with a terrific sense of screwball slapstick in Moonlight & Magnolias. But he hit even greater heights with his staging of The Clean House, including magnificent, surreal use of stage space and creative elements like scene "captions" on video monitors. The conventional wisdom may be that theater is a medium for writers and actors, but Myhre's doing his best to apply the auteur theory to local theater. SaltLakeActingCompany.com
BEST POETRY COLLECTIVE
Salt City Slam
Making their bones hosting regular Saturday night open mic-nights, Salt City Slam recently represented the Beehive State at the prestigious 2008 National Poetry Slam in Milwaukee. Ranking in the top 50 among spoken-word artists at the festival, Utah's NPS team continually seeks out and grooms new talent during poetry slams at Baxter's Coffee, 1615 S. State. MySpace.com/SaltCitySlam
BEST DEPARTING ARTIST
Olivia Glascock
Known for her sometimes controversial mixed-media paintings, often defying the patriarchal conventions of the female role in society, artist Olivia Glascock now calls Boston home, as she pursues her graduate studies at the Massachusetts College of Art and Design. However, with her exquisite work on display in both private and public collections throughout the state, Glascock's feminine influence on the Utah art scene will still be felt for years to come. OliviaGlasscock.com
BEST MUSICAL NEWCOMER
Salty Cricket Composers Collective
Yes, it could be called classical music. But wait a second before you turn away: Salty Cricket concerts are unlike anything you've seen before, in any genre. The collective is a group of local composers who got tired of having no venue to play their music, so they started their own series. Their performances might include video projection, traditional opera vocals, or a piano/banjo combo. You're almost guaranteed not to like some of it, but it will open your ears to the possibilities—and demonstrate talent you didn't know was here. SaltyCricket.org
BEST PLACE TO SEE AND BE SEEN
Poor Yorick Studios' open house
Held every spring and fall, the artist collective's open houses are a chance to see dozens of local artists' work in one fell swoop. It's also an astonishing array of more beautiful people than you thought could possibly live in Salt Lake City. For that alone, it's a refreshing experience. Mark your calendar for Sept. 26-27 ("private" party 6-10 p.m. Sept. 26 and public open house 1-5 p.m. on Sept. 27), and start putting together your outfit now. Poor Yorick Studios, 126 W. 2590 South, 759-8681
GUTSIEST (AHEM) SPOKEN-WORD SHOW
"Blood, Fertility and Magic"
Ken Sanders had second thoughts about saying yes to the show at his bookstore in May when he considered what could happen with four very pregnant performers in one room. But poets Melissa Bond and Sara Caldiero, plus photographer Cat Palmer and artist Kindra Fehr, pulled off an energetic night of ruminations on their impending motherhood without a single broken-water episode.
BEST LECTURES BY THE NUMBERS
Salt Lake City Public Library's Dewey Lecture Series
The classification system for general knowledge known as the Dewey Decimal System, developed by Melvil Dewey, has brought order to our understanding of the world. As part of the Salt Lake City Main Library's celebration of its new digs back in 2003, a free monthly lecture series was established utilizing that system as a framework. Going strong still, the lecture series has brought such notables as William Safire to speak on language and continues with such speakers as Bel Canto author Ann Patchett. 210 E. 400 South, 524-8200, SLCPL.lib.ut.us
MOST PRECOCIOUS PERFORMANCE
Erica Richardson, Caroline, or Change
As the lead in Wasatch Theatre Company's production of Tony Kushner's play, the 20-something Richardson was convincing as a 37-year-old housekeeper and single mother facing racial discrimination in 1960s New Orleans. With an impressive voice that never wavered and a larger-than-life personality, she led her castmates and their audience into a complete suspension of disbelief. We forgot that this was a small-budget company in a state with a tiny black population, and remembered only that we came away caring about this character. WasatchTheatre.com