Page 2 of 2
BEST PHOTOGRAPHY EXHIBITION
Reflexions, Anikó Sáfrán (Art Access Gallery)
Anikó Sáfrán's photography incorporates visually intriguing imagery with provocative subject matter. Her work is stark and inventive and used to address issues that are culturally relevant. In her recent Reflexions exhibition at Art Access II, the artist photographed women in black and white, contorted by a fun house mirror—with unusual metaphorical effect. The images allude to themes of disproportionate self-perceptions of the body grappling with societal ideals of what a woman should look like. Her methods are whimsical, but Sáfrán is a sophisticated photographer, focusing on serious issues that go beyond the purely visual.
BEST ILLUSTRATION EXHBITION
Dan Christofferson (Kayo Gallery)
A number of local artists use techniques borrowed from illustration, since illustrating helps keep a roof over their heads. Christofferson's work is the kind you´d give a double-take to. Seemingly composed of simple compositional elements and visual imagery borrowed from medieval heraldry, the works often strike an undertone of subtle irony, with textual elements criticizing social institutions like patriarchy. That his works were able to match that of local artistic wunderkind Trent Call in energy and strength of line is a sign that Christofferson is a local artist to expect compelling art from in the future. RobotsAndAngels.com
BEST PAINTING EXHIBITION
Lindsay Frei (Kayo Gallery)
A talented, seasoned painter, Frei displayed lucid and representational canvases at her Kayo Gallery show, yet their significance is abstract and thoughtful. Frei uses a bright color palate with vivid hues that she applies to paint common objects that are simple and direct yet have more to them than is apparent. The viewer of Frei's work might wonder why she chooses to paint a shoe, cups and saucers, or a still life. It is evident that there is a story behind these objects, that each has a significance that the artist knows, and this leaves the viewer intrigued. kayogallery.com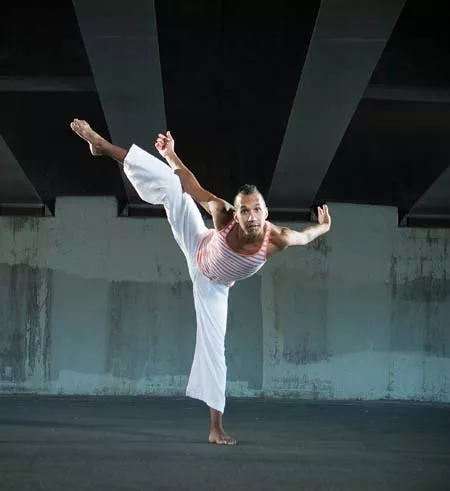 BEST INDIVIDUAL DANCER
Jo Blake (Ririe-Woodbury)
Jo Blake is possibly best known for his six long seasons on-stage with the Ririe-Woodbury Dance Company. In fact, one of his most prominent moments with RWDC came just this past season with his amazingly beautiful solo in Susan Marshall's Cloudless. Yet, after working with some of the best modern choreographers and traveling the globe, winning audience accolades with his inspiring, lithe lines, Blake has chosen to retire from RWDC. But, don't worry too much; our favorite dancer is still firmly rooted in Utah's dance culture, choreographing and working with various other companies such as RawMoves. RirieWoodbury.com

BEST TOURING/NON- LOCAL EXHIBITION
Body Worlds (The Leonardo)
Lots of people donate their bodies to science but, until recently, it seemed unlikely that people would ever have the opportunity to donate their bodies to art. Body Worlds 3—which brought to Salt Lake City a fascinating if macabre touring collection of plastinated German corpses in various and surprising attitudes—proved enormously popular. And for many, it was the first real indication of the enormous potential for success of Library Square's nascent Leonardo museum. Interest in discovering ways to merge artistic and scientific disciplines has surged in recent years, and has some visionaries even speculating on the possibility of a neo-Renaissance—which, if true, means The Leonardo is perfectly poised on the brink of greatness. BodyWorlds.com

BEST JEWELRY DESIGNER
Allison Dayton
Using materials ranging from wood to silver, Dayton makes bohemian jewelry with a mixture of jungle and desert zests. Her batik mahogany jewelry is flashy and evocative, while her silver and pearl bird's-nest necklace treats nature with whimsy and reverence. Dayton uses turquoise considerably, but more often as a fine spice rather than a main course, while other creations—like oval chain necklaces—amplify a simple shape into sleek, but noisy, chain of art. AllisonDayton.com
BEST NONFICTION BOOK
Finding Beauty in a Broken World, by Terry Tempest Williams
It opens with poems about mosaics and launches immediately into a journey to Italy by Williams to study mosaics. The piecing together of shattered pieces into something beautiful is a continuing theme, and not only in the physical sense. Survivors of the genocide in Rwanda struggle to make sense of their shared horror, while at the same time, Williams battles her own internal and family strife. Prairie dogs simply try to survive in a natural world destroyed, at least for them, by the force of man. Even the prose is treated like a mosaic, with spare pieces of letters, journal entries, fractured conversations and exceptional narrative carefully molded into a compelling tale, filled with both heartbreak and optimism. CoyoteClan.com


BEST FASHION DESIGNER
Keith Bryce
While Bryce was frustrated he didn´t get to show his best work in the Bravo Project Runway competition, he took much of what he learned from the show´s judges to continue shaping his self-described "egdy and progressive" aesthetic. He employs unorthodox techniques, he says, such as spray-painting graffiti on fabric before he sews it into a dress. His shop, Filthy Gorgeous on Pierpont Ave., has become an appointment-only venue. Instead of selling his creations retail, Bryce is focusing on designing. Now he has to decide whether to stay in Salt Lake City or—a la his one-time inspiration Jared Gold (Black Chandelier)—abandon ship for the gaudy heights of Los Angeles or New York City. Let´s hope Utah gives him a reason to stay. KeithBryce.com

BEST ARTISTIC HAIR DESIGN
Janae Johnson, Lunatic Fringe
There are those who treat trimming like a science of precise angles and measurements, and those who look at hair like art. Then there are style mavens like Johnson, who got all the technical aspects of styling down to a reflex and can treat hair styling like high fashion. Besides styling, Johnson gets points—along with the salon's art team—for coordinating the advertising and marketing for the salon, as well as putting on its annual spring hair show and fund-raiser (which in April, 2009, raised $26,000 for various charities). But Johnson's artistic instinct sets her apart, as she envisions the perfect style for her clientele, like Michelangelo seeing the sculpture waiting to emerge from a block of marble. It's perhaps the reason her clientele so loyally return: because she helps them see the vision. LunaticFringeSalon.com

BEST TATTOO ARTIST
Sarah de Azevedo, Oni
If Kat Von D is the only fierce female tattoo artist on your radar, get to know de Azevedo who—like the high-profile star of TLC's LA Ink—holds her own and then some in a largely male-dominated industry. Unlike Von D, de Azevedo has climbed the ranks in a town known more for its conservative politics than its impressive skin art. Her portfolio, along with those of fellow Beehive State artists, is slowly but surely helping to reverse outside perceptions of Utah's thriving tattooing community. From pin-ups and landscapes to floralgarden sleeves and a spot-on portrait of actor Heath Ledger (RIP), her creations are well worth the wait—a very good thing, considering she's currently booked out six months in advance. OniTattooGallery.com