Page 2 of 4
BEST SEASON-FILLER
Matthew Ivan Bennett, Plan-B Theatre Company
Talk about deadline pressures: One theater company building its entire season around your work. But, Matt Bennett came through with a lineup as impressive for its quality as for its quantity. First, he adapted Mary Shelley's Frankenstein for the annual Radio Hour production. Then, he explored the legacy of Japanese-American interment camps in Block 8. And, he finished with a terrific study of genius and perfectionism in Di Esperienza. Plan-B's new season begins with Bennett's Radio Hour adaptation of Alice in Wonderland. Talk about putting the "pro" in prolific. PlanBTheatre.org
BEST THEATRICAL STORYTELLING
Meat & Potato Theatre
Recently transplanted from Washington, D.C., this small theater company made its Salt Lake City splash with its production of The Infantry Monologues. Artistic director Tobin Atkinson emphasizes theater's roots in storytelling—the kind of human tradition that dates back to Homo sapiens' Stone Age origins. Monologues was a tight, disciplined production; packing such a big punch into a compact space, the bar has been set high for M&P's upcoming Shadows of the Bakemono—a spooky puppets-and-masks production in the style of Japanese bunraku. MeatAndPotato.org
BEST FUNNY VOCAL TRIO
The Lollipoppers
Kelsie Jepsen, Shanna Jones and Arika Schockmel of Salt Lake Acting Company's Saturday's Voyeur ´09: Radio Show sang a crowd-pleasing ditty at the Buttarspalooza rally in February at the State Capitol celebrating the imagined death and decomposition of Sen. Chris Buttars. Macabre and deranged lyrics floated through to the clean and chirpy vocals. The Lollipoppers made the crowd laugh, but some people winced and others chuckled in disbelief as the lyrics became increasingly detailed about the worms´ feast. The Lollipoppers, like Voyeur, demonstrates that one of art´s greatest contributions to politics is to highlight absurdity that some fail to see. SaltLakeActingCompany.org
BEST CLEAN UTAH COMEDIAN
Aaron Burrell
Comedian Aaron Burrell is the poster-child for a Utah comic. He's very proud of being LDS, and takes great care to stick to his religious beliefs, even in his act. He does not swear, and he tells jokes that are inoffensive yet clever and very funny. Somehow, he managed to find and marry an LDS girl who is also a comedian. What are the odds? Though he's still young, Burrell has developed a strong and clever style that allows him to get laughs from every person in the room, LDS or not. MySpace.com/airburple
BEST COMEDIAN UNDER THE AGE OF 12
Emily Haskins
Ten-year-old Emily Haskins is amazing. She walks onto the stage at Wiseguys and starts telling jokes like a seasoned comedian, with perfect timing and clever segues, and a presence that shows that she's completely comfortable standing in front of a roomful of strangers and making them laugh. She knows she's funny and can hold her own against any adult comic. The jokes she tells are uniquely child-centered, and yet they're universally funny to every age. My money's on Haskins to win the 2009 Utah's Funniest Kid contest.
BEST REASON TO STOP AND LISTEN
Ken Sanders Rare Books
Ken Sanders Rare Books is guided by a simple motto: "Creating chaos out of anarchy for a better tomorrow." Not only is this bearded antiquarian bookseller a regular on Antiques Roadshow, he also pulls together a wide range of authors to present signings and readings both around town and in his store. The likes of Charles Bowden, Wendell Berry and Amy Irvine have graced Salt Lake City with their presence, based almost solely on the fact that they are friends with Sanders. The bookstore was also the site of the late poet Craig Arnold's final reading before he disappeared on the side of a volcano somewhere in Japan. KenSandersBooks.com
BEST PLACE TO KILL OR DIE
Wiseguy Open Mic Night
Part of the joy of open mic night is not knowing what to expect. Would-be comics who live outof-state but regularly visit Utah for non-comedy related work often hit the stage. But the truly fascinating sets are those of locals who offer funny and, at times, painfully unfunny musings about life in Utah. The open mic nights are held Wednesday´s at the Wiseguy´s locations along the Wasatch Front. wiseguys.com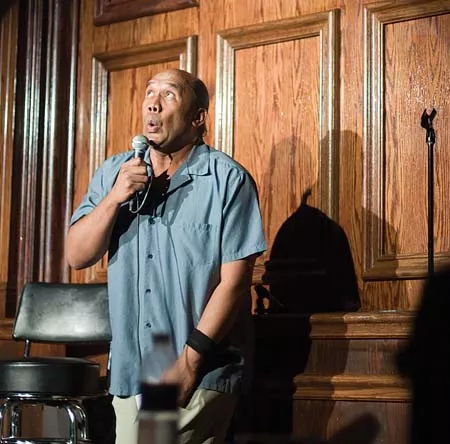 BEST DRAG-IN' LADIES
The cast of Egyptian Theatre Company's Pageant
Charles Frost's Sister Dottie may have been the most prominent cross-dresser on Utah stages during the past year, but Park City provided plenty of company. Six splendidly game performers—Wayne Burton, Dallin Garber, Douglas W. Irey, Jacob Johnson, Sean J. Carter and Marc Raymond—took the stage as the buxom, smiling finalists in the thoroughly fictional Miss Glamouresse competition. Wardrobe malfunctions on a hilarious scale— prosthetic breasts don't always stay where you want them to—were no obstacle to the energetic actors. EgyptianTheatreCompany.org

BEST SISTER HISTORY
Terrell Harris Dougan: That Went Well
Longtime Deseret News columnist Dougan had a unique story to tell about her experience as caretaker for her mentally disabled sister, Irene—and a unique way of telling it. Beginning with a 1950s childhood where "retarded" family members were often a source of shame, Dougan spins a memoir about the evolution of her own perspective on special-needs individuals through decades when the country's perspectives were evolving, as well. It's all the more impressive that she does so with humor and a refreshing lack of sentimentality, allowing both herself and Irene to emerge as complex and intriguing characters. that-went-well.com

BEST MULTI-CHALLENGED PERSONAL HISTORY
Longshot by Lance Allred
He grew up deaf, dealing with obsessive-compulsive disorder and living in a polygamist community before moving on to college basketball stardom and professional stops in the NBA and around the world. Former East High, U of U and Weber State hoops star Allred busts up the conventions of the sports memoir by bringing together all of the different parts of his very interesting life in Longshot. It's compelling by the standards of athlete biographies, triumph-over-adversity biographies or, really, biographies in general. LanceAllred41.com

BEST BOOK FOR "GETTING DOWN"
Utah's Low Points: A Guide to the Lowest Points in Utah's 29 Counties by Fred Nash
Everybody knows about Utah's world-class mountains, but Nash reminds us in Utah's Low Points that while, as Diana Ross once sang, there "Ain't no mountain high enough," it's also the case that there "ain't no valley low enough" in our state when looking for an outdoor adventure. Readers of this book will come to find that the statement, "That's really low," can lead to a lot of fun.

BEST REMINDER FOR WHY WE GO HIKING
Hiking from Here to WOW: Utah Canyon Country, by Kathy and Craig Copeland
Kathy and Craig Copeland give outdoor enthusiasts all of the technical, technological and geographical information they need when planning a wilderness adventure in the Beehive State. That should be enough, but their book Hiking From Here to WOW: Utah Canyon Country also provides personal stories and observations that remind us of why we find it necessary to leave air-conditioning and paved roads from time to time.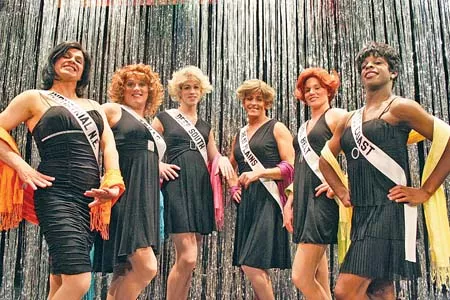 BEST ONE-WOMAN/ 12-CHARACTER SHOW
Sarah Shippobotham in The Syringa Tree
A longtime University of Utah faculty member and go-to dialect coach for local theater productions, Shippobotham doesn't often get her own chance to shine in the spotlight. But, Utah Contemporary Theatre gave her a perfect showcase for her many talents in this drama about two South African families—one black, one white—negotiating the apartheid and post-apartheid eras. Shippobotham played men and women, black and white, young and old—and inhabited every one of the show's characters fully. As wonderful as the behind-the-scenes support she provides may be, here's to more opportunities for her to command those scenes herself. UtahContemporaryTheatre.org

BEST ECLECTIC BLOG
The Selective Echo
Literate, informative, clever, entertaining, provocative, surprising, civil: Les Roka's The Selective Echo blog is all of those things and more. Subtitled "a blog of Salt Lake City at its cosmopolitan best," The Selective Echo runs the gamut from postings about economic policy and politics to those about food and restaurants, media, arts and entertainment, and even, yes, religion. The Selective Echo is one voice we love to hear, again and again. SelectiveEcho.com

BEST REASON TO ATTEND CHURCH
Sam Wilson
Best known for his 14 Stations of the Cross at the Cathedral of the Madeleine created back in 1992- 1993, University of Utah art professor Sam Wilson was rightly honored as this year's recipient of the Mayor's Visual Arts Award for far more than his religious series of paintings. Wilson's work uses both realism and illusion to add a magical touch to the everyday drama of the human condition—something he's grown familiar with through his work with Art Access and veterans, not to mention teaching all those thankless college students. FineArts.Utah.edu

BEST REASON TO STARE AT THE SIDE OF A BUILDING
V. Kim Martinez's On the Wall Project
There's a rag-tag group of radicals running about town painting walls. But, this time we're not talking about graffiti. The group consists of students taking a special-topics class about murals from University of Utah associate professor Kim Martinez. So far, they have tackled TRAX stations, the Salt Lake County building and the South Salt Lake Columbus Center, among others, delivering social and democratic murals to the community at large.