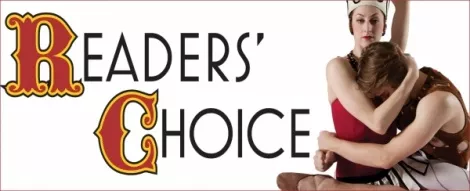 Theater/Performance
BEST INDIVIDUAL PERFORMANCE
Kirt Bateman, Borderlands (Plan-B Theatre Company)
Spencer Tracy, Tom Hanks … Kirt Bateman. Yes, it's back-to-back acting gold for Bateman, who followed up 2010's Artys victory playing Machiavelli with a completely different type of role: car salesman Dave, whose disarming honesty to customers about the vehicles on his lot is informed by earlier deceptions for which he's trying to atone. With heartbreaking restraint, Bateman captured a man trying to re-establish his sense of himself as somehow worthy of trust, love and respect. PlanBTheatre.org

BEST LOCAL PRODUCTION
Borderlands (Plan-B Theatre Company)

BEST ORIGINAL PLAY
Borderlands by Eric Samuelsen (Plan-B Theatre Company)
Many local writers have delved into the notion of hypocrisy and self-righteousness when it comes to the local "predominant religion," but Eric Samuelsen and Plan-B Theatre Company managed a spin on the topic that deftly avoided smugness or easy answers. A terrific cast (see performance-winner Kirt Bateman above) and Randy Rasmussen's efficient set design were contributors to a powerful exploration of the difference between outward orthodoxy and true faith. Credit Samuelsen's intensely introspective text with addressing the collision between actions and beliefs in a way that both adherents and skeptics could find gripping and honest. PlanBTheatre.org
BEST TOURING PRODUCTION
Young Frankenstein (Broadway Across America)
Considering the way Utah audiences embraced The Producers during its Utah touring stops, it's no surprise that Mel Brooks' follow-up stage interpretation of one of his classic comedies also won over the crowds. His tale of the reluctant heir to the legacy of re-animating the dead—so ashamed of his family heritage that he prefers the pronunciation "Frahnkensteen"—includes a hunchbacked assistant, a castle caretaker whose very name frightens horses, and a monster dancing along to "Puttin' on the Ritz." Brooks' naughty sense of humor and keen sense for a show tune gave this creation … LIFE! BroadwayAcrossAmerica.com/shows/YoungFrankenstein.html
BEST COMMUNITY THEATER GROUP
Dark Horse Company Theatre
Park City's historic Egyptian Theatre has become a regular home for this versatile company, providing Summit County audiences—and savvy theater-loving visitors from the valley—a variety of musical options. This season, a staging of Rent composer Jonathan Larson's early musical tick, tick … BOOM! provided an energetic contemporary edge, along with a co-staging of Plan-B Theatre' Company's revival of Guttenberg: The Musical, and a finale of the classic Gypsy. Small scale doesn't mean small entertainment value. ParkCityShows.com

BEST INDIVIDUAL DANCER
Christiana Bennett (Ballet West)
What the observant viewer notices when Ballet West principal artist Christiana Bennett dances is actually what doesn't happen. The Massachusetts native has a feather lightness in her step that, at times, makes it seem like she floats rather than dances. In 2011, she performed as Carabosse and Princess Aurora in The Sleeping Beauty, and had stunning roles in The Four Temperaments and Chaconne, among others. Her long, elegant frame and fiery red hair enhance the visceral experience of seeing her perform with cunning and confidence. BalletWest.org


BEST CHOREOGRAPHY
Charlotte Boye-Christensen, "Touching Fire" (Ririe-Woodbury)
It's not the first time that Boye-Christensen has been honored by CW readers. In fact, it's not the second, either. The thing is, year in and year out, the Denmark native and artistic director of Ririe-Woodbury Dance Company creates and stages groundbreaking, entertaining choreography. Touching Fire—which was a collaboration featuring the words of author David Kranes and the stage design of architect Nathan Webster—played with the ideas of fear, reflection and illumination in a way that brilliantly pushed the limits of the modern-dance form. RirieWoodbury.com
BEST CLASSICAL OPERA PERFORMANCE OR PRODUCTION
Utopia Early Music: Flowers of Edinburgh
Geared toward performing historically informed pieces of medieval, Renaissance and Baroque music, Utopia Early Music is far more engaging than might first be imagined. With serious skill and scholarship, this group of local musicians and vocalists are hellbent on re-creating the atmosphere and aesthetic of their chosen era with a sense of amusing whimsy and entertaining pleasure. They at times dress in period costume and stage performances in age-old churches, while audience members sit in wooden pews, harking back to simpler times. UtopiaEarlyMusic.org
Dance
BEST PRODUCTION
The Sleeping Beauty (Ballet West)
Since its premiere in St. Petersburg, Russia, in 1890, many a production company has honed its unique creative vision around the timeless ballet The Sleeping Beauty. The original—adapted from the Brothers Grimm' take on the French fairy tale—was scored by Tchaikovsky to run around four hours. One of several modifications Ballet West Artistic Director Adam Sklute made was to abridge the performance to 2 1/2 hours. Without antsy-pants moments, audiences could focus on Sklute's engaging choreography, principal artist Christiana Bennett's perfect performance as Princess Aurora and Carabosse, or the divinely crafted costumes of Peter Cazalet. The performance was a feast for the senses; one that, hopefully, won't require—like Prince Desire's kiss—a 100-year wait to see again. BalletWest.org
Literature
BEST GRAPHIC NOVEL/ZINE/MULTIMEDIA PUBLICATION
Learning to loveDANCEmore
Ashley Anderson set out to get people thinking about dance through a different lens by staging an ongoing series of events and dialogues created by as many different voices within the local dance community as she could feasibly pull together. One result of such a focused effort is a publication that has already created quite a buzz in the movement world. The first issue focused on the vast and involved history of dance in Utah, while the second used the idea of manifestos to challenge the very fabric of how dance happens—in turn questioning "the way our relationship with dance and its documentation can, and should, evolve." LoveDanceMore.org

BEST FICTION
I Don't Want to Kill You by Dan Wells
The idea of a sociopath as a protagonist may be familiar from the TV series Dexter, but Dan Wells' mesmerizing trilogy about teenager John Wayne Cleaver took the notion in a wickedly satisfying direction. In the series' climactic installment, John realizes that calling a demon on the phone and challenging it to a throw-down can have … consequences. Wells continues to craft John into a terrifically complex character, all while building to a resolution that's not just viscerally effective, but surprisingly emotional. Can a potential killer come to understand the power of love? Maybe, maybe not—but Wells' readers sure did. FearfulSymmetry.net
BEST NONFICTION
Mormon Rebellion: America's First Civil War 1857-1858 by David L. Bigler & Will Bagley
The last thing most readers want in a nonfiction work is something that evokes the days of high school history class. Thankfully, Utah historians David L. Bigler and Will Bagley have mined juicy historical nuggets and written engaging prose. Bigler and Bagley have cited long-suppressed sources to portray the Mormon Rebellion, which involved headbutting between Latter-day Saints and the U.S. government over polygamy and other issues. A key point in Utah's path to statehood, the rebellion—which resulted in the death of some 120 men, women and children—was also one of the most pivotal, misunderstood events in 19th-century Western frontier history.
BEST POETRY COLLECTION
Whitethorn by Jacqueline Osherow
The King's English manager Anne Holman most likely voices the opinion of this category's voters when she says, "When [Jacqueline Osherow] comes out with a new book of poetry, we celebrate. When she reads, we're transported." The reader is transported to heavy thoughts about the aftermath of the Holocaust, or what it means to be a modern-day Jew. It's been five years since Osherow, a distinguished professor of English at the University of Utah, released her last collection, and every word was worth the wait.
Visual Arts
BEST ILLUSTRATION EXHIBITION
Claire Taylor: Feather of the Dog, Hair of the Owl (Art Access)
Rather than illustrating some fictive or fanciful story, the works in this exhibit detailed Taylor's encounters with the animal world, one not so far removed from our own. The intimations she received from creatures of fur and fowl spoke to her, and she in turn communicated them to the viewer in a manner that was engaging and captivating, unfolding a narrative that was powerful beyond words. 230 S. 500 West No. 125, Salt Lake City, 801-328-0703, AccessArt.org

BEST PAINTING EXHIBITION
Trevor Southey: Reconciliation (UMFA)
Reconciliation was a career retrospective of Trevor Southey, one of the most brilliant Utah painters, a native of South Africa who, in his life's sojourns, converted to the LDS Church, founded a local art movement and later realized his homosexuality and was excommunicated from the church. The comprehensive collection drew together all these elements of Southey's life, showed how they shaped him into the artist and thinker he has become—how he's lived his life as a search for spiritual beauty, and in different ways, found it in all those experiences. 410 Campus Center Drive, Salt Lake City, 801-581-7332, UMFA.Utah.edu
BEST PHOTOGRAPHY EXHIBITION
Cat Palmer: The Age of Aesthetics (The Hive Gallery)
Cat Palmer's exhibition examined our culture's obsession with beauty—the kind that's fascinated with what's merely skin deep and aligns with other assumptions about femininity. Palmer asked a group of women to be photographed with shaved heads, a courageous act that went beyond the exhibit into their daily lives. Palmer captured the spirit of her subjects with exuberance and a joy for living that let their true beauty shine. Trolley Square, 602 E. 500 South, Salt Lake City, HiveGallerySLC.com
BEST TATTOO ARTIST
Sarah de Azevedo, Oni
Sarah de Azevedo worked her way up from shop receptionist before finally tapping the ink. She's since established a reputation as one of the best tattoo artists in the field. Whether it's an arrangement of flowers, a naughty pinup nurse or even the LDS Temple, the work de Azevedo has produced over the years for Oni Tattoo Gallery has been nothing shy of masterful, making her one of the most sought-out artists in Utah. 325 E. 900 South, 801-355-1885, OniTattooGallery.com/Sarah/main.php

BEST SCULPTURE/MIXED MEDIA EXHIBITION
Robert Fontenot: The Place This Is (Salt Lake Art Center)
The State of Utah rendered in bread dough? This wasn't just old chestnuts like Temple Square or pushcarts, but the likes of the mythical creature The Bear Lake Monster. That's the kind of perspective Los Angeles-based sculptor Robert Fontenot brought to the project, as well as depictions of iconic cultural features in needlepoint and watercolor. Sometimes you need someone from elsewhere to show you how wonderful your own home is, and Fontenot somehow captured the essence of this quirky, eccentric place. 20 S. West Temple, Salt Lake City, 801-328-4201, SLArtCenter.org
BEST JEWELERY DESIGN
Christine Fedor, Punkenstein Jewelry
There's a unique mix of the antique and the vital in Fedor's creations: vintage watches, keys and other jewelry components accented by the addition of insects, birds and other critters. Scavenging her raw materials from thrift stores and estate sales, she crafts elegantly funky, steam-punky (hence the name) pieces of soldered gold and brass that look like they wouldn't be out of place hanging around the neck of a character in an Edward Gorey illustration. PunkensteinJewelry.com

BEST NON-LOCAL/TOURING EXHIBITION
Ansel Adams: Early Works (Kimball Art Center)
Ansel Adams became an iconic figure in the later years of his life, the founder of photographic magazines and a teacher of technique to thousands. But his work itself is known mostly from prints created in that later period, the images of Yosemite and other Western vistas rendered in high contrast. Kimball Art Center gathered prints created by Adams in the 1920s and 1930s, smaller in scale and less stark in their contrasts. It was a fascinating reminder that the work that comes after the shot is taken can render photographic art unique. 638 Park Ave., Park City, 435-649-8882, KimballArtCenter.org
BEST SHORT FILM
Love Sick, directed by Kevin Mark Lacy
How do you know when you've met "The One?" And what are you willing to do to make sure that a chance meeting isn't your only meeting? Kevin Mark Lacy's charming, energetic short film turns downtown Salt Lake City locations into the site for one young man's frantic attempt to find the object of his infatuation. With snappy editing and a clever kicker of a conclusion, Lacy crafted the perfect romantic comedy for the 21st century: quick, punchy and with an ideal melding of romanticism and cynicism.
BEST PUBLIC ART/GRAFFITI ART
Endur
Endur is no stranger to the streets of SLC. A pioneer in local graffiti circles who draws influence from his American Indian heritage, he blends colors and uniquely styled pop art to make his works stand alone, and serves as a visual lesson to those who wish to master the art. You can spot his work in spots like the 337 Memorial Wall and the Free Speech Zone, where he has been a participant at Graffiti Fest almost every year since it started. If Utah graffiti were to have a hall of fame, Endur has earned himself a wing.

Comedy
BEST STAND-UP COMIC
Levi Rounds
While Rounds himself may find it ridiculous, and most likely will perform a self-depreciating set about the fact that he has won this award again, truth is he's earned it in spades. Working mostly the underground circuit with his inflammatory set aimed at bringing out audiences who can't afford the bigger clubs, Rounds also formed the Secret Satan comedy shows at Mo's Neighborhood Grill, and was a headlining local name at the SLC vs. Vegas Comedy Battle at The Complex. And Levi, as per your Facebook post regarding what would happen if you won, we expect to see Cody Rounds as your date-in-drag at the party.
BEST IMPROV TROUPE
Laughing Stock
Perhaps even the members of the troupe itself would be challenged to improvise a reaction of surprise to an Artys victory after scoring back-to-back wins in this category. Their regular weekend performances continue to draw crowds to the Off Broadway Theatre, creating laughs out of thin air just as they have since the troupe was founded as the original Quick Wits in 1994. Join a rotating cast of characters, including Clarence Strohn, Rusty Bringhurst, Logan Rogan and Kylee Bird, for games and sketches that test a performer's ability to find the funny in absolutely anything. 272 S. Main, Salt Lake City, 801-355-4628, LaughingStock.us
Crafts
BEST FASHION DESIGN
Sorry Clementine
Founded in 2003 by designer Suzanne Holifield, Sorry Clementine offers locally made designs with an emphasis on "one of a kind." Every article of clothing has been designed, cut and sewn together by Holifield herself, with no two looking alike, making each piece a unique work to call your own. This extraordinary approach has turned her into a prominent name in both the fashion and craft communities, and made her a mainstay at both the Downtown Farmers Market and Craft Sabbath, as well as a featured designer of Fashion Stroll. SorryClementine.com
BEST ARTISTIC HAIR DESIGN
Landis Lifestyle Salon
The best part of Landis taking home this award is that by reputation alone they are one of the most welcoming salons for the regular guy or gal to walk into. Sure, it is state-of-the-art, and all the master stylists have tons of training and are continually learning the cutting edge of their field. But the best part is they will actually listen to what you have to say instead of simply styling your hair into the latest and questionably greatest trend—although they are happy to do that, too, if you wish. 1298 S. 900 East, Salt Lake City, 801-485-5506; 569 N. 300 West, Salt Lake City, 801-364-3354, LandisSalon.com