Earlier this summer, Sight & Sound magazine released its decennial poll of scholars, critics and filmmakers who identified the greatest films in cinema history. Much debate about the selections ensued: about contributors who named weird obscurities, about Vertigo displacing Citizen Kane at the top, etc. But it was a conversation—lively, confrontational, provocative—about art.
This seventh-annual City Weekly Artys issue—like all lists and awards—is only partly about the results. We certainly honor those whom have been selected by readers' votes, as well as those additional individuals named by our staff members and freelance arts contributors; we truly believe they're worthy of particular attention. More importantly, however, we want this to be an opportunity for readers to join a conversation about the rich arts community of this state—perhaps to nudge them in the direction of a theater seat, a gallery or a local bookstore.
Of course, some knowledgeable followers of local arts will disagree with some of our selections. If so, we're happy to keep the conversation going. When it comes to recognizing talented practitioners of every possible art form in Utah, no single issue could ever be big enough.
Scott Renshaw
Arts & Entertainment Editor
CONTRIBUTORS
Brandon Burt, Ehren Clark, Stephen Dark, Austen Diamond, Geoff Griffin, Eric S. Peterson, Rachel Piper, Scott Renshaw, Gavin Sheehan, Brian Staker, Kolbie Stonehocker, Jacob Stringer, Colin Wolf, Jerre Wroble



THEATER
BEST ORIGINAL PLAY
Dottie: The Sister Lives On!, by Charles Lynn Frost and Christopher R. Wixom (Salt Lake Acting Company)
Sister Dottie S. Dixon—the character based on local actor Charles Lynn Frost's mother—inspires us to greater heights of compassion and understanding. Dottie, with her folksy ways and Spanish Fork twang, makes us better, more tolerant and more neighborly. Yes, as indigenous Utahns, we've laughed uproariously at Dixon's "Spaneesh" lessons, but The Sister Lives On! did more than simply poke fun at Utah colloquialisms. With co-writer Christopher R. Wixom, the one-woman monologue was brilliantly structured, following a well-planned arc from side-splitting comedy through intelligent farce to tear-jerking drama, and ending on a genuinely inspirational note. SaltLakeActingCompany.org
BEST COMMUNITY THEATER GROUP
Dark Horse Company Theatre
Dark Horse has everything a community theater troupe needs: talent, ambition, excellent creative direction and a fantastic venue at the Egyptian Theatre in the heart of Park City's historic Main Street. Always fun, always crowd-pleasing, this past season's productions—including Ring of Fire and Chicago—consistently sold out and have raised the bar high for Dark Horse's upcoming season, including Jekyll & Hyde, as well as Stephen Sondheim's Assassins. EgyptianTheatreCompany.org
BEST LOCAL PRODUCTION
The Third Crossing (Plan-B Theatre Company)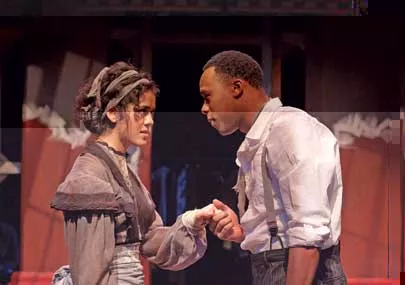 BEST INDIVIDUAL PERFORMANCE

Kalyn West, The Third Crossing (Plan-B Theatre Company)

Debora Threedy's world-premiere play takes a huge risk in tackling the subject of race in America, but her angle—which focuses on the much-speculated-upon relationship between Thomas Jefferson and slave Sally Hemings—allowed for a fascinating exploration of the arbitrary lines used to separate black from white. Director Jerry Rapier guided his terrific cast through multiple roles and found a way to pull in his audience with a little participation that made the play far more than an abstract academic lesson. At the center was the performance of Kalyn West (pictured) as Hemings, a beautiful portrayal of yearning, tangled emotions and the experience of standing on the border between a world that limited her and the opportunities opened up to generations after her.
PlanBTheatre.org
BEST CLASSICAL/OPERA PERFORMANCE OR PRODUCTION
Of Mice & Men (Utah Opera)
Carlisle Floyd adapted John Steinbeck's Depression-era novella for the operatic stage in 1969, and Floyd's modern, bitonal score continues to challenge listeners. However, maybe this victory is a sign that Utah's operatic audience is all grown up. Lennie (Corey Bix) and Curley's wife (soprano Sara Gartland) were superb, but special kudos still go to the four-legged actor who, for some reason, didn't merit a program credit: Walter, who portrays Candy's (Ryan Allen) aged pet dog. No matter what high-pitched dramatic warbling emerged from the humans onstage, this cute pooch—under the tutelage of trainer Lou Carlson—remained absolutely, steadfastly silent. Of course, Walter dove for cover whenever Gartland appeared onstage. But that just shows good sense: Anybody un-terrified of a soprano diva simply isn't paying attention. USUO.org
BEST TOURING PRODUCTION
Wicked (Broadway Across America)
It may have been the second visit for this Broadway hit, but the excitement it generated was almost as great as it was during the 2009 engagement. Audiences still thronged to the story of the relationship between those complex witches of Oz, and the dynamic, eye-popping production. But the appeal remained in the more intimate side of the show, with wonderful performances by Nicole Parker and Alli Mauzey elevating the already-classic songs by Stephen Schwartz. Even a month-long run didn't feel like enough. BroadwayAcrossAmerica.com
DANCE
BEST CHOREOGRAPHY
Charlotte Boye-Christensen: But Seriously
Just in case you haven't been paying close attention, Boye-Christensen has become the annual favorite for winning this particular award. Ever since the Denmark native arrived here to take over as artistic director for the Ririe-Woodbury Dance Company, she has been creating celebrated, groundbreaking work for Utah audiences. In typical collaborative style, But Seriously saw her pair up with actor and comedian Ethan Philips, author David Kranes and architect Nathan Webster. As a bit of a mixed blessing, Boye-Christensen is stepping down from her post at RWDC, which hopefully means she will have much more time to develop her breathtaking choreography. RirieWoodbury.com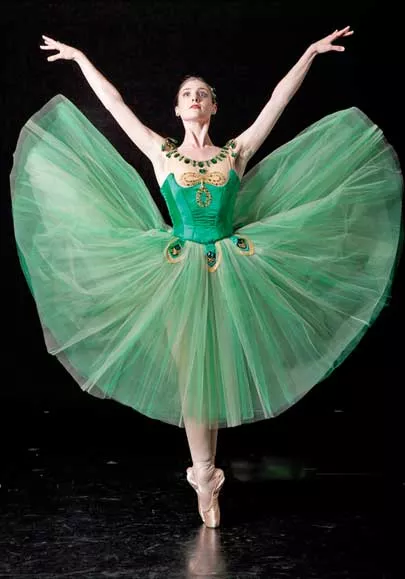 BEST DANCE PRODUCTION
Ballet West: Emeralds

Ballet West's spring performance, Emeralds, was named after the lyrical George Balanchine piece but also contained works as diverse as Jiri Kylian's contemporary Petite Mort and the showpiece, Marius Petipa's Grand Pas from Paquita. What made this mixed-bag evening work so well is the fact that it brilliantly showcased the breadth of Ballet West's style and ability. Perhaps that is why Utah's award-winning company was chosen for the reality show Breaking Pointe—the dramatic season finale featured scenes filmed on the final night of the Emeralds run.
BalletWest.org
BEST DANCER
Christiana Bennett
Bennett joined the ranks of Ballet West in 1999 and has been a mesmerizing principal with the company ever since she was promoted in 2004. Her popularity this year has spiked in and out the state with her television exposure via The CW's reality show Breaking Pointe. In fact, her turn in George Balanchine's Emeralds was featured on the program's season finale. Luckily for Utah audiences, Ballet West is scheduled to perform the expressive work again this next season along with Balanchine's other jewels, Ruby and Diamond, in which Bennett will surely once again grace the spotlight. BalletWest.org