Earlier this summer, Sight & Sound magazine released its decennial poll of scholars, critics and filmmakers who identified the greatest films in cinema history. Much debate about the selections ensued: about contributors who named weird obscurities, about Vertigo displacing Citizen Kane at the top, etc. But it was a conversation—lively, confrontational, provocative—about art.
This seventh-annual City Weekly Artys issue—like all lists and awards—is only partly about the results. We certainly honor those whom have been selected by readers' votes, as well as those additional individuals named by our staff members and freelance arts contributors; we truly believe they're worthy of particular attention. More importantly, however, we want this to be an opportunity for readers to join a conversation about the rich arts community of this state—perhaps to nudge them in the direction of a theater seat, a gallery or a local bookstore.
Of course, some knowledgeable followers of local arts will disagree with some of our selections. If so, we're happy to keep the conversation going. When it comes to recognizing talented practitioners of every possible art form in Utah, no single issue could ever be big enough.
Scott Renshaw
Arts & Entertainment Editor
CONTRIBUTORS
Brandon Burt, Ehren Clark, Stephen Dark, Austen Diamond, Geoff Griffin, Eric S. Peterson, Rachel Piper, Scott Renshaw, Gavin Sheehan, Brian Staker, Kolbie Stonehocker, Jacob Stringer, Colin Wolf, Jerre Wroble



THEATER
BEST ORIGINAL PLAY
Dottie: The Sister Lives On!, by Charles Lynn Frost and Christopher R. Wixom (Salt Lake Acting Company)
Sister Dottie S. Dixon—the character based on local actor Charles Lynn Frost's mother—inspires us to greater heights of compassion and understanding. Dottie, with her folksy ways and Spanish Fork twang, makes us better, more tolerant and more neighborly. Yes, as indigenous Utahns, we've laughed uproariously at Dixon's "Spaneesh" lessons, but The Sister Lives On! did more than simply poke fun at Utah colloquialisms. With co-writer Christopher R. Wixom, the one-woman monologue was brilliantly structured, following a well-planned arc from side-splitting comedy through intelligent farce to tear-jerking drama, and ending on a genuinely inspirational note. SaltLakeActingCompany.org
BEST COMMUNITY THEATER GROUP
Dark Horse Company Theatre
Dark Horse has everything a community theater troupe needs: talent, ambition, excellent creative direction and a fantastic venue at the Egyptian Theatre in the heart of Park City's historic Main Street. Always fun, always crowd-pleasing, this past season's productions—including Ring of Fire and Chicago—consistently sold out and have raised the bar high for Dark Horse's upcoming season, including Jekyll & Hyde, as well as Stephen Sondheim's Assassins. EgyptianTheatreCompany.org
BEST LOCAL PRODUCTION
The Third Crossing (Plan-B Theatre Company)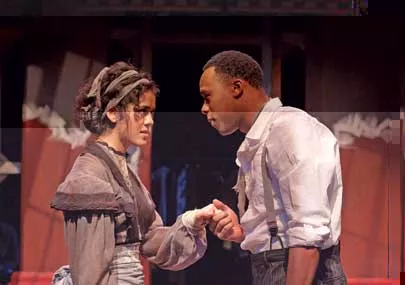 BEST INDIVIDUAL PERFORMANCE

Kalyn West, The Third Crossing (Plan-B Theatre Company)

Debora Threedy's world-premiere play takes a huge risk in tackling the subject of race in America, but her angle—which focuses on the much-speculated-upon relationship between Thomas Jefferson and slave Sally Hemings—allowed for a fascinating exploration of the arbitrary lines used to separate black from white. Director Jerry Rapier guided his terrific cast through multiple roles and found a way to pull in his audience with a little participation that made the play far more than an abstract academic lesson. At the center was the performance of Kalyn West (pictured) as Hemings, a beautiful portrayal of yearning, tangled emotions and the experience of standing on the border between a world that limited her and the opportunities opened up to generations after her.
PlanBTheatre.org
BEST CLASSICAL/OPERA PERFORMANCE OR PRODUCTION
Of Mice & Men (Utah Opera)
Carlisle Floyd adapted John Steinbeck's Depression-era novella for the operatic stage in 1969, and Floyd's modern, bitonal score continues to challenge listeners. However, maybe this victory is a sign that Utah's operatic audience is all grown up. Lennie (Corey Bix) and Curley's wife (soprano Sara Gartland) were superb, but special kudos still go to the four-legged actor who, for some reason, didn't merit a program credit: Walter, who portrays Candy's (Ryan Allen) aged pet dog. No matter what high-pitched dramatic warbling emerged from the humans onstage, this cute pooch—under the tutelage of trainer Lou Carlson—remained absolutely, steadfastly silent. Of course, Walter dove for cover whenever Gartland appeared onstage. But that just shows good sense: Anybody un-terrified of a soprano diva simply isn't paying attention. USUO.org
BEST TOURING PRODUCTION
Wicked (Broadway Across America)
It may have been the second visit for this Broadway hit, but the excitement it generated was almost as great as it was during the 2009 engagement. Audiences still thronged to the story of the relationship between those complex witches of Oz, and the dynamic, eye-popping production. But the appeal remained in the more intimate side of the show, with wonderful performances by Nicole Parker and Alli Mauzey elevating the already-classic songs by Stephen Schwartz. Even a month-long run didn't feel like enough. BroadwayAcrossAmerica.com
DANCE
BEST CHOREOGRAPHY
Charlotte Boye-Christensen: But Seriously
Just in case you haven't been paying close attention, Boye-Christensen has become the annual favorite for winning this particular award. Ever since the Denmark native arrived here to take over as artistic director for the Ririe-Woodbury Dance Company, she has been creating celebrated, groundbreaking work for Utah audiences. In typical collaborative style, But Seriously saw her pair up with actor and comedian Ethan Philips, author David Kranes and architect Nathan Webster. As a bit of a mixed blessing, Boye-Christensen is stepping down from her post at RWDC, which hopefully means she will have much more time to develop her breathtaking choreography. RirieWoodbury.com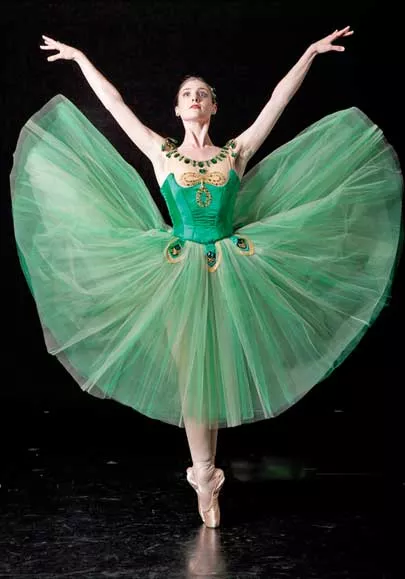 BEST DANCE PRODUCTION
Ballet West: Emeralds

Ballet West's spring performance, Emeralds, was named after the lyrical George Balanchine piece but also contained works as diverse as Jiri Kylian's contemporary Petite Mort and the showpiece, Marius Petipa's Grand Pas from Paquita. What made this mixed-bag evening work so well is the fact that it brilliantly showcased the breadth of Ballet West's style and ability. Perhaps that is why Utah's award-winning company was chosen for the reality show Breaking Pointe—the dramatic season finale featured scenes filmed on the final night of the Emeralds run.
BalletWest.org
BEST DANCER
Christiana Bennett
Bennett joined the ranks of Ballet West in 1999 and has been a mesmerizing principal with the company ever since she was promoted in 2004. Her popularity this year has spiked in and out the state with her television exposure via The CW's reality show Breaking Pointe. In fact, her turn in George Balanchine's Emeralds was featured on the program's season finale. Luckily for Utah audiences, Ballet West is scheduled to perform the expressive work again this next season along with Balanchine's other jewels, Ruby and Diamond, in which Bennett will surely once again grace the spotlight. BalletWest.org
LITERARY

BEST FICTION BOOK
How to Save a Life, by Sara Zarr
In her fourth novel, the author of the National Book Award-nominated Story of a Girl continues to thwart simplistic attempts to diminish the emotional complexity of a work classified as "young adult literature." Her story of two wounded teen girls—Jill, grieving over the death of her father, and expectant unwed mother Mandy, coming to stay as Jill's mother plans to adopt the baby—explores characters who are simultaneously deeply sympathetic and full of mistrust of the people around them. The result is a story of healing that moves the spirit in unexpected ways. SaraZarr.com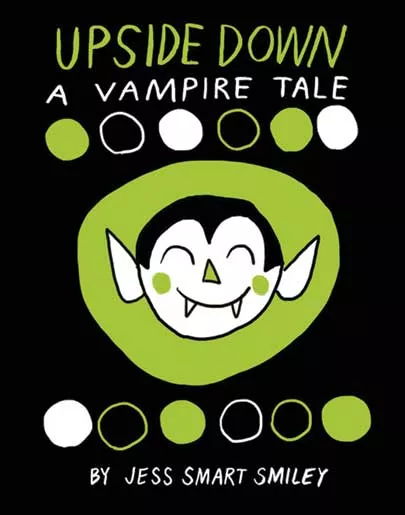 BEST GRAPHIC NOVEL/ZINE
Upside Down: A Vampire Tale, by Jess Smart Smiley

From the mind of artist Jess Smart Smiley, this debut graphic novel follows the story of a boy vampire who loses his teeth, leading him into an adventure involving the last witch on Earth and a mad scientist bent on destroying the world. Yes, the tale is quite preposterous—which is exactly what made it popular via online sketches and simple designs. Smiley's drawings in black, white and Halloween green give it a childlike appearance, but the story has the makings of a great series for all ages to enjoy.
JessSmartSmiley.wordpress.com
BEST NONFICTION BOOK
When Women Were Birds, by Terry Tempest Williams
Williams has already laid bare parts of her family history in her memoir Refuge, yet finds a new intimacy with this fascinating, haunting series of recollections. After her mother's death, Williams found that she had kept several journals—yet all were filled with nothing but blank pages. Her meditation on the meaning of that blankness travels through various moments in her life— family ties, religious rituals, sexual awakenings—repeatedly interpreting and reinterpreting what those empty pages convey. It is an experience both deeply human and ethereally poetic. CoyoteClan.com
BEST POETRY COLLECTION
Love, An Index, by Rebecca Lindenberg
Alfred, Lord Tennyson once famously noted, "Tis better to have loved and lost than never to have loved at all." Local poet Rebecca Lindenberg's debut novel-in-verse is an elegy told in a series of poems about her relationship with Craig Arnold, a respected poet who died in 2009 while hiking near a Japanese volcano. When it comes to dealing with the tragedy of loss, Lindberg's clear-eyed voice is poignant, beautiful and oftentimes humorous. McSweeneys.net
VISUAL ARTS
BEST PHOTOGRAPHY EXHIBITION
Josh Winegar @ Kayo Gallery
Winegar's attention to detail and stunning clarity in even the most eye-catching type of photography has made him a standout player in Utah photography circles. His 2011 Kayo showcase highlighted work from two different series: The Rapture Of, which featured bright lens flare within landscape shots; and Folds, where a series of individual portrait shots were folded over the people to create startling, disembodied apparitions among beautiful backgrounds. The show (which also featured works from Dan Christofferson) was one of Kayo's most attended in 2011, earning Winegar press and a wider audience to boot. JoshWinegar.com
NONLOCAL/TOURING EXHIBITION
Sundance New Frontier
Sundance may have been the big event in January, but it was New Frontier that stole the show during the 2012 festival. The Utah Museum of Contemporary Art exhibition showcased interactive electronic elements from virtual reality and video gaming to solid-state pieces and 3-D films. Some of the more popular elements included gaming kiosks such as McDonalds: The Game, where you had to run a successful business at any cost; the transmedia project Question Bridge: Black Males, about redefining black male identity in America, and Hunger in Los Angeles, which put you in the moment of the food crisis happening in California. Sundance.org
BEST PAINTING EXHIBITION
Steven Larson
@
Evolutionary Healthcare

The recent show of works by Larson was a reminder and a revelation by an artist who is a popular fixture in the Salt Lake City art community. Known for breezily intense drawings of communities and atmospheres, his painting was the focus at the Evolutionary Healthcare retrospective. Larson's imaginatively colored, expressively rendered city-scapes and unearthly tinted, filigree-lined large-scale maps were the reminder. The revelation came with the new paintings showing a stunningly beautiful organic evolution ("Intrinsue" is pictured). Each is an ebb and flow of elements, a movement of color and texture, an evocation of emotion and a product of pure expression.
StevenLarsonPaintings.com
BEST SCULPTURE/MIXED-MEDIA EXHIBITION
Amy Caron: Holotype
Who'd guess that an art show about algae would have captivated our readers in the sculpture/mixed-media category? But Amy Caron's Holotype—like her Waves of Mu performance piece about the neurology of the brain—was about investigating deeper implications and connections between different natural organisms and structures, and what an elementary organism like algae can teach us about nature and even ourselves. It doesn't hurt that the construction of the piece—of steel frames threaded with high-tech polymer plastic and mirror fragments—was visually stunning in its space at The Leonardo.
BEST ILLUSTRATION/ PRINT EXHIBITION
Nic Annette Miller: Horny
Nic (Nicole) Annette Miller had viewers by the horns with her prints mounted on woodcuts exhibited at Stolen & Escaped gallery in January. There is a lot packed into these pieces—animal faces, icons of local fauna, oversize renderings of imposing presences in the natural world as well as a commentary on gender—but they are also very wall-friendly. Her Horny Utah Dudes—with a bighorn sheep atop a deer standing on a moose perched on an elk on a buffalo—is kind of like the "turducken" of local big-game depictions. FriendsMakePrints.com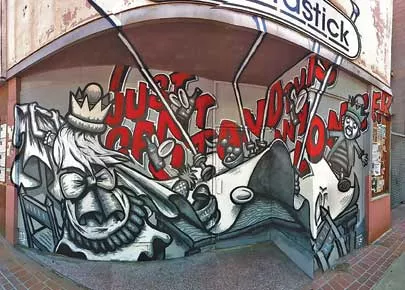 BEST GRAFFITI/PUBLIC ART
Trent Call

Perhaps you've seen his giant Alice in Wonderland-themed mural on the front door of what was once the Yardstick on 300 South in downtown Salt Lake City. And if you look in almost any of the other nooks and crannies of Salt Lake City, you'll more than likely find the beautiful works of multimedia artist Trent Call. He's undoubtedly one of the busiest artists in Utah. Besides back alleys, Call's work­—which resembles old Disney-esque characters hanging out inside an '80s Trapper Keeper—can also be found in local zines, bumper stickers and fine-art galleries.
Swinj.com
BEST SHORT FILM
Yellow Pill, by Chris Rodgers
Yes, it's almost certainly meant as an allegory, but this haunting film works on a visceral level as well as an intellectual one. Over the course of a single day, Yellow Pill—shown at the Utah Arts Festival's Utah Short Film of the Year competition—observes a man as he depends on the contents of his pill container to deal with every moment of his day, every bodily need, every variation of emotion. As expertly conceived as the idea was at distilling a culture of pharmaceutical dependence to one character, it also proved to be a creepy, darkly funny and visually mesmerizing piece of film craftsmanship.
BEST TATTOO ARTIST
Sarah de Azevedo
It's no surprise that de Azevedo would end up taking home back-to-back wins from the City Weekly readers, given that her work has become highly sought after. The Oni Tattoo Gallery artist has a fine attention to detail that fine-art illustrators would be jealous of, painstakingly getting the smallest accents on animals and flowers. She would even (if you so desire) craft an LDS temple on your arm. If you're looking for more than just a pretty heart and want an actual piece of art, de Azevedo is your best bet in Salt Lake City. 325 E. 900 South, Salt Lake City, 801-355-1885, OniTattooGallery.com
COMEDY
BEST IMPROV GROUP
Laughing Stock
Laughing Stock is what happens when you take a bunch of local comedians, throw 'em onstage and have the audience tell them what to do, sort of like Whose Line Is It Anyway? Originally formed to fill seats between plays at The Off Broadway Theatre in downtown Salt Lake City in 1994, Laughing Stock is now the longest-running and most successful improv-comedy troupe in Utah. Great for a date night or evening out with the family, every show is cheap, hilarious and never the same. 272 S. Main, Salt Lake City, 801-355-4628, LaughingStock.us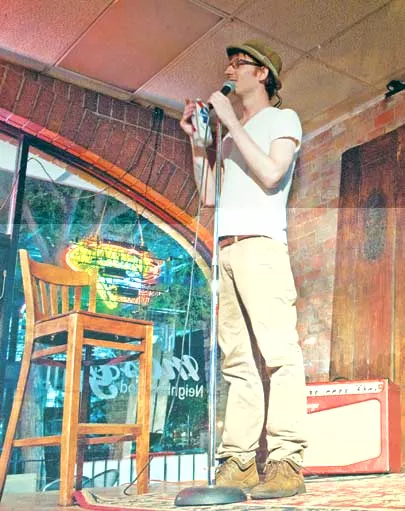 BEST STAND-UP COMIC
Levi Rounds

It's not the first time City Weekly readers have shown a fondness for the caustic comedic stylings of Mr. Rounds, which just goes to show that art doesn't have to be sweet to go down easy. Drawing material from a seemingly boundless well of loathing for both himself and the rest of the world, Rounds shares anecdotes about ill-advised attempts at drunken sex ("like trying to unlock a door with an overcooked penne noodle"), self-hating gay Mormons and overpopulation. He's all about the rage, and all the funnier for it­—and with his plans to relocate to Los Angeles, this may mark his last win in this category.
Facebook.com/Levi.Rounds
CRAFTS
BEST JEWELRY DESIGN
Christine Fedor/Punkenstein
With steampunk becoming one of the biggest genres of art to hit pop culture in the past decade, it has become hard to find creations that aren't overpriced or poorly pieced together. But Christine Fedor's pieces under the Punkenstein brand have become a great balance for those looking for a special item that fits their budget. Each gear, each key, each small bronze or copper creature is hand-picked to create unique rings, necklaces and brooches that catch the eye and flatter the wearer. Every piece also seems to come with its own back story. PunkensteinJewelry.com
BEST FASHION DESIGN
Sorry Clementine
Suzanne Holifield's clothes have done more than make her a mainstay designer in the community; they've cemented her as a vital addition to the fashion community. For nine years, Sorry Clementine has produced designs a little outside the norm, which has earned her a clientele who constantly return for the latest designs to come from her scissors and stitches. Besides doing phenomenal business in 2012, Holifield also created more than 300 original totebags for Craft Lake City artists and volunteers, putting her own touch on the event in a massively produced product. SorryClementine.com

BEST ART-OMOBILES
Speed: the Art of the Performance Automobile @ Utah Museum of Fine Arts
Automobile historian Ken Gross curated this exhibition of 19 eye-popping vehicles, from sexy sports cars to historic automobile legends to sleek and futuristic-looking streamliners. Ab Jenkins' record-setting Mormon Meteor III (pictured), now fully restored, is there, all shiny and new. The exhibition drew car collectors far and wide to Utah, including museum patron and former U.S. ambassador, John Price, and NBC talk-show host Jay Leno. Leno reminded attendees that our salt flats-racing traditions that locals take for granted are famous around the world. You can still catch the exhibit until Sept. 16, and then, it's gone in 60 seconds. SpeedUMFA.com
BEST SALTY PERFORMANCE ART
Jenevieve Hubbard
Conceptual artist Jenevieve Hubbard was not conservative with the production of her mesmerizing performance art at Nox Contemporary Art Gallery (440 S. 400 West) in February 2012. First ingredient: pure ingenuity. Second: three performers dressed in white (Hubbard, Stefanie Slade and Kim Schmidt). Third: a curtained performance group, Sons of the Atom, for unearthly sound. Finally: 250 pounds of salt. The performance was a symbolic ritual lasting three hours, as handfuls of salt were hypnotically taken from a large mound to create small piles, conceptually reclaiming spaces—giving back what humanity has taken away. JenevieveHubbard.com
BEST SECOND-HAND ARTIST
Reclaimed Sentiment
Phoenix Ostermann's method is to take objects from the past and bring them to life again with new meaning. She can frequently be found in local thrift stores, where she buys old frames with old images in them—an aged landscape, a photograph—and finds the inspiration to create. She also buys "mid-century" books with images she can use as her tools. The result may be a Norman Rockwell Thanksgiving scene with a brain on a platter, titled "The Brains of The Family"; or a happy family picnicking on the parts of a pig as a jester approaches with a giant carrot ("The Fool," pictured). ReclaimedSentiment.com
BEST CHANGE OF FACE
Aaron Moulton, Utah Museum of Contemporary Art
It was no matter of chance that Aaron Moulton assumed the position of senior curator this year just as the Salt Lake Art Center was becoming the Utah Museum of Contemporary Art. Building on the great foundation laid by Micol Hebron, Moulton—along with his team and Executive Director Adam Price—guided the venue toward more change this year than in the past 10 years combined. The seasoned Moulton knows every perspective of the art world firsthand and fits the demanding position ideally. Just as an artist has the power to change, his curation looks to have a transforming effect. 20 S. West Temple, Salt Lake City, 801-328-4201, UtahMOCA.org
BEST HISTORY-OF-SLC-ART GALLERY
Phillips Gallery
Phillips Gallery's importance lies in its unique representation of the past and present of the spirit of the region. Denis Phillips and his wife, Bonnie, opened the gallery in 1965. Some of the legendary artists it still represents are Lee Deffebach, George Dibble, Irwin Greenberg, Waldo Midgley, Moishe Smith, Bonnie Sucec, Cordell Taylor and Francis Zimbeaux. The gallery is a veritable museum of local historic and contemporary artists. Phillips-Gallery.com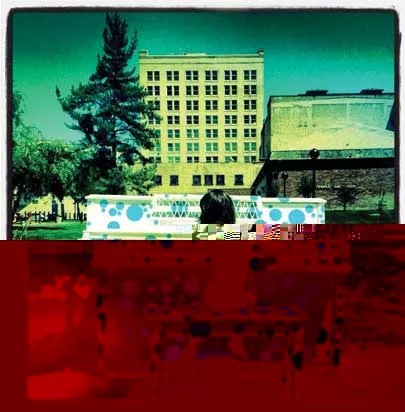 BEST PUBLIC INSTRUMENTS
Play Me, I'm Yours

Complain all you want about the sometimes-quiet downtown streets of Salt Lake City. For the magical month of June, they rang with the joy of pianos pummeled, tickled and teased by us the citizenry. At all hours of day and night, you could come across folks playing whatever their hearts desired on 10 upright pianos decorated by local artists, courtesy of the Utah Museum of Contemporary Art and the national Play Me, I'm Yours project. To which we say: Please come back soon.
StreetPianos.com
BEST GRANDE DAME
Anne Cullimore Decker, Rare Bird
Is there any woman in Utah's art world who has exerted so much influence and touched as many lives as Anne Cullimore Decker? Inspiring countless budding talents coming through the University of Utah Actor Training Program, Utah's leading lady has earned so many awards and honors over the years and held so many council and board positions that we'd run out of ink before we could list them all. When the U's department of theater presented its March benefit performance of Brighde Mullins' Rare Bird, it seemed the leading role of Harriet—the Las Vegas showgirl of a certain age—was simply made for Decker. As usual, Decker's performance brought down the house. Theatre.utah.edu
BEST FILMMAKER TO WATCH
Daryn Tufts
One of a group of actors who was featured in the curious outburst of Mormon-themed and Mormon-made movies in the early 2000s, Daryn Tufts surprised many of his thespian colleagues by turning into a great director. His first feature, 2010's My Girlfriend's Boyfriend, revealed a wry wit and a dab hand at both writing and directing. His second outing as writer/director, Inside, with British actor Luke Goss, focuses on an inmate trapped in a cell as a monster rages through the prison. We're waiting impatiently for this exercise in tension and mystery filmed in, of all places, Provo. All hail the evolution of a genuine Utah auteur. DarynTufts.blogspot.com
BEST CRAFTY STREET ART
Celebration of the Hand
Among the innovations the one-day arts and craft and DIY festival Craft Lake City brought to Salt Lake City this year, none is still so surprising, so aesthetically rewarding, as the Celebration of the Hand exhibit, which features 12 artists' wonderfully quixotic projects in the large metal frames that line 300 South between 200 West and 200 East. Whether the suspended hobbyhorse or the quilt with notes and candy tucked into its folds, the exhibition brings new life to a few urban blocks. CraftLakeCity.com
BEST BACK STORY
Jacob T. Marley, by R. William Bennett
Ebenezer Scrooge's business partner, Jacob T. Marley, makes a brief but very powerful appearance in A Christmas Carol. After all, he's the one who announces to Scrooge he's got one last chance. Utah author R. William Bennett (known for The Christmas Gift)has put together a back story about what happened to Marley, both while on Earth and after death, which expands the story into new areas, providing a unique way to look at this classic story, while holding true to the beautiful Victorian writing style of Charles Dickens. It's a great read to keep on hand for every December. RWilliamBennett.com
BEST APOCALYPSE COUNTDOWN DEVICE
Copper Palate Press: 2012 Zombie Apocalypse Calendar
To commemorate humanity's final year on Earth—since the world will be consumed by hordes of the undead when the Mayan calendar resets or ends on Dec. 21—the talented print-slingers at Copper Palate Press issued a collaborative zombie-themed calendar that whipped local art enthusiasts into a hungry frenzy. Artists included Cameron Bentley, Emilee Dziuk, Sri Whipple, Tyler Densley, Trevor Dopp, Dave Styer and other local favorites. And since each gore-splattered print fits perfectly in an 11-inch-by-14-inch frame once the calendar portion at the bottom is detached, come January 2013, you'll have plenty of bloody-good art to brighten your bunker or bomb shelter. 160 S. 200 East, Salt Lake City, 801-960-2343, CopperPalatePress.com
BEST INSTANT MESSAGES
ARTbytes Community: Hidden
While perusing the many shelves of books at the Salt Lake City Main Library or Chapman branch, you may have been lucky enough to find a friendly salutation, wish, compliment or kind thought on a slip of paper tucked between the pages. Third- to sixth-grade youth of Neighborhood House hid the messages in hundreds of books throughout the libraries as a performance-art piece organized by the ARTbytes Community and the Utah Museum of Contemporary Art. A series of photographs by Christine Baczek on display at the Main Library, titled Hidden, documents the kids hiding the messages. The performance was a lovely reminder that even in our world of Facebook comments and text messaging, real human connection needs to be created and discovered. 210 E. 400 South, Salt Lake City, 801-524-8200, SLCPL.org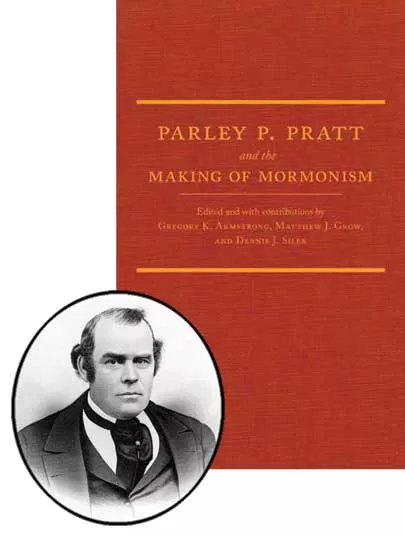 BEST BIOGRAPHY
Parley P. Pratt & the Making of Mormonism, edited and with contributions by Gregory K. Armstrong, Matthew J. Grow and Dennis J. Siler

A biography of Parley P. Pratt is timely because he's Mitt Romney's ancestor; interesting because he did more than anyone but Joseph Smith and Brigham Young to develop and explain Mormon theology; and completely entertaining because the middle P. in his name should have stood for "playa." PPP married 12 women, sometimes without telling his other wives, or even the husbands of the women he was marrying. He got into a fight with his brother over his womanizing while in the temple, and even Young said of him that "He whored." The theological ideas and personal story come together to make a riveting read.
University of Oklahoma Press, OUPress.com
BEST OASIS ARTISTRY
Utah Water Garden Club's Pond Tour
The Utah Water Garden Club must have missed the memo that says we live in a desert and all backyards should be covered with rocks, pebbles and drought-tolerant plant life. These pond enthusiasts are obsessed with creating backyard fountains, water gardens and ponds that bubble, ripple and trickle in and around rocks and over man-made waterfalls. Gently swimming among the aquatic greenery are brightly colored orange and white koi that eagerly approach at meal time to nibble food off your fingers. Members of the Utah Water Garden Club open up their backyards each August for an annual Parade of Ponds. Tickets and information are available at multiple sponsors including Cactus & Tropicals and Millcreek Gardens. PondUtah.com
BEST FOND FAREWELL
Charles Morey, Pioneer Theatre Company
The longtime artistic director of Pioneer Theatre Company stepped down this year, turning over the reins to Karen Azenberg. But before stepping out the door, he oversaw a top-notch season of some of his favorite works, including an encore production of his own charming backstage farce, Laughing Stock. Morey somehow also found time to direct four of the season's seven productions—including The Tempest, the world-premiere Find & Sign and Man of La Mancha—providing ample opportunity to remind local theater-lovers how much he has contributed to Salt Lake City over the years. PioneerTheatre.org

BEST LOCAL COMEDIAN TWITTER FEED
Christian Pieper
Dozens of Utah-based comedians have turned Twitter into a hilarious testing ground for material. But few nail their gags with more regularity than Utah County's own Pieper, whose pithy surrealism covers everything from his background ("Being raised Mormon in Kentucky is hard, because everyone's like 'you're the wrong kind of racist'") to parades ("like watching society's feces flow through our collective intestines"). He's the funniest guy ever to live-tweet the Dawson's Creek pilot ("Pacey realizes he misjudged his teacher's obvious attempts to rape him"). @cmpieper
BEST COLLECTIVE EXHIBITION
The Happy Accidents Project

It seems like a ridiculous concept, getting some of Salt Lake City's most prominent artists together to create two paintings ("Grandeur of Summer" is pictured; top by Chris Rudert, bottom by Lindsay Frei) under the skilled hand of Bob Ross, but that's exactly what took place one fine day in May. Eleven artists including Trent Call, Tessa Lindsey, Justin Carruth, Brad Slaugh and Sri Whipple gathered in an artspace along Broadway to paint two portraits from two episodes of the PBS classic The Joy of Painting. The works that came out weren't so much "happy accidents" as an interesting exercise in what happens when artists of different genres come together to paint the same thing.
HappyAccidentsProject.com
BEST INTRO TO SYMPHONY
Utah Symphony's The Magical Music of John Williams
Experiencing orchestral music live is exhilarating—but it's not always easy to entice a new generation of listeners into that world. In April, the Utah Symphony's Magical Music of John Williams program provided a wonderful entry point, as Abravanel Hall filled with families to enjoy familiar film music from Harry Potter, Star Wars, Jaws and Superman—with interludes introduced by conductor Vladimir Kulenovic to explore some of the works that may have influenced Williams. Add pre-show photo opportunities with Wookiees and Imperial Stormtroopers, and symphony never seemed so accessible to all ages. USUO.org
BEST DOWNTOWN MURAL
Korner Market Mural
If you've ever had the chance to cut through Exchange Place between 300 and 400 South you've probably been drawn like a moth to a flame to one of Kier Defstar's apocalyptic, spray-paint masterpieces running alongside the Korner Market and the Heavy Metal Shop. From the alien-like creature perched over the entrance to the Heavy Metal Shop, the UFO, the floating monk and the massive green goddess figure—complete with a beetle necklace and lightning shooting out of her eyes—Defstar's current piece grabs bystanders by the eyeballs and doesn't let go. 63 Exchange Place, Salt Lake CIty
BEST SLC DANCE FORUM
loveDANCEmore
There often really isn't much to a name, but Ashley Anderson's forum loveDANCEmore is titled like a direct challenge to the Salt Lake City community. According to Anderson, the whole point of LDM is to help generate "a new way to think about dance in Salt Lake City. It asks us what our dance practices are, what performance can be and, most importantly, how we can support one another." She does this through insightful online reviews, a biannual journal filled with essays, photos and commentaries, and a series of community events including regular performances like Mudson. LoveDanceMore.org
BEST TUTORIAL ON HOW TO SEE THE INVISIBLE
Salt Lake Design Week
Design is everywhere, but it's also considered to be a fairly invisible art—mainly because when it's done right, it often comes down to beautifully simplifying the complex. Apple has made its name on such feats. In November 2011, Salt Lake City held its first Design Week, illuminating such hidden art by gathering practitioners and enthusiasts together from various fields in the industry for open studio tours, exhibitions, lectures, workshops, receptions and forums held throughout the downtown area. SLDesignWeek.org
BEST PATRON OF THE ARTS
Utah Arts Festival Commissions
The annual Utah Arts Festival truly gets bigger and better every year, especially since it found a permanent venue at Library and Washington squares. But one of the best choices the festival has made in recent years is to become an active patron in the arts. This year, it commissioned a number of artists to create new work specifically for the festival, including a chamber ensemble by Timothy Kramer, a jazz piece by Henry Wolking and some choreography by Ballet West's Tom Mattingly. UAF.org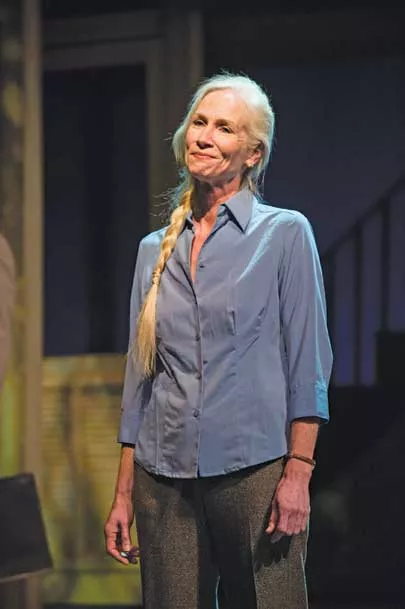 BEST "KILL"-ER PERFORMANCE
Monica Bell, To Kill a Mockingbird (Utah Shakespeare Festival)

As one of the centerpieces of this year's Utah Shakespeare Festival in Cedar City, To Kill a Mockingbird was a powerful adaptation of Harper Lee's much-loved classic. At the heart of the show, Monica Bell's performance of the adult Jean Louise Finch was a marvel of passion, energy and focus that knitted the piece together. She channeled the spirit of Lee's book in a way that was both somber and invigorating.
Bard.org
BEST LOCAL ARTIST MOVEMENT
The Hive Gallery
Those behind The Hive Gallery believe that "art isn't limited to a two-dimensional blank canvas. … the world is our canvas." And that includes even Layton, in outer suburbia. The Hive Gallery, headquartered in Trolley Square, is dedicated to showing (and selling) the works of local artists—painters, photographers, poster-makers and jewelry-makers—and spreading the LAM (Local Artist Movement) philosophy. This year, a second location opened in the Layton Hills Mall. Why should Salt Lake City have all the fun? 605 E. 500 South, Trolley Square; 1201 N. Hill Field Road, Layton
Best Provo-cation
Leuven

The mere fact that you could be detained and ticketed by Provo police for holding a skateboard on city sidewalks makes some wary of even standing outside to chat after 10 p.m. But not the elusive underground artist known as Leuven, who has taken back the clean streets with his own brand of pop art, most notably the "Provo bike" logo that's become a staple of the cycling community and earned the mysterious artist support from entertainment leaders. In the spirit of Banksy, Leuven continues to evade graffiti tickets while sprucing up Provo with a little more flavor.
BEST ENCHANTED CASTLES
Tuesdays at the Castle, by Jessica Day George
Not much could be better than living in a castle—unless that castle were an enchanted castle that could add rooms and staircases at will. Reminiscent of Diana Wynne Jones, Tuesdays at the Castle, by prolific Utah children's/young adult author Jessica Day George, mixes charming, lightly humorous fantasy with full-scale adventure and intrigue, as youngest child Celie schemes to save the castle and the kingdom when her parents, King and Queen Glower, go missing mysteriously. Glower Castle is the perfect place to escape for an afternoon—or longer, with sequel Wednesdays in the Tower forthcoming. JessicaDayGeorge.com
BEST MIXED COMPANY
Art Meets Fashion
This national event, produced locally by Anne Cummings and Heidi Gress, is an annual, one-night-only event that brings together some of Utah's brightest minds in the world of art and showcases them next to some of Utah's greatest fashion designers in an extravaganza of creativity. The event itself has turned into a who's-who of local culture and entertainment, growing in popularity and attendance every year as the biggest names in the scene gather to converse while checking out the latest works to hit boutiques, clothing shops and galleries. ArtMeetsFashion.net

BEST PHOTOGRAPHY AS ACTIVISM
This Light of Ours @ The Leonardo
The Leonardo's This Light of Ours: Activist Photographers of the Civil Rights Movement used 156 black & white photos to depict the '60s-era Civil Rights struggle led by the Rev. Martin Luther King Jr. The nine photographers who shot the images were activists within the movement, and their involvement gave them access and acute awareness of the struggle. The traveling exhibit showed how American youth were drawn to the movement and became agents of change. An evocative testament to the idealism and dedication of an earlier generation, the photos asked viewers how much they would sacrifice for social justice. 209 E. 500 South, Salt Lake City, 801-531-9800, TheLeonardo.org
BEST PROSELYTIZER OF POETRY
Lance Larsen
When Gov. Gary Herbert called BYU professor Lance Larsen this spring, asking him to serve as the state's poet laureate, Larsen may have quoted Shakespeare's Sonnet 55: "Not marble, nor the gilded monuments/ Of princes, shall outlive this powerful rime." In other words, "yes." As the state's previous poet laureate, Katharine Coles, came to the end of her term, Larsen agreed to champion the literary arts in Utah over the next five years. The author of three collections of poetry, Larsen has been awarded the Literature Fellowship in Poetry from the National Endowment for the Arts. His fourth poetry collection, Genius Loci, is scheduled to be published in late 2012. Arts.Utah.gov/area_interest/literary_arts/poet/
BEST LOVE FOR THE JETTY
Westminster College Great Salt Lake Institute, Utah Museum of Fine Art & Dia Foundation
The challenge of all great works of art is how best to preserve them for future generations. The stakes are even higher when said work of art is a massive earthwork sculpture that is frequently underwater in the Great Salt Lake. Sculptor Robert Smithson constructed a 1,500-foot counterclockwise coil on the lake's northeastern shore in 1970. After his death in 1973, Smithson's estate donated the "Spiral Jetty" to New York-based Dia Foundation in 1999. Dia recently, however, almost lost the work due to missing a lease payment on the state land that lies beneath the work. It's obvious that a local presence could be of some help to Dia. To that end, Westminster College and the Utah Museum of Fine Art this year teamed up with Dia to protect this iconic Utah jewel. RobertSmithson.com
BEST LIFE-SAVING WILDLIFE PHOTOGRAPHER
Kent Keller
Kent Keller is a volunteer for the Division of Wildlife Resources who documents eagles. He recalled placing a band on a young eagle in an area west of Utah Lake. Three weeks later, the Dump Fire consumed more than 5,000 acres there. When Keller went looking for the bird's nest in late June, expecting to find a dead eagle, he discovered a badly burned eagle, still alive, crouched in junipers below the nest. He made arrangements to have the eagle taken to the Wildlife Rehabilitation Center in Ogden. In looking at his website, this life-saving photographer has not only taken close-up shots of any number of wild birds but also foxes, horses, mountain goats and even rattlesnakes. His wildlife photos are rare and one-of-a-kind, allowing viewers to fathom the unique personalities of wild animals. RedBubble.com/explore/keller+kent+photography
BEST ARTS FUND-RAISING
Spy Hop Productions
As a nonprofit youth media-arts center, Spy Hop's role is to encourage the youth of today to say something big and bold. That impulse is channeled into Spy Hop's diverse offerings such as film, music, animation, sound recording, radio production, graphic design and game design. Community support is needed, and Spy Hop's fundraising mechanism is simple and inspired. A live auction allows student directors to "pitch" their ideas onstage. For each individual project, the audience can bid as little as $10 all the way up to $5,000 or $10,000 (giving the high-rollers "producer" credits). Think Kickstarter, only in a big room with lots of supporters enjoying food and drink, sharing their excitement for the creativity that lies ahead. 511 W. 200 South, No. 100, Salt Lake City, 801-532-7500, SpyHop.org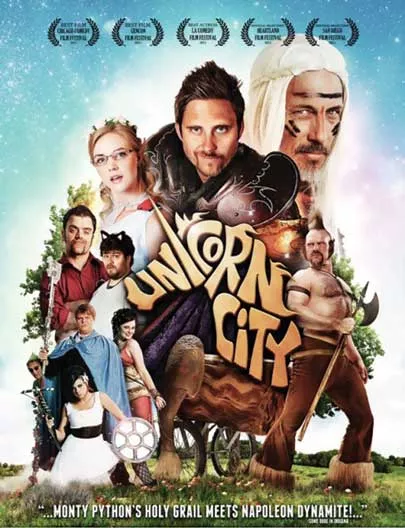 BEST LOVE LETTER TO LARP-ERS
Unicorn City
"Made-in-Utah comedy" has historically been an oxymoron where movies are concerned, but the sibling filmmaking team of Adrian and Bryan Lefler scored a charming success with their story of a would-be game designer who tries to build his résumé by creating an idealized community for his friends and fellow role-playing enthusiasts. The affection for their subject matter permeates the characters and the gags, including a staged battle against a makeshift dragon. With low-key humor and a true understanding of what makes this particular brand of geek tick, the Leflers laughed at live-action role play and laughed with it.
UnicornCity.com
Best Chewing of Scenery—Literal Division
Topher Rasmussen, Course 86b in the Catalogue (Salt Lake Acting Company)
Ah, life is good for a modern-day evolutionary throwback subsisting in the central Utah desert! At least, that was the sense we got from Topher Rasmussen's portrayal of missing link Sterling Jensen in Kathleen Cahill's farcical comedy Course 86b in the Catalogue. Literally chewing the scenery (or, more accurately, the props), in his first Salt Lake Acting Company performance, Rasmussen found his inner ape and gave himself over to the role with such uninhibited joy and abandon it was difficult to believe such a young talent has already developed sufficient range to paradoxically infuse such an over-the-top performance with so much perceptivity and tenderness. SaltLakeActingCompany.org
BEST ART SHOW IN A GALAXY NOT FAR AWAY
Blonde Grizzly Star Wars Show
Blonde Grizzly celebrated its grand re-opening by gathering a group of local geeky artists together for a Star Wars-themed art show May 5, just after Star Wars Day on May 4 ("May the fourth be with you."). Wookiees, Sith Lords, Queen Amidala (pictured, by Candace Jean), R2-D2, C-3PO, Han Solo, Ewoks, the Skywalker siblings and the big guy himself, Darth Vader, were immortalized in a variety of mediums, by artists such as Desarae Lee, Andrew Sato, Dave Styer and other Jedi masters. Some pieces were cartoon-like, others gorgeously realistic, but all were joyful depictions of a movie series that's become an essential part of our popular culture. 213 E. Broadway, Salt Lake City, 801-355-9075, BlondeGrizzly.com
BEST HAUNTED ATTRACTION
Castle of Chaos
Managing one haunted house can be a daunting task every fall, so imagine the coordination behind putting three together every year in different cities. The Castle of Chaos has hired some of the best costume designers, special-effects engineers, set decorators and versatile actors around to run productions in Ogden, Taylorsville and Orem. Next time you're traveling down one of the dimly lit Castle corridors waiting for whatever may come at you, take a moment to enjoy the surroundings and realize all of that was no easy feat. Multiple locations, CastleOfChaos.com
BEST INDIE FILM ON-THE-QUICK
Must Come Down
Born from the fantastic odd mind of Kenny Riches, Must Come Down was filmed entirely in Salt Lake City in a matter of weeks with actors David Fetzer and Ashly Burch taking the main roles. The film focuses on two 20-somethings meeting their quarter-life crisis at the same time, and the awkward hilarity that ensues when those two lives collide as both become friends. The film received several invites from film festivals, including the 2012 Cinequest, and will premiere at the Salt Lake City Film Festival on Sept. 23. MustComeDownMovie.com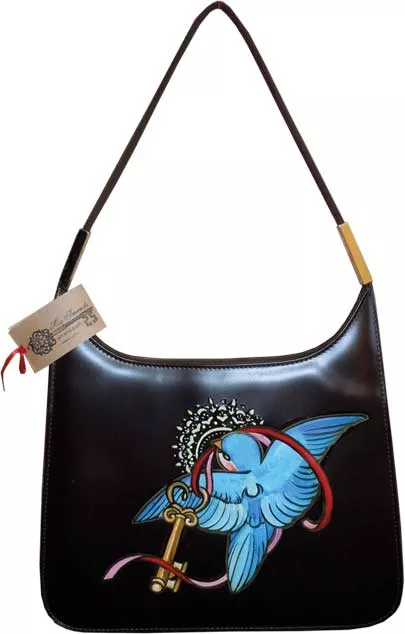 BEST TAT ON YOUR BAG
Tattoo Purses by Miss Amanda

Tattoo artist Miss Amanda has taken her ink-slinging skills to a new canvas by tatting up vintage purses, wallets, and bags. Try a pink skull on a leather purse or perhaps a cream-colored clutch painted with purple orchids. Miss Amanda has taken the high-caliber artistry of ink-to-your-flesh and brought it conveniently to very chic and fashionable bags and accessories.
Etsy.com/Shop/ArtNSuchbyMissAmanda
BEST ANNIVERSARY EXHIBITION
Twilight Concert Series 25th Anniversary Show
In celebration of its one-year anniversary, the SLC Photo Collective launched an exhibition cataloging the silver anniversary of the Twilight Concert Series. The showcase includes photos from the very first shows back in 1987, with people lying on blankets, documenting the attendance, venues and performers as they changed and grew over four different decades to the beyond-capacity shows at Pioneer Park today. 561 W. 200 South, Salt Lake City, SLCPhotoCollective.org
BEST LOCAL FILM FESTIVAL
Salt Lake City Film Festival
No clever film-fest name here. That doesn't matter much to the minds behind the Salt Lake City Film Festival, as they strive to excel in the content of their films rather than build hype around the festival itself. Every summer, the festival finds some of the best films overlooked by major-market festivals and presents them to attendees at a reasonable ticket price. SaltLakeCityFilmFestival.com
BEST COLLEGE PRODUCTION
Xanadu (Weber State University)
There's undeniable nostalgic appeal in Douglas Carter Beane's self-aware adaptation of the notoriously cheesy 1980 disco musical about an artist, a Greek muse and the music of Olivia Newton-John and Electric Light Orchestra. Director Jim Christian and his wonderfully energetic cast turned that concept into a production with a sold-out original run in November 2011, executed with the kind of affection and charm that left the audience with a goofy grin on its face. And what audiences saw was validated by an invitation to the American College Theater Festival regional competition, where it was recognized for directing, choreography and musical production. Weber.edu/PerformingArts
BEST NEW THEATER COMPANY
Echo Theatre
Sitting between the two most popular music venues in Provo on one of the most popular blocks in the city's entertainment scene, the Echo Theatre launched in April 2012 as one of the few independent theater companies to reside in Utah County. Founded with a mission of producing plays that aren't cookie-cutter or all-improv—and don't require a multicolored robe—the company puts on a new production every month. Each play is put together by a volunteer staff, with the goal of showcasing productions written locally with the past year. This isn't just the theater that Provo needs—it's theater the area deserves. EchoTheatre.wordpress.com
BEST BACK OF THE FRIDGE DANCE COMPANY
My Turkey Sandwich
Celebrating its five-year anniversary this coming season, Sarah Donohue and Aaron Wood started small dance company My Turkey Sandwich on a whim. The dancers worked with the Rose Wagner Center and well-established dance companies to gain space and work with fellow dancers to perform their small, one-shot productions for sold-out crowds. The biggest selling point is that every performance is an original piece, and in many cases, will never be seen again.
Best Pull Your Chain T-Shirts
Paper Street Shirt Company
For those looking to piss off the religious right or, for that matter, the religious in general, there's nothing better than having a T-shirt that says "Fuck Your God" in bold blue letters. That's just one of the many eye-catching creations being printed by Salt Lake City's Paper Street Shirt Company. Founded by the musical duo Cornered By Zombies as a way to cheaply make their own band merch, the company has taken off as a anti-establishment store and hotspot for local metal bands to print their own outrageous slogans and logo-adorned black shirts. PaperStreetShirts.com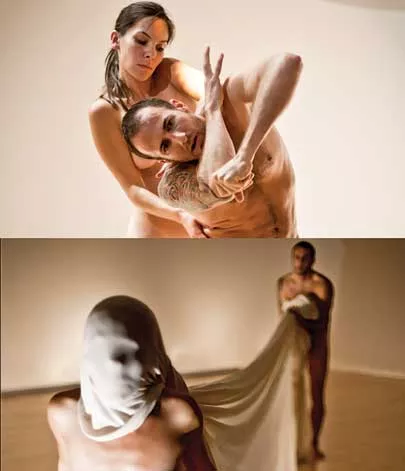 BEST DANCE FROM THE FRINGE
tEEth: Home Made

Choreographer Angelle Hebert and composer Phillip Kraft are the directors of tEEth, a performing-arts company based out of Portland, Ore. The fact that they used to call Utah home is in part why they brought their piece Home Made to town for a short run in fall 2011. Set to an original score by Kraft, the work was one of the most powerful and thought-provoking evening-length performances that graced the Rose Wagner Center Black Box Theatre in the past year. Sure, the dancers shed their clothes, but after that shock wore off, what was really exposed was the raw intimacy that can exist between two people.
TeethPerformance.com
BEST ART SHOWDOWN
Central Utah Art Center vs. Ephraim City
For the past six years, the Central Utah Art Center has showcased all that is beautiful, strange and occasionally offensive in the artistic desert of rural Utah. Since 2006, CUAC has brought thousands of visitors to the center, but CUAC directors believe recent edgy exhibits have offended the conservative Ephraim city fathers, who may have objected to nudity in Flaming Creatures, an abstract art video that depicts the gay and transgender life, or 2012's bold take on the plight of the immigrant in the SuperHUMAN exhibit. CUAC directors say that, as a result, the city cut off funding and evicted them from their space in a move that amounts to small-town censorship from small-minded critics. Still, CUAC is pressing on, petitioning the city and raising funds to keep a true contemporary art space for local and national exhibits in central Utah. CUARTCenter.org
BEST GRAFFITI THERAPY
EZ Come, Ez Go: Growing Up Through Graffiti
Graffiti as an artistic medium is probably one of the oldest and least respected forms of art—probably because a crude tag on the side of business or an overpass often fails to inspire much reverence from passersby. But for graffiti gurus Alex Martinez, Justin Johnson and Jamie Ure, graffiti can be grand, elegant and a reference point for growing up in Salt Lake City. The trio's Ez Come, Ez Go exhibit exemplifies this mature theme in a mural complete with a stylized beehive staked in the heart of cityscape swirled in urban color and imagery. They also bring graffiti grace to the walls of Mestizo Coffeehouse, providing proof of the positive influence the often misunderstood art form has had on their lives. Mestizo Coffeehouse, 631 W. North Temple, Salt Lake City, 801-596-0500, MestizoCoffeehouse.com
BEST EXPLANATION
Why I'm a Mormon, edited by Joseph A. Cannon
This book is valuable if for no other reason than it shows there's no such thing—or shouldn't be, anyway—as a stereotypical Mormon. As religion professor Terryl Givens explains, "The restored gospel is a gospel of liberality and generosity. My faith encompasses and embraces them." This first publication of Ensign Peak, a Deseret Book imprint designed to introduce Mormons to a non-LDS national audience, takes a "big tent" approach that allows for an American Indian attorney general, Mexican legislator, female champion surfer, a Thai symphony conductor and a prominent Mitt Romney doubter named Harry Reid to all be included in the same book.
BEST MULTIPURPOSE FESTIVAL IMPRESSARIO
Michael Ballam, Utah Festival Opera & Musical Theatre
Just one weekend taking in all the shows of Logan's wonderful Utah Festival Opera & Musical Theatre can feel full to bursting—so imagine the energy it takes to do everything that general director Michael Ballam does over the course of a month. Ballam delivered the pre-performance mini-history lessons on the productions of Faust, Tosca and Kiss Me Kate, and he visited with festival attendees for breakfast Q&A sessions and other special events. And just in case he might be suffering from any down time, he took on the role of Alfred P. Doolittle for My Fair Lady in a terrific performance. UFOMT.org
BEST NEW PRINCESS PERSPECTIVE
Emily Fox
Emily Fox turned a keen new eye on princesses and wedding culture with her exhibit Princess Religion at the Sweet Library. The striking paintings of Snow White, Sleeping Beauty and the others are colored in the traditional color palette of Disney princesses—pink, turquoise, red, blue—but turn a distorted mirror on the traditional ideal of the slim-waisted, blissfully happy married princesses, forcing viewers to question what exactly women and girls have for so long been looking at for guidance and inspiration. EmilyFoxArt.com
BEST CHOREOGRAPHIC SENSE OF PLACE
Snapshots (Repertory Dance Theatre)
According to RDT's artistic director, Linda Smith, "RDT is using the art of dance to raise awareness, encourage dialogue, stimulate investigation and curiosity about the health of people, neighborhoods, communities, cities … the world." So, naturally, the company took to the streets to learn how local students personally interact and engage with their place. Afterward, RDT dancers returned to the studio to hunker down and create eight new dances—Snapshots of those responses, if you will—that explore the world they live in through choreographic means. RDTUtah.org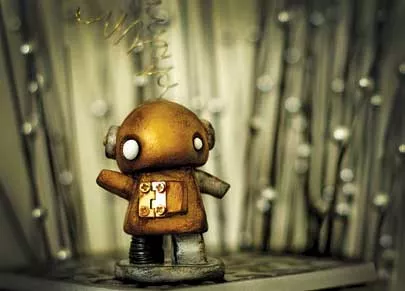 BEST INANIMATE FRIENDS
Tiny Robot Factory

Can't afford a pet? Can't even take care of a houseplant? No worries! These miniature robots are the greatest nonliving companion you've had since the Pet Rock. Each robot, carefully crafted by artist Sunny Tellone, has a personality all its own, with its own set of transistor wiring, nuts and bolts and even moveable pieces. They're so adorable, in fact, that Tellone often runs out of stock within weeks of making each new creation, turning them into the biggest collectors items in the craft scene today.
Facebook.com/TinyRobotFactory